Good afternoon, guys! 🙂 
Apparently it's been a while since I last posted something casual or basically, something non-blog-tour-ish, so I decided to write my second post for this interesting meme. Besides, I also have some plans in mind regarding my bookish and real life; hence, I'm still contemplating on how to make such announcement.
Anyway, I'll start today's post by sharing my current TBR and the books I planned to finish this week and then I'll be talking about other random stuff. 😀
Sounds good?
★Current TBR★
For starters, the past few weeks were my winter vacation and I managed to read at least three books per week, which made me feel super productive (Ha! Though catching up with those reviews isn't that exciting…). And now, life moves on and school starts, however hard it is to keep up with my previous reading progress, I still hope I can devour these gorgeous babies this week:
Anna is a student surviving the city, and she lives by a simple credo, "Never play their game; their game is always rigged." For every man she has ever known, it's a saying that has served her well.
That all changes on the night of "The Big Storm," when Anna is slipped a date rape drug. Though she saves herself and her best friend, Anna is lost to the dark heart of the city and finds herself hunted by The Night Collectors. Unsure if these monsters are real or hallucinations, Anna nonetheless fights them as best she can. The battle attracts a stranger—Teej—who saves her using powers she cannot understand. He explains that she is an Undreamer and possesses the same powers, and in the future, he will not be the one to save her. She will save him.
But Anna is not yet ready to join Teej and stand against The Dreamers. She has difficult decisions of her own to make. Decisions she has always run from. She still has her partner's suicide letter. It remains unopened. She still wears his ring, though she can't seem to remember his face.
Anna learns of The Dreamers – artists so preeminent in their respective fields that they can paint, dance, sew or sing new realities – and as she travels through their creations, she learns that there's as much beauty in the world as there is horror. With a complex conspiracy at work within the community of Dreamers that threatens to undermine reality itself, Anna will have to look deep within herself, and eventually have to face the horrors of her own past, to save her old world as well as her new one.
Anna Undreaming is a dark urban fantasy, a new genre I've grown to love lately, and I have high expectations for it since the synopsis and the glossary both sound extremely captivating to me. Besides, I'm in love with the narrator so far! This book will be out on March 20th, published by my favorite indie publisher, Owl Hollow Press.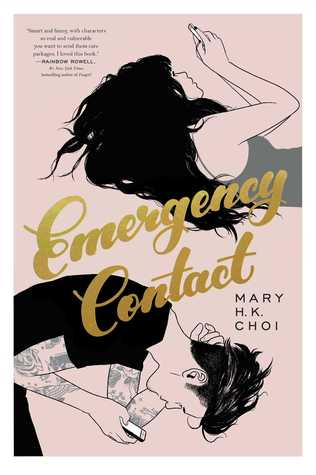 For Penny Lee high school was a total nonevent. Her friends were okay, her grades were fine, and while she somehow managed to land a boyfriend, he doesn't actually know anything about her. When Penny heads to college in Austin, Texas, to learn how to become a writer, it's seventy-nine miles and a zillion light years away from everything she can't wait to leave behind.
Sam's stuck. Literally, figuratively, emotionally, financially. He works at a café and sleeps there too, on a mattress on the floor of an empty storage room upstairs. He knows that this is the god-awful chapter of his life that will serve as inspiration for when he's a famous movie director but right this second the seventeen bucks in his checking account and his dying laptop are really testing him.
When Sam and Penny cross paths it's less meet-cute and more a collision of unbearable awkwardness. Still, they swap numbers and stay in touch—via text—and soon become digitally inseparable, sharing their deepest anxieties and secret dreams without the humiliating weirdness of having to see each other.
YA Contemporary Romance has always been the genre I enjoy reading so I'm pleased enough to be granted for an e-ARC from the publisher via Netgalley. ❤ Despite the fact that I've heard people say the romance in this story is everything but fluffy and sweet, I'm still eager to immerse myself in it. As soon as I finished reading Anna Undreaming, I'll definitely dive right into this!
Pen Prado has a passion for cooking. Specifically, cooking her father's food in her father's restaurant. It's the heart of their immigrant neighborhood, a place where everyone belongs, and second chances are always on the menu. Except for Pen. Despite the fact that there's something almost magic about her food, her father can't imagine anything worse than her following in his footsteps. And when Pen confesses to keeping a secret from her family, he fires her, ensuring she never will.
Xander Amaro is undocumented but that doesn't stop Ignacio Prado from offering him a job at his restaurant. For Xander, it's a chance to make amends and to sever his toxic relationship with the druglord, El Cantil–a man whose been like a father to him since his own disappeared. Soon after, his mother abandoned him too, leaving behind a void that not even his abuelo can fill. Until he meets Pen.
Both seeking a place where they feel like they truly belong, they end up finding each other, and in the face of tremendous fear and self-doubt, they end up finding themselves.
Pen & Xander is also a YA Contemporary Romance with a touch of mental illness issue from the protagonist and I'm positive that I'll enjoy reading Pen and Xander's story pretty much. Thanks to the author for generously asking me to review this book for an upcoming book promo event, featuring some awesome giveaways for all of YOU! 😀
★Plans & Directions for my blog★
Hmm…as some of you may notice, I haven't been creating any original contents except for book reviews in the last several weeks because I became so enamored with blog tours, cover reveals and book blitzes that I barely had time to write anything I wanted to share. After realizing that those posts weren't entirely what I was fond of putting on my blog and that I'd rather spend more time reading/reviewing books I'm interested in or talk about random stuff like this post, I'm happy to announce that there won't be as many blog tours or book promos here from now on. Though I still have about one or two tours scheduled, I will focus mainly on my favorite bookish materials such as  interviews for the authors I adore (psst, like Emily Williams!!), reviews of what I've read, bookish memes and bookish tags! I seriously owe some of my lovely friends their book tags and trust me, I meant to write them in the first place!
Aside from the shift of direction and purpose of my blog, I also plan to do a little makeover very soon since I'm kinda bored of the overall layout, design and the presentation. 😛 Not that I don't like the theme I'm currently using; it's just that I want to have a more refreshing look for my blog! ❤
Lastly, I know I haven't been interactive here around the blogsphere recently–actually, I shamefully admit that I won't be able to be active on any social media platform weeks later–but I'm still trying to stop by most of your blogs so that I could leave a comment or give your posts a like! *smile sheepishly* So if you want me to take a look at your new posts or simply drop by and say hi, please don't hesitate to leave your links in the comment below! I'll head straight over it immediately! 😉
★Upcoming Blog Posts★
To celebrate some new releases in March, here are the book reviews I'll be posting soon:
In addition, I'll be posting weekly bookish update as much as possible, so stay tuned!
What are you reading this week? Or what's your current read?
Have you heard of any of the mentioned books above?
Anyway, happy Monday, everyone!
I'll see you soon,
Jasmine 🙂