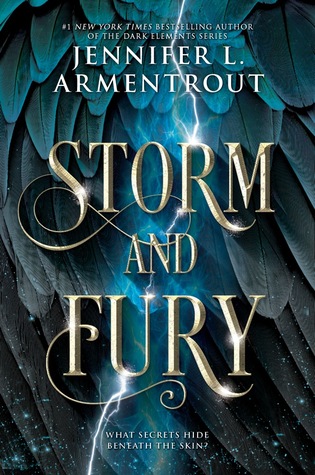 Eighteen-year-old Trinity Marrow may be going blind, but she can see and communicate with ghosts and spirits. Her unique gift is part of a secret so dangerous that she's been in hiding for years in an isolated compound fiercely guarded by Wardens—gargoyle shape-shifters who protect humankind from demons. If the demons discover the truth about Trinity, they'll devour her, flesh and bone, to enhance their own powers.
When Wardens from another clan arrive with disturbing reports that something out there is killing both demons and Wardens, Trinity's safe world implodes. Not the least because one of the outsiders is the most annoying and fascinating person she's ever met. Zayne has secrets of his own that will upend her world yet again—but working together becomes imperative once demons breach the compound and Trinity's secret comes to light. To save her family and maybe the world, she'll have to put her trust in Zayne. But all bets are off as a supernatural war is unleashed…  (From: Goodreads)
***May contain spoilers for The Dark Elements trilogy.*** ***Actual Rating: 5/5 Rewriting Stars***
"I'm guessing the sky is full of stars?"
"It is, but the only ones that matter are the ones you see."
Awww, my HEART! *trying very hard to calm down right now*
To begin with, The Harbinger series is the spin-off series of The Dark Elements trilogy, published almost five years ago, and Storm and Fury is its first instalment. Before we dive right into the this book, let me present you with a recap of The Dark Elements:
★ White Hot Kiss: There are three main characters: Layla (half-Warden, half-Demon), Roth (the Crown Prince of Hell, a.k.a. the most powerful Demon), and Zayne (a Warden who gave up the chance to become the clan leader in his hometown, Washington, D.C.)

★Stone Cold Touch: There is a love triangle: due to Layla's demon heritage, she can't kiss anything with a soul (for example, Wardens), or else she will feed on it and take that person's life. Layla is torn between her childhood bestie, Zayne, and the new handsome guy, Roth. If memory serves, she accidentally takes a part of Zayne's soul when kissing him, almost getting her killed by Zayne's clan.

★Every Last Breath: In the finale, Layla chooses Roth because even though she loves Zayne a lot and truly cares about him, she loves Roth more. As a result, Layla and Roth live happily ever after whereas Zayne's broken-hearted and isolated from others.
Without doubts, Storm and Fury picks up shortly after what happens at the end of Every Last Breath, and this time, enter Trinity, a super badass 18-year-old Trueborn (some may call her a Nephilim, who's a half-human, half-angel). Since Trinity is also the last of her kind, she's quite a precious gem in the story.
We didn't get lots of insight into Zayne's world or his mind from the Dark Elements trilogy but thankfully, this spin-off series will revolve around his and Trinity's history. Just like most of Jennifer's books, Storm and Fury also contains tons of epic fighting scenes and indestructible battlefields. As intriguing as all of these may sound, I personally am more fond of the character development (especially that of Trinity) in this book.
The first thing that catches my eye about Trinity is her flaws. To my astonishment, among the most perfect world buildings in the genre of paranormal, it isn't easy to find a flawed protagonist. Hence, Trinity's presence surprises me most since she has an eye disease which will deteriorate her eye sight with the passing of time called retinitis pigmentosa. Not-too-interestingly, it is also what Jennifer has to endure every day in her real life.
Jennifer manages to give us readers more ideas about what it's like for her to experience the failing eye sight through Trinity's eyes, which is by far the most creative, thought-provoking way I've ever seen. The unique writing technique also requires a great amount of scientific/medical research, totally elevating the entire book to an unreachable territory.
"At my last appointment, about a year ago, my eye doctor asked if I could still see the stars at night. It was weird when he asked, because I had to think about it and I realized I couldn't answer the question," I admitted. "I hadn't looked up at the stars in, like, forever, and it sort of hit me, you know? That one day I would look up and I wouldn't see a star, and that would be it. I'd never be able to see something so…beautiful and simple again. Up until that moment, I'd taken that for granted. So, every night, I look up to see if I can see the stars."
That being said, I truly appreciate the depth and profound concepts expressed in this book. Not only does Trinity serve as a formidable enemy in the Warden/Gargoyle's world, she is also a respectable heroine whom many people look up to. She makes me realize even something trivial could mean the world to someone else.
Before I wrap up my review, I'd like to share one of the most swoon-worthy moments between Zayne and Trinity, when they barely survive by the end of the book. I've always considered Zayne to be a sweetheart but never would I ever picture him to be as sweet as he seems…
"You want to see the stars?" Zayne asked, and I nodded emphatically, knowing what he meant, and when he took my hand, I folded my fingers over his like I had the day I'd left the community. I felt him begin to shift, his skin hardening under mine. "Then hold on tight, Trin. I'm going to get us as close as we can go."
All in all, I HIGHLY RECOMMEND Storm and Fury, as well as the Dark Elements trilogy by Jennifer L. Armentrout. I think everyone should know one thing or two about retinitis pigmentosa since it's no longer a rare disease. Besides, what's not to love when Trinity's exact problem actually brings her much closer to Zayne throughout the book? Trust me, the story only gets better and better with its promising cliffhanger so you wouldn't want to miss it!
***Massive thanks to Inkyard Press/Harlequin Teen for sending me an e-ARC in exchange for an honest review.***