Hello, people!
I can't believe it's already April (why do I always feel this way with each passing month!?) and for my first post this month, I'd like to share another highly coveted book in 2019 with all of you.
The Boy Who Steals Houses by C. G. Drews, the author of A Thousand Perfect Notes, and one of the most influential, popular bookstagrammers, book bloggers, and book reviewers, was released on April 4th, 2019. For those who aren't familiar with C. G. Drews, she has most of her social media platforms under the handle @PaperFury. If you were into bookish social media, then I'm pretty sure you've seen one or two of her posts/pictures/shout-outs since they're literally EVERYWHERE online. 🙂
Needless to say, I'm super excited about this book not only because it's categorized as a Young Adult Contemporary, which is my top favorite, but also because of the gorgeousness of the cover AND the intriguing plot. Do you ever have this gut instinct that when you hear a book coming out from someone famous, or sometimes something about an upcoming book just rings a bell for you? And you know immediately that you must have that book? Well, that's what I feel about both Drews' books and I guess it's due to the overall hype around the book community. *shrugs*
Enough rambling! Let's get this book blitz party started, shall we? ❤
About the Book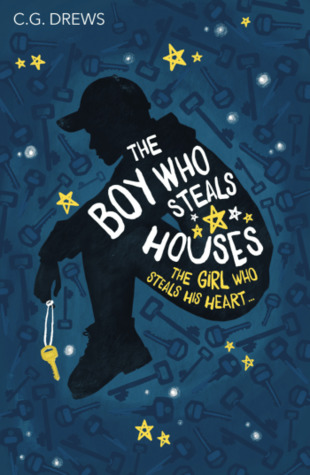 Can two broken boys find their perfect home?
Sam is only fifteen but he and his autistic older brother, Avery, have been abandoned by every relative he's ever known. Now Sam's trying to build a new life for them. He survives by breaking into empty houses when their owners are away, until one day he's caught out when a family returns home. To his amazement this large, chaotic family takes him under their wing – each teenager assuming Sam is a friend of another sibling. Sam finds himself inextricably caught up in their life, and falling for the beautiful Moxie.
But Sam has a secret, and his past is about to catch up with him. (From: Goodreads)
Teasers Collection!
This slideshow requires JavaScript.
This slideshow requires JavaScript.
Purchase Links
About the Author
C.G. Drews lives in Australia with her dog, a piano, and the goal of reading every book in existence. Consequently, her brain has overflowed with words and she spends her days writing novel after novel. She blogs at Paper Fury, never sleeps and believes in cake for breakfast.
International Giveaway
In celebration of Ms. Drews' new release, there's a blitz tour-wide giveaway for a chance to win a signed and annotated paperback of The Boy Who Steals Houses plus an official art print inspired by the book. Open internationally!
Simply enter HERE and bonne chance ! ❤
This is pretty much everything I have to share with you today. Last but definitely not least, thanks to Aus YA Bloggers for providing me with these incredible quote cards and surprise along with the blitz! Even though I'm not an Aussie or Kiwi, I'm still glad to be a part of the reader's group. 🙂
Twitter  Instagram  Goodreads  Facebook
Happy Monday, guys!
I'll see you soon. 😉
Jasmine 🙂