Happy Release Day to Daisy Prescott's The Last Wingman, the sixth instalment in the Wingmen series, which can also be read as a standalone! This is a contemporary romance novel and though I've never read the previous books, I'm intrigued by the synopsis when I first read it so here I am, celebrating June and Jonah's love story with all of you. ❤ Hope you enjoy!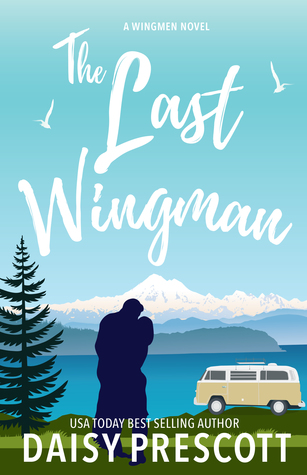 Jonah Kingston is the last wingman standing.
June Moxee doesn't care if he's the last man on earth.
I haven't exactly avoided relationships, but love has never been a priority. Solitude doesn't bother me and being alone doesn't mean being lonely. Until she moved to the island and I had to reconsider everything.
June seems content running her yarn shop, knitting with the local church ladies, and avoiding me. She's a temptress in a handknit sweater. And for some reason, she's not a fan of mine. It might be the tattoos. Or the beard. Or the fact that we're polar opposites.
A woman has finally caught my attention. Too bad she thinks she hates me.
Good thing I'm stubborn enough to try to change her mind.
The Last Wingman is the sixth standalone, lighthearted small town romance in the Wingmen series. You do not have to read the previous books first to enjoy this book.
Goodreads: http://smarturl.it/LastWingmanGR
Amazon: http://smarturl.it/LastWingmanAmazon
Apple Books: http://smarturl.it/LastWingmanApple
Barnes & Noble: http://smarturl.it/LastWingmanBN
Kobo: http://smarturl.it/LastWingmanKobo
My Review
***Actual rating: 3/5 just-okay Stars***
Lessons learnt: Always double check the background settings and characters' features before diving in a standalone from part of a series.
The Last Wingman is a standalone contemporary romance novel in the Wingmen series, each instalment featuring a different main character's love life. Honestly, I didn't pay as much attention to this book as I planned because I made a mistake for not doing enough background research before picking this up. In other words, the overall story setting and character development weren't what I had in mind when reading the synopsis; hence, I ended up not really enjoying the story. In order not to mislead any of you, I'd like to state that the following opinions are my own and they're based on my personal preference of a contemporary story. There's nothing wrong or poorly-written about the book at all.
The reason I wasn't fully fond of the story was mainly because of the male protagonist, Jonah. He was a 35-year-old single, heavily-tattooed/pierced, and beardy guy living on an island most of his life. This image of a potential love interest was clearly not whom I'd pictured. Don't get me wrong, Jonah was still a lovely, considerate, sweet guy in the book, and his romantic development with June was beyond adorable on so many levels. It was just that I found it hard to immerse myself in their love story with such an unattractive picture in mind. Thus, I pretty much stopped actually-reading the book when I was about a few chapters in.
Despite my personal dislike for the male character, I'd still recommend this book to those who love a light romantic read! Hopefully you'll have a better time with Jonah and June on a beautiful island!
***Thanks to InkSlinger PR and the author for kindly providing me with an e-ARC in exchange for an honest review.***
About the Author
Daisy Prescott is a USA Today bestselling author of small town romantic comedies. Series include Modern Love Stories, Wingmen, Love with Altitude, as well as the Bewitched and Wicked Society series of magical novellas. Tinfoil Heart is a romantic comedy standalone set in Roswell, New Mexico. 
Daisy currently lives in a real life Stars Hollow in the Boston suburbs with her husband, their rescue dog Mulder, and an indeterminate number of imaginary house goats. When not writing, she can be found in the garden, traveling to satiate her wanderlust, lost in a good book, or on social media, usually talking about books, bearded men, and sloths.
Website: https://www.daisyprescott.com/
Facebook: https://www.facebook.com/daisyprescottauthorpage/
Twitter: https://twitter.com/Daisy_Prescott
Instagram: https://www.instagram.com/daisyprescott/
BookBub: https://www.bookbub.com/authors/daisy-prescott
That's all for today's release blitz, guys! I hope you had a fantastic time here and I wish y'all have a great weekend! 😀
Cheers,
Jasmine 🙂