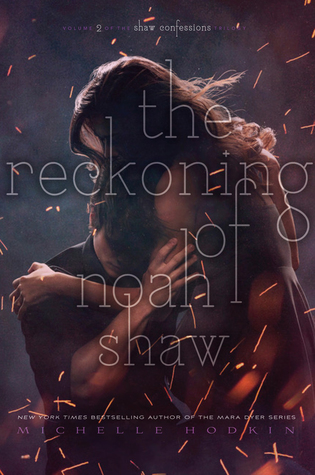 Noah Shaw confesses all in this second novel of a chilling new companion series to Michelle Hodkin's New York Times bestselling Mara Dyer trilogy!
Noah Shaw doesn't think he needs his father's inheritance.
He does.
Noah believes there's something off about the suicides in his visions.
There is.
Noah is convinced that he still knows the real Mara Dyer.
He does not.
Everyone thought the nightmare had ended with Mara Dyer's memoirs, but it was only the beginning. As old skeletons are laid bare, alliances will be tested, hearts will be broken, and no one will be left unscarred. (From: Goodreads)
***NEGATIVITY OVERLOAD ALERTS!!! Please consider yourself warned before coming across my most unfavorable rant here. Thank you.***
H U G E     D I S A P P O I N T M E N T
Among all the Michelle Hodkin books I've read and loved, this one is undoubtedly my least favorite.
***Actual Rating: 2/5 Nonono Stars***
UUUUUGGGGGHHHHHH.
The only reaction I have after "reading," hold on, what do you call when you flip through the entire book without really getting anything informative? Does it count as reading, too?? this book is:
I'm not kidding; Meghan Trainor's "NO" says it all. *shrugs*
I can't believe I'm admitting this but seriously, I HAVE NEVER BEEN LET DOWN SOOOOOOO FREAKING MUCH LIKE THIS BOOK DOES–a book I've been anticipating for more than a year, which also happens to be written by one of my favorite authors, AND which is supposed to be an epic sequel to the Shaw Confessions trilogy–AND I AM DEEPLY, PROFOUNDLY MISERABLE right now.
The Reckoning of Noah Shaw is supposedly the sequel to The Shaw Confessions series, which is the spin-off for The Unbecoming of Mara Dyer (Mara Dyer trilogy), telling the story from Noah Shaw's perspectives. In the first book of The Shaw Confessions, The Becoming of Noah Shaw, we actually get a lot of insights and deep thoughts from Noah, making me very happy and excited about his further discovery of both of his and Mara's mysterious pasts. Thus, I, of course, have high hopes for this book. However, only a few chapters in, I realize this book isn't heading where I thought and wished it would, so I lower the bar for the continual story.
Much, much to my disappointment (and anger), not only does this sequel not live up to my expectations, which end up being almost none, but also RUINS my love for the Shaw Confessions. What's worse, I think this book also makes me question about my adoration for Mara Dyer trilogy. I feel utterly sorry for saying that it is a total waste of time reading this book since I honestly don't get anything other than what I already know. Noah Shaw's getting along with Mara's grandmother doesn't unveil anything essential, in my opinion, which results in not making any significant progress in searching of Mara throughout the book.
Oh, have I mentioned that *SPOILER* Mara Dyer doesn't show up until the last page *SPOILER*? Had it been Noah Shaw's story all along, I'd be super happy to read everything from Noah's POV; sadly, this is still Noah AND Mara's journey so I personally think the main focus of the story should be on both characters. (God, I'm rambling nonsense right now, aren't I?)
Anyways, there's nothing wrong with the writing or character building; the reason that this book pisses me off so much is simply because NOTHING HAPPENS in this instalment. And I feel like the biggest idiot for pouring so much of my time and soul into waiting for the book, and actually expecting something from it. Despite what I said previously, I will still read the last book in the series because of the last page here. I won't have too much hope though.
Will I recommend this book? I think the answer's pretty obvious:
Lastly, if any of you were still here, I just want to thank you for reading all my nearly irrational complaints about this book. I promise this isn't how I usually review books.