Hey, guys! Happy February!
First of all, I'm so excited that I finally wrote a review since the last time I did so, which was probably over a month ago, and the best part is that I highly recommend this book. Another thing that makes me super thrilled is that this is my very first time joining the Penguin Random House International Bloggers Team so they generously provided me with en e-copy of the book to review. Stronger, Faster, and More Beautiful came out on December 4th, 2018, and even though I've read it back then, I spent the rest of the month(s) working on this review so I hope you'll enjoy it. 🙂
This book gets me thinking so much about what it means to be a human, and what obstacles we may face in the uncertain future. It's a wonderfully crafted sci-fi story and I'm sure you'll love it as much as I do. Besides, I also share my mini playlist at the end of the review just so you won't fall asleep while reading it. 😛
Anyways, great to see you all and please sit back, relax, and have a blast!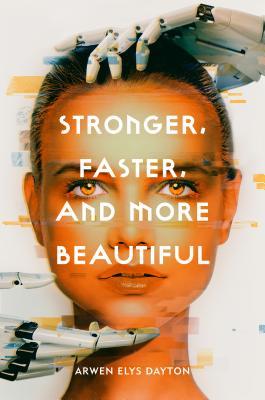 For fans of television shows like Black Mirror and Westworld and authors like Scott Westerfeld and Marie Lu comes STRONGER, FASTER, AND MORE BEAUTIFUL, a compelling, mind-bending work of speculative fiction from Arwen Elys Dayton, author of the Seeker series.
Set in our world, STRONGER, FASTER, AND MORE BEAUTIFUL offers a twisted look into the near and distant future through six interconnected stories that ask how far we will go to remake ourselves into the perfect human specimens, and how hard that will push the definition of "human."
This extraordinary novel explores the amazing possibilities of genetic manipulation and life extension—from the heavenly to the monstrous—as well as the ethical quandaries that will arise with these advances. Thought-provoking, poignant, horrifying, and action-packed, Arwen Elys Dayton's gripping new novel is groundbreaking in both form and substance.
My Review
***Actual Rating: 4.5/5 Lucky-to-be-Human Stars***

"How much of you is real?"
Oh, man, this book makes me feel so good about being a human. To begin with, Stronger, Faster, and More Beautiful consists of six stories, demonstrating six different (yet somehow connected) scenarios of what artificial intelligence (A.I.) may be capable of in the near future. Each story showcases how the cyborgs may coexist with human beings and start to blend in our initial world without being noticed at first. Unlike what most of us believe, these robotic creatures may not want to wipe the entire human race out. They're quite easy to get along with and they're also social animals, just like us! The only significant difference between these cyborgs and humans is that the former are nearly immortal (well, technically, they are not mortals but still!), and that scares me a little. *You'll see why when I further elaborate…*
Since there are six short stories in this book, I'll just break down my thoughts into six parts as well. Here we go…
[PART ONE // Cyborg Twins]
The first story is about a twin brother trying to live for his dying twin sister because her body's failing her. However their parents are in disbelief, the doctor insists that the brother should accept his sister's organs, including her heart, so that at least one of the twins can stay alive. As bizarre as it seems, pumping another person's heart to live may be the only solution for the twins, and I'm surprised by the invisible yet strong bond cyborgs have. What impresses me more is that A.I. twins do exist! Honestly, before reading this story, the idea of cyborg twins has never ever come across my mind. So color me shock when learning this teeny tiny fact about them!
[PART TWO // Cyborg Couple]
Milla is a part-human, part-robot creature while Gabriel is a human. They sort of have a crush on each other but after Gabriel takes advantage of Milla catches a glimpse of what Milla's made of, he may not seem to be as reliable as a boyfriend should be. People talk. Rumors spread. Bullying happens.
In Milla and Gabriel's story, I find their romance a bit disturbing yet mesmerizing since they prove how forgiveness can become a universal language, an ultimate solution, and the catalyst for the elimination of bullying/rumors with the help of advanced medical technology. The best part about their ending? Problems are solved and the world's getting back the peace it deserves. In general, I think cyborg couples are worthy of living on Earth after all.
[PART THREE // Cyborg God]
When it comes to cyborgs, who would've thought that they have some religious beliefs just like humans do? Reverend Tad Tadd is the well-known Cyborg God and as sacred as that sounds, there's something relatively shocking to me: People actually "reuse" their deceased family member's eyes and hair just to symbolize the eternity of life. In all honesty, the concept here is all fresh and original to me and I'm utterly fascinated by it.
In a very short time, we will be able to create novel structural elements, forms that don't naturally occur in the human body—forms that we haven't yet imagined. I find myself a pioneer, daunted by the infinite size of the frontier.
[PART FOUR // Advancing Cyborgs]
The fourth story in this book is my least favorite since all I'm aware of is how well these cyborgs are in translating various languages—from human's communication tools to animals'—and that enhancing their levels of vocabulary is simply a piece of cake. Despite my general lack of interest, I'm fairly intrigued by the usage of anagram in the characters' conversations. Apparently, the author's creativity knows no boundaries!
[PART FIVE // Cyborg Betrayals]
This time, the A.I. sensation expands from the U.S. to Europe and throughout Jake, Kostya, and Yulia's escape to Siberia, the secrets they keep have put their friendship to the test. This story gives readers insight into the life of a cyborg slave, the betrayal between similar species, and how cancers can be cured by implementing, once again, advance medical. Although there may not be anything in common in the topics above, I can guarantee that this tale proves how multidimensional artificial intelligence can be.
None of the reconstructed people could cry actual tears anymore, and yet half the slaves openly wept, by gesture and by sobs, at the sight of their bodies becoming covered by what looked like human flesh. When you had been remade, any sign of your old self was precious. Jake was crying with the rest. There was nothing left, really, except his remembered humanity, and this artificial skin was a reminder, a gift.
[PART SIX // Cyborg Civilization]
Last but not least, we're coming to the end of the story and let me tell you how incredibly well-done this story is. I'm awestruck by the realization that cyborgs are, in fact, a brand-new generation of living creatures. These A.I.-enhanced "people" aren't here to annihilate the humanity; they're here to recreate their very own civilization just as the origin of homo sapiens who appeared millions of years ago did.
Interestingly, it never occurs to me that there's an evolution for cyborgs to transform their half-human, half-robot being into a fully-developed creature. That is, even though they can function pretty well on their own, they still have to undergo some sort of metamorphosis in order to become part of us, which totally broadens my horizons.
To sum up, Stronger, Faster, and More Beautiful is a splendidly written, HIGHLY RECOMMENDED story with unforgettable characters, mind-blowing plot twists, and shocking revelations of cyborgs. Each one of the six stories shows the possibilities and limitless potentials of these A.I.-featured creatures.
As intimidating as A.I. may sound, I'm delighted to say that this book makes me think differently because knowing that as invincible as cyborgs seem, their process of blending in is very likely to bear a resemblance to ours, which provides me with the kind of confidence and strength I need when facing the unknown future. As a matter of fact, this book empowers me so much that I indeed feel much stronger, faster, and more beautiful about being a human. 🙂
At that moment, Luck understood something new. There were horrors and there was death, there was evil and arrogance and apathy. But more than these, there were friends and there was hope. There was her life on the Rez and there was the wide world. And there was love. The bad things collected, but so did the good—and the good, she grasped, was more important than the bad. You could look past the bad if you wanted. Each good thing Luck had experienced, each good thing she had learned, built upon all of the others and added up to one thing which she felt completely for the first time:
Human.
[Bonus: Mini Playlist inspired by the book]
About the Author
ARWEN ELYS DAYTON is the author of Stronger, Faster, and More Beautiful as well as the Seeker series–Seeker, Traveler, and Disruptor and the e-novella The Young Dread–and the science fiction thriller Resurrection. She spends months doing research for her stories. Her explorations have taken her around the world to places like the Great Pyramid of Giza, Hong Kong and its islands, the Baltic Sea, and many ruined castles in Scotland. Arwen lives with her husband and their three children on the West Coast of the United States. You can visit her at arwendayton.com and follow @arwenelysdayton on Twitter and Instagram.
Praise for Stronger, Faster, and More Beautiful
★ "Part cautionary tale and part ode to the inventive human spirit, Dayton's brilliant collection of stories is best described as a scientific Twilight Zone." —Publishers Weekly, Starred
★ "Compelling and terrifying, this volume is science fiction at its finest."
—School Library Journal, Starred
★ "This speculative, thought-provoking novel will take readers on a frightening, remarkable journey through humanity's past, present, and possible future." —Booklist, Starred
★ "Imaginative and incisive." —Kirkus Reviews, Starred
"Stronger, Faster, and More Beautiful will send shivers down your spine." —Teen Vogue
This slideshow requires JavaScript.
And that's all for today's book review & playlist! Again, massive thanks to Penguin Random House International Sales & Random House Children's Books for offering me the review chance and social media kit.
To all my lovely readers, thank you for staying until the end and I hope you had a fantastic time here! Please give this book a try if you hadn't already, and hopefully you liked the songs I picked for the story. ❤
Have a nice week!
Until next time,
Jasmine 🙂