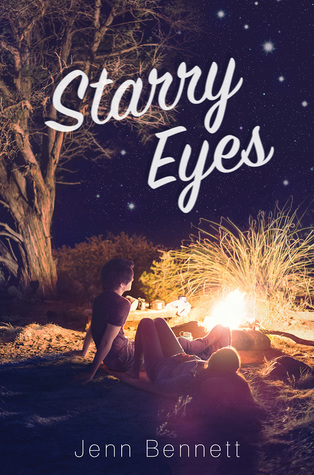 Ever since last year's homecoming dance, best friends-turned-best enemies Zorie and Lennon have made an art of avoiding each other. It doesn't hurt that their families are the modern day, Californian version of the Montagues and Capulets.
But when a group camping trip goes south, Zorie and Lennon find themselves stranded in the wilderness. Alone. Together.
What could go wrong?
With no one but each other for company, Zorie and Lennon have no choice but to hash out their issues via witty jabs and insults as they try to make their way to safety. But fighting each other while also fighting off the forces of nature makes getting out of the woods in one piece less and less likely.
And as the two travel deeper into Northern California's rugged backcountry, secrets and hidden feelings surface. But can Zorie and Lennon's rekindled connection survive out in the real world? Or was it just a result of the fresh forest air and the magic of the twinkling stars? (From: Goodreads)
***Actual rating: 5/5 Zoriennon Stars***

"Just roll with it, Zorie. Let life happen."
Oh my god, this book was soooooooo incredibly amazing that I went on to order five more copies right after I was finished so that I could force strongly suggest my friends read it. Honestly, it's been a while since I last became this addicted to a story and my entire reading experience with this book was overwhelmingly perfect. All I'm saying is that PLEASE GO PICK STARRY EYES UP AND DEVOUR IT ASAP SO WE CAN TALK ABOUT IT SOON!!!
Starry Eyes is about how Zorie, a 17-year-old, astrophysicist-wannabe girl who'd been best friend with Lennon, a 17-year-old emo/gothic guy, since she became his neighbor when she was 14 saved her friendship with him and later on, rekindled the relationship (a.k.a. the Great Experiment) they almost had before she started avoiding him a year ago. Both Zorie and Lennon went on glamping—glamorous camping, which pretty much means living in a luxurious hotel in the campsite—with a bunch of popular classmates in school, Reagan, Summer, Kendrick, and Brett. *Oh man, this was the most awkward combination I've ever seen.*
If Brett is Sirius, brighter than anything else in the night sky, Lennon is the moon: often dark and hidden, but closer than any star. Always there.
Obviously, Zorie had had a crush on Brett since forever and when she stopped talking to Lennon, it was the best timing to hang out with him. Hence, it was not hard to imagine how much drama there was in their glamping. However, after the glamping went awry, Zorie, Lennon and their "popular friends" not only ended up camping out in the wild just like some regular campers, but also got caught doing something unforgivable, leaving them with no choice but to pack their bags and go home way earlier than they planned.
As rebellious as these spoiled kids (excluding Zorie and Lennon, of course) were, the six of them decided not to deal with the consequences yet so they went deeper into the woods to visit a waterfall. The whole setting moved from the campsite to the wild and it was truly fascinating since I knew nothing about camping, the use of bear canisters/bells or saving yourself from snake bites.
The story wouldn't be as interesting as it was without more drama; thus, when Zorie found out a huge secret about her so-called friends, Reagan and Brett, she was devastated and everyone in the group spilt even more beans that night. In the next morning, Zorie and Lennon found themselves being left behind by their dear friends, which according to Reagan's note, she told them to 'find their way home.'
Well, I somehow appreciated this sudden plot twist because it actually helped Zorie and Lennon make up with each other and bridge the one-year gap in their friendship/relationship. What's more, the most touching part of the story is the fact that both of them never completely let each other go all this time. Aside from coping with their own domestic problems, both Zorie and Lennon had always been hung over the other since the homecoming night when they ceased to be friends.
Tenderness and pain rise to my throat. It's a bittersweet pain, one that's tarnished by how awful this year has been for both of us. I tried so hard and for so long to push all my feelings for him away, to tamp them down into a tiny box and hide it somewhere dark in my mind. I did everything I could to forget.
And Lennon did all he could to remember.
Lennon was definitely the best representative of a loving boyfriend partly because he remembered all the tiniest details about what Zorie liked and disliked or what she was allergic to and partly because he never held grudges. He was literally everything I was looking for when it comes to boyfriend materials. His personality in the story was so well-depicted that I personally thought the author successfully created a dreamy book boyfriend for every reader.
We're under the same starry sky," I say.
"We always are."
"Not together," I argue.
"I think we've always been together, even when we were apart," he says, slipping his hand around mine.
"I know it's a cliché, but sometimes I would look up at the stars and wonder if you were ever looking at them at the same time," I admit.
"When I looked up at the stars, I saw us. You were the stars, and I was the dark sky behind you."
Aww, I totally didn't mind the cliché in Zorie and Lennon's romance. *blushing uncontrollably*
Apparently I loved EVERYTHING about this book, from the plot to the twists to the characters and the ending. But what I adored MOST about Starry Eyes is undoubtedly Zorie's development as a beloved protagonist. The story started off telling us that she was the girl who always planned ahead and hoped life would just take the road she mapped out already. She was extremely organized and she also had an unhealthy addiction to washi tapes, schedule stickers and planners. All of her features were utterly opposite to Lennon's and I couldn't believe how greatly she had transformed throughout the book. I loved that Lennon had shaped her into (a better) someone she used to be afraid to be and that how willingly she was to embrace what life had to offer eventually. They were compatible to each other and aww, I simply couldn't adore them enough!!
For our one-month anniversary, he made me a picture map.
…
A map of us.
It's years in the making, and it's messy and convoluted, some of it even tragic. But I wouldn't change the route, because we walked it together, even when we were apart. And the best part about it is that it's unfinished. Uncertainty isn't always a bad thing. Sometimes it can even be filled with extraordinary potential.
In addition to the characters I mentioned above, there was something ugly, scandalous going on in Zorie's life in the meanwhile. Although that specific incidence seemed like a distraction to me, it actually made Zorie stronger and let her realize how wonderful her mother(s) were. That is, I particularly liked her Korean-American mom (not her birth mom, though), considering she was the one who "asked" her to go glamping with Reagan and encouraged her to step out of her comfort zone in the first place. I mean, you could never cherish this kind of caring relationship in your family enough, could you?
"Don't be cautious. Be careful," she reminds me. Cautious people are afraid of the unknown and avoid it. Careful people plan so that they're more confident when they face the unknown. She tells me this every time I'm resistant to a change in plans.
All in all, I loved Every. Single. Aspect. of Starry Eyes because this book is not just a swoon-worthy YA Contemporary Romance, it's also an amazing piece of Coming-of-Age story, in my opinion. Besides, I truly appreciated the friendship between Zorie and Lennon as well as the relationship between Zorie and her mom, Joy. Even when things didn't go as planned, Zorie finally figured out that sometimes you just have to put one foot in front of the other and move on.
Last but not least, though the author's Alex, Approximately has been one of the best books I've read last year, I have to say that Starry Eyes is so much better than that one! Starry Eyes is definitely the most unforgettable story I've read this year so far and I HIGHLY RECOMMEND it to everyone!!! ❤
P.S. I can't wait to admire the beautiful book cover of Starry Eyes when I get my copy 30 days later! 🙂 Will make sure to share some bookish photos with you. 😛