Happy DECEMBER, guys!!!
Woohoo, it's that time of the year when the merry holiday season arrives and there are beautifully decorated stores on the streets and the atmosphere is just perfect. ❤ I love seeing all those Christmas trees with bright fairy lights, adorable adornments and intricately wrapped gifts under them because they always make me feel a sense of belonging and an extreme amount of gratitude. :")
Well, December is not all about Christmas or holidays; it's also a great time for book lovers to either get lots of books/bookish items (with perfect excuses) or plan to read a bunch of books (like I do) JUST BECAUSE.
So sit back, relax and let me show you what I have in mind for this wonderful month! Sounds good?
★BOOKS TO READ IN DECEMBER★
Alrighty, first thing first, since I haven't read or reviewed any book in the past two weeks (due to some really important school presentations), I think it's time that I started catching up with my lagging-behind blog schedule & reading progress. To be honest, I had already planned to read some books for the upcoming blog tours weeks ago but I never thought it'd be this hard to get back to reading and actually "writing" something after living in real life for too long…which means now I have a slight problem to tick those to-dos off the list. So let's hope for the best! *fingers crossed* 😛
Here are all the books I decide to read this month:
THE TRUTH BENEATH THE LIES is a book I'm reading for the upcoming blog tour, which I'll post my review on December 4th, and though I began reading it two weeks ago, I haven't continued the story ever since. :O
It's a mystery thriller and I'm actually liking it so far so hopefully, I'll get to finish this very soon. *wink*
I BURNED DOWN HIS HOUSE is the third book in Jessica Frances's Love at First Crime series, which I find quite enjoyable to read. I've binged reading the first two instalments in this series last month and I love the light, quick and fun tones in Jessica's writing style. Hence, when I saw that she's having another blog tour for this book, I signed it up immediately. 😀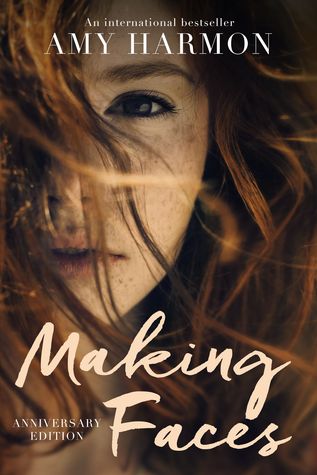 I've always wanted to read MAKING FACES by one of my top favorite authors, Amy Harmon, for soooooo looooong, so when I saw my friend, Laurie at A Court of Books, put this book on her TBR before the end of this year, I had an impulse to buddy read it with her! *Thankfully, she agreed!*
Thus, I'm so looking forward to reading this one soon! ❤ ❤ ❤
YOU'LL MISS ME WHEN I'M GONE is one of my most anticipated books for 2018 and ahhhh, I'm so glad that I'll be a part of the book tour for this book!!! I seriously couldn't contain my excitement when I was informed of the upcoming tour schedule and I also couldn't wait any longer to dive into this seemingly lovely YA Contemporary story! I've heard tons of amazing things about this book and it has 4.77/5 stars from almost 100 readers! Isn't that tempting?
The last book I have on my December TBR is GRAY HAWK OF TERRAPIN  by Moss Whelan. This one is apparently a YA Fantasy novel and if you know me well, I seldom read this category but somehow the synopsis fascinates me a lot so I simply can't turn down the chance to read and review this.
Not knowing what to expect exactly, I'll definitely keep you updated when I start reading it!
That's pretty much all the books I plan to read before 2018!
★UPCOMING BLOG POSTS★
Let's move on to some exciting news I can't wait to share with you! Not sure you've heard of a kind of blog meme called the BLOGMAS, which you need to write a blog post every day in December and the posts may or may not be Christmas related. Well, I was quite tempted by the idea because I thought it'd be so much fun to participate in something that many bloggers are taking a part of, but then I realized I probably wouldn't have that many blog post ideas so I decided to pass this time. 😛
Anyway, I'm not here to mope about not joining the seemingly fun BLOGMAS; I'm here to tell you that I'll be doing something pretty similar to Blogmas but not quite, since this project is less challenging than Blogmas. What am I talking about?
Thanks to the awesome booktuber, G, from Book Roast, for creating this super interesting tag called "7 Days of Top 7," where I'll pick my top 7 books for each topic for seven consecutive days starting from December 4th to December 10th.
Here's the schedule designed by G:
I have my picks for most of these topics in mind and I'm gonna schedule the post this weekend. If you have yours, please don't hesitate to join anytime! 😀 I'd love to know your choices as well!
★EXCITING NON-BOOKISH NEWS★
Last but definitely not least, as non-bookish as it is, I'm beyond thrilled to announce that I'll be working with an indie stationery brand from Jersey! This is probably the most unbelievable opportunity I've been offered so far because other than books, I'm also secretly addicted to stationery. (My mom used to say that I should open a stationery shop for all my collections of pens, notebooks, stickers, etc…) Therefore, when the lovely people working behind the brand contacted me and asked if I'd like to join their Early Bird Review Club, I couldn't say no! I mean, I'm more than grateful that they stumbled across my blog/social media and even gave me such an amazing chance. ❤ I'm still new to this 'working-with-a-brand' thing so please bear with me when I feature some non-bookish stuff in the future posts! 🙂
That's all, guys! Thank you for reading and I'd love to hear from you:
Have you read or found any book that interests you in my December TBR?
Are you participating in the BLOGMAS? Or are you preparing for any special Christmas edition of blog posts? 
What are your top 7 books from those topics?
General updates in life?
Let's chat! 😉
See you soon,