Hiya, awesome peeps! How are you? I hope you're good! 🙂
I feel like I haven't post anything slightly-non-bookish for a while and I currently am obsessed with a couple of songs so here I am, forcing my way into sharing something about new music, new books and my upcoming TBRs with you. *evil grinning*
Music Power-Up
First thing first, I've always been a huge fan of Selena Gomez since I knew of her from Disney's Wizards of Waverly Place TV series, and her latest song "Wolves," featuring Marshmello, has touched me deeply.
The lyrics is so beautiful and the melody is a great pleasure to the ears. I have this song on repeat everyday for almost a week now and I still haven't got tired of it. 😛
Another song I can't get enough is Camila Cabello's "Havana." In case you missed it, Camila is a former member in Fifth Harmony, an American girl group based in Miami and is best known for their hits "Worth It" and "Work from Home," but she left the group at the end of 2016. Though I admit I'm not a fan of her, her music is getting better and I find myself loving her husky voice more than ever.
Next song has grown on me slowly and I start to find how magical this particular singer/actress is. Hailey Steinfeld's new song "Let Me Go" reminds me of some wonderful childhood memory and honestly, most of her songs are uniquely nostalgic.
Since Halloween's around the corner, how can I not mention this genius singer? Nothing can be scarier than Taylor Swift's music video for "Look What You Made Me Do," at least for some people. My friend said she dared not watch the video because of Taylor's "rising up from the dead all the time" but I personally liked the video quite a lot. It's creative, powerful and the last scene where she has split personality blows my mind. It's just so dramatic and I love it. LOL
Btw, have you seen her MV for "Ready For It?" I think it's like a trailer for some sci-fi movie but hey, at least the song isn't too bad, right? What do you think? Do you like her potential in acting/singing/transforming?
New Books
Let's move on to some bookish stuff, shall we? I currently have 2 books on their ways to me and one of them is my highly anticipated novel…
Raw, captivating, and undeniably real, Nic Stone joins industry giants Jason Reynolds and Walter Dean Myers as she boldly tackles American race relations in this stunning debut.
Justyce McAllister is top of his class and set for the Ivy League—but none of that matters to the police officer who just put him in handcuffs. And despite leaving his rough neighborhood behind, he can't escape the scorn of his former peers or the ridicule of his new classmates.
Justyce looks to the teachings of Dr. Martin Luther King Jr. for answers. But do they hold up anymore? He starts a journal to Dr. King to find out.
Then comes the day Justyce goes driving with his best friend, Manny, windows rolled down, music turned up—way up, sparking the fury of a white off-duty cop beside them. Words fly. Shots are fired. Justyce and Manny are caught in the crosshairs. In the media fallout, it's Justyce who is under attack.  (From: Goodreads)
The other one is the first book in Abhorsen series by Garth Nix, which is a YA fantasy novel with lots of magical creatures, mages and supernatural elements, and though it was first published in 1995 (LOOONNNGGG time ago!), I actually am intrigued by the synopsis. 🙂
Sabriel is the daughter of the Mage Abhorsen. Ever since she was a tiny child, she has lived outside the Wall of the Old Kingdom–far away from the uncontrolled power of Free Magic, and away from the Dead who won't stay dead.
But now, her father is missing and Sabriel is called upon to cross into the world to find him, Leaving the safety of the school she has known as home, Sabriel embarks upon a quest fraught with supernatural dangers, with companions she is unsure of–for nothing is as it seems within the boundary of the Old Kingdom. There, she confronts an evil that threatens much more than her life, and comes face to face with her hidden destiny.   (GR)
Hopefully they'll arrive here safely and I can't wait to get my hands on them!
Upcoming TBRs
Speaking of my upcoming to-reads, there'll be quite a few blog tours and cover reveal blitzes on my blog in the following weeks so that's why I always have something to read after finishing my current one. 😛 So yesterday, I wrote the review for an amazing YA dystopian book, Daughter4254, written by Leigh Statham (my new favorite author!), and I'll post it here at 10:00 a.m. this Thursday (22:00, Wednesday EST).
I'm recently reading the sequel to Love at First Crime by Jessica Frances:
She knocked him out, so he knocked down her walls…
He has irritated me ever since we were kids.
He is overprotective.
Controlling.
A complete jerk.
So, I knocked him out.
It was an accident.
I felt terrible … mostly.
It changed things between us.
Life for us both got more complicated.
Add in a stalker who has decided to take an interest in me,
And suddenly our worlds are turned upside-down.
Can things really change between us so fast?
Or are we just making a bigger mess than what we started with?
I think that hit to the head might have knocked things loose for both of us.
Because, from the moment I knocked him out, we saw each other differently.
As some people say, there is nothing quite like love at first … crime. (GR)
Due to the huge reading slump from Daughter4254, it took me weeks to barely get to 15% of this book but it's actually pretty good so far. We get to see some previous characters from book 1, I Stole His Car, and I like our new ones here.
The next book I'll be reading is Always with You by Hannah Ellis, which I discovered through Hannah's twitter and decided to take part in a blog tour hosted by Lola.
A secret kept for more than twenty years. A daughter intent on finding the truth…
In 1994, twenty-one-year-old Evelyn Taylor left England to backpack around Australia. When she stopped off in the dusty outback town of Kununurra, she never expected to fall in love with the place – and the people. But Joe Sullivan captured her heart, and when her fun-filled year in Australia came to an end, saying goodbye to him was the hardest thing she'd ever done.
In 2017, Evelyn's daughter, Libby, embarks on her own Australian adventure. Grief-stricken following her mother's death, she's determined to find the father she never met.
Little does she know that digging up the past will be more complicated than she ever imagined.   (GR)
I'm mainly interested in the daughter-finds-her-mother's-secret part of the story so I really hope the historical aspects in the book won't bother me since I'm not that into anything historical. 😛
As the winter's step getting closer, I've found a great book to welcome my second-favorite season of the year…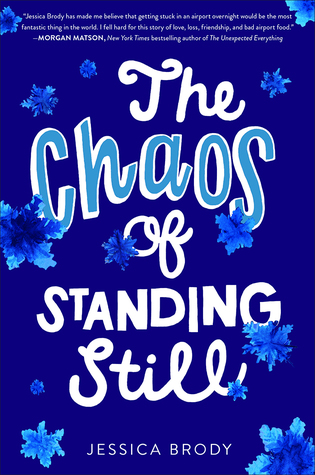 Over the course of one chaotic night stranded at the Denver airport, Ryn confronts her shattered past thanks to the charm of romance, the uniqueness of strangers, and the magic of ordinary places in this stunning novel from the author of Boys of Summer.
Ryn has one unread text message on her phone. And it's been there for almost a year.
She hasn't tried to read it. She can't. She won't. Because that one message is the last thing her best friend ever said to her before she died.
But as Ryn finds herself trapped in the Denver International Airport on New Year's Eve thanks to a never-ending blizzard on the one-year anniversary of her best friend's death, fate literally runs into her.
And his name is Xander.
When the two accidentally swap phones, Ryn and Xander are thrust into the chaos of an unforgettable all-night adventure, filled with charming and mysterious strangers, a secret New Year's Eve bash, and a possible Illuminati conspiracy hidden within the Denver airport. But as the bizarre night continues, all Ryn can think about is that one unread text message. It follows her wherever she goes, because Ryn can't get her brialliantly wild and free-spirited best friend out of her head.
Ryn can't move on.
But tonight, for the first time ever, she's trying. And maybe that's a start.
As moving as it is funny, The Chaos of Standing Still is a heartwarming story about the earth-shattering challenges life throws at us—and the unexpected strangers who help us along the way. (Goodreads)
Anyway, I think these books will keep me very busy for the following weeks, if not months, but I still hope you'll discover some of your favorites (books or music) throughout this post!
If you have a moment, what do you think about those songs mentioned above? Do you like Taylor's new videos? Or what do you plan to read soon? Please let me know in the comments below! I really appreciate it! 😀
Have a fabulous week!
Until next time,
Jasmine 🙂