For the first time in my blogging life, I finally catch up with something trendy! Thanks to Flavia at Flavia the Bibliophile for tagging me in this fun tag! Though I don't particularly LOVE the season Fall, I quite enjoy its cooler and rainy weather. 🙂 So, sit back and relax and see what this tag has to offer!
To begin with, The Fall Book Tag as well as the beautiful graphic design were created by the lovely Shanah from Bionic Book Worm so please go take a look at her blog, too! I love the questions a lot and I tag anyone who'd like to add some autumn-ish color to your blog. ❤
The Rules
1) Please link back to Bionic Book Worm, as the creator of this tag!
2) Use the graphics – if you want (made by Bionic Book Worm)
3) Have fun!
This one definitely goes to Letters to Eloise by Emily Williams because it's the only book that comes to mind when I see the description. 😛
I think its epistolary format is what amazes me most since I've never really read anything like that before. Aside from the design, the story is also super touching for me that it moves me to tears no matter how many times I re-read it. It's 100% one of the BESTEST books I've read this year.
Now that we're talking about this book, I plan to read it again for my 24-hour readathon in November. 😉
Seriously, there's no way I'll forget the ending of the Divergent Trilogy by Veronica Roth. I am the kind of reader who rarely gets surprised by an ending, however unexpected or shocking it is. But this one???? I not only don't see it coming at all, but that outcome has never ever come across my mind the entire time I'm reading the series.
I mean, of course Tris and Four are going to—
Okay, I should just shut up in case I spoil someone unintentionally.
When it comes to warm and fuzzy feeling in a book, Jennifer L. Armentrout is the one and only *hands down* incredible writer that I know of. A particular scene in the first book in Wait for You series that melts my heart completely is when Cam comes back from a short break (not sure if it's Thanksgiving) earlier just to surprise and keep Avery company since she's not going home at that time and she simply spends the week in her dorm alone.
The best part is that the above scene is just the beginning and thus, there are many more swoon-worthy moments between the lovebirds throughout the entire book!
I totally agree with Shanah on this one!
It's hard not to think about Illuminae by Jay Kristoff and Amie Kaufman when you see the tag, right? I mean, the cover is just too bright and gorgeous to be missed. Once you've seen it somewhere, you can never unseen it. So just admit it, folks, this book is demanding your full attention on him in every way possible. 😉
Reasons you should totally read this:
-the stunning cover (check)
-the most creative layout design for all the pages (check)
-unforgettable reading experience (check)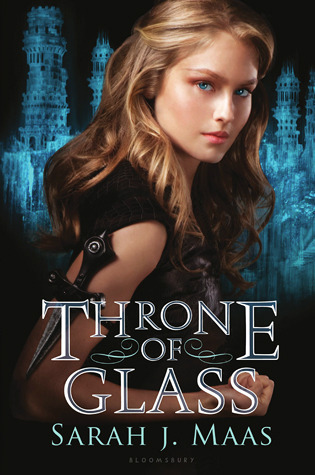 I used to be a huge, faithful fan of Sarah J. Maas because of this awesome series, Throne of Glass. Most people know that Celaena Sardothien is a badass assassin so undoubtedly, this whole series is an action-overload!
The truth is, I personally prefer Celaena to Aelin because she used to have that teeny tiny bit of innocence and I just wish she could keep that personal trait for a little longer.
Sadly, I didn't enjoy Empire of Storms and would probably not continue this series anytime soon. 😦
Ha! What a great way to end the post with this question! Right now my most anticipated read is Turtles All the Way Down by John Green!!! Not only because John's one of my top favorite authors of all time, but also because it's been 5 years since he last published something.
So far I've read and loved his The Fault in Our Stars and Looking for Alaska. I also have his Paper Towns on my bookshelf and the movie was pretty good so I'm looking forward to the original story. 🙂
Though I've preordered a signed copy early last month, I've told that I still need to wait another 30 days(!!!!) for my copy to arrive… Can you believe it?! *calm down, be patient*
Yay, last but not least,
That's all for today's FALL BOOK TAG! Thanks again to Flavia for tagging me and Shanah for creating the tag in the first place! To anyone who's still here, I hope you're having a great time reading this post and feel free to join if you like it!
Happy Autumn!
Jasmine 🙂