As the weather's getting hotter, the day time longer and the sparrows merrier (???Really!?), we can't help but notice that SUMMER's HERE! So instead of ice cream, popsicles and Slurpee, let's have something healthier like a freshly made smoothie, shall we?
This is a post I should've done over a year ago when I was kindly nominated by lovely Lindsay from Untamed Shrews (Thank you so much, Lindsay! Plus, please check out her answers and blog, guys! It's amazing.) but I kept putting it off and see where it goes now… Don't get me wrong, I'm still very excited to do this tag because it's probably the most creative one I've ever seen! So here we go~
 Rules:
Post the rules before starting and link back to this post as a reference for other bloggers.
Part A: Answer each of the fruit questions (each fruit corresponds to a book!) & add pictures plus why you thought that particular book deserves that particular fruit if possible.
Part B: Choose your favorite fruit (even if it is one of the fruits in part A). Come up with a question that we didn't ask and answer it.
Part C: Create your own smoothie from the fruits in Part A (imagine a Lemon-Tomato-Apple smoothie ~ yuck), and find a book that would correlate to your smoothie!
Nominate as many and anyone that you think are deserving of this award but it would be nice if you nominated a minimum of 5!
Notify your nominees of the nomination.
The most important rules? Have fun and of course, keep it fresh!
Part A:
1. Strawberries – Name the sweetest book you've read. (e.g. sweet in terms of the characters or if the story takes place in a sweet world… etc.)

Speaking of sweet, the only book I have in mind is The Color Project by Sierra Abrams. This is a story that cheers me up and brings a huge smile to my face when reading it because the romance between our beloved main characters, Levi and Bee, is so adorable that I can't even! Besides, despite the fact that there's some unexpected incident in the middle of the story, it eventually ends up beautifully so I literally have nothing to complain. 🙂 Thus, go mark the calendar, guys! I can't wait for you to read it when it comes out on July 18th this year! Full review here.
2. Coconut – What is a book that you would bring on vacation with you to a tropical destination? (Or if you're just relaxing at the beach…)
If you've read The Unexpected Everything by Morgan Matson, I believe it's not hard to imagine lying comfortably on the beach, sipping umbrella cocktails while reading this lovely book. Right? YAS!!! That's exactly what I hope to do someday. Who knows dog walking could be something so romantic and adventurous? For those who haven't read this book, I highly recommend it because it's a perfect summer read for everyone!
3. Pineapple – What is a book that you didn't think you would like by judging its cover/summary/the first few pages but started to grow on you?

Although I've heard lots of great things about A Monster Calls by Patrick Ness, I didn't want to pick it up because when I first saw the cover, I was like "Seriously? Why would people buy a book with such a terrible cover?" The book cover didn't appeal to me and I had no intention to read it at first. HOWEVER, it turned out that I was soooo wrong for judging the book by its cover!!! The story is superbly written and the morals are totally worthy of learning for children and adult alike. Full review here.
4. Orange – What's the juiciest book you've read? (e.g. A book with tons of action, romance… etc.)
As for the juiciest book I've read so far, I think most of Jennifer L. Armentrout's paranormal series are on top of my list. Her Lux, Covenant and The Dark Elements series are all extremely action-packed, filled with tons of sexual tensions, swoon-worthy scenes and sizzling romance! Thus, I'll just name the first book in the Covenant series for your reference since it's the first book I read written by her. In case you're interested, you could find all of my reviews for her books HERE .
5. Watermelon – A watery book (e.g. There wasn't tons of substance to the book/the details were just too watery…etc. Don't get us wrong though, we love watermelons!)

Ugh, Sweet Evil series by Wendy Higgins is one of those book series I hope I'd love because of the hype online but guess what? I HATED it so much that all I remember is that it's the last book I read in 2016 and gah, what a great way to wrap a year up! The plot is just meh, the romance cliché and the characters are extremely boring. As a huge paranormal romance fan, I never thought I'd be THIS disappointed by books in that genre. So yeah, I love watermelons but I hate watery stories.
6. Dragonfruit – What's the most unique book you've read? (e.g. Unique in writing style, characters, plot… etc.)

Bahahahaha, do I need to explain more? There's nothing more unique than Illuminae by Amie Kaufman and Jay Kristoff! I was captivated by its special cover design, layout in the pages, all those documents, files, reports and graphics…etc, it was the best reading experience I've ever had. Aside from the incredibly phenomenal artistry, the story itself is also something to have high expectation for. All in all, this book blew my mind and I loved it more than anything else! Full review here!
7. Lemons – Name a book that made you feel sour. (e.g. The emotions were just sour, you just felt sour reading the book, or the book includes sour characters… etc.)

Honestly, I have no idea what a sour character/story is, but I suppose it's a book that'll leave a bad taste in your mouth after reading it. So I choose Rule by Jay Crownover. I know some people are huge fans of her and love this book so much more than I did, which is great, but I'm sorry, it's just not for me. I have issues with the male MC because he's basically a manwhore who's trying to show his affection to someone he wants to impress but he never takes it seriously. It seems to me that he's simply playing with his "girlfriend's" feelings and their X-rated scenes disgust me. Anyway, this book is a total lemon for me. Period.
8. Tomato – What is a wonderful book that you think should be more widely known? Or a fantastic author whom you think deserves more recognition? (Since some may not know that tomatoes are actually fruits!)
Ah! I actually have so many books/authors in mind for this one but I'll go with Writing on the Wall (The Survival trilogy) by Tracey Ward. My friend recommended it to me two years ago and I was so astonished by the world building as well as the character development in the trilogy! It's about a zombie apocalypse–and before you judge it, let me clarify that I AM SO NOT A FAN OF ZOMBIES BUT I STILL LOVE IT–and the main protagonists, Joss and Ryan, are stuck in that world where they need to survive by themselves (mostly alone because you can trust no one). This trilogy just gets better and better with the flow of the story but it's too underrated in the bookish community! I hope you'll at least add it to your TBR after reading this! ❤ Full review here.

9. Apple – Name a really stereotypical book of a certain genre just like apples which are typical fruits. In the end was that book good or not? (e.g. A very typical contemporary/fantasy book… etc.)
The Burning Sky (The Elemental trilogy) by Sherry Thomas is a typical fantasy for me. There are magic, wands, spells, flying big spiders (yuck), nerdy guys(?), and some interesting background settings. Doesn't it sound like a total high fantasy to you, too? Anyway, it's my first fantasy read and also when I realized I'm not that into this genre at all. Though the story did improve in the following two instalments, it's just a so-so series for me. Full review here.
10. Blueberries – Name a book that made you feel blue. (Any sad, depressing books that you've read?)
Speaking of sad stories, there's nothing more depressing than the Breathing trilogy by Rebecca Donovan. As the book title indicates, it's a book about a teenage girl who's suffered from a long-term domestic violence and later in an abusive relationship with her boyfriend. There's actually an amazing guy who totally understands her but due to his own reality concerns, they're forced to stay away from each other (if I remember correctly). My chest was convulsed with sobs when reading this book and I felt extremely depressed afterwards. I didn't know what this book did to me. Full review here.
11. Grapefruit – Any bitter books? (e.g. a book that was blue but MORE… do you have any bitter resentments towards characters from a book? Any sour turned bitter emotions? Any uber-hateful villains?)

There's a specific character in Here's to Falling by Christine Zolendz whom I despise the most. The author depicted what our main female character, Charlie, went through with her boyfriend's dad so vividly that almost made me feel uncomfortable. I wanted to punched him into next Tuesday but I also needed to puke first. I felt so miserable after reading that scene and felt sorry for her because she had to endure that horrible experience. What's worse, he got away easily, which only infuriated me more. In the end, this is a highly recommended book from me. Full review here.
12. Limes – Name a funny book that you've read because limes add flavour and so does humour with every book.
The book that cracks me up most is the Divinicus Nex Chronicles by A&E Kirk. It's also an underrated book series that deserves more readers for so many reasons! The most important feature is the sense of humor most characters have in the story; their banters are hilarious and there are times when I find myself giggling without knowing why. Obviously, the main protagonists–a lucky girl named Aurora along with not one, not two, but FIVE friggin' hot HEX BOYS–are on a journey to battle against demons. There will be six books in this series. Full review here.
Part B: (create your own)
Avocado-Name a book you have some guilty pleasure while reading, just like avocados because it's the only fruit that contains fat but it's delicious at the same time!
Ha! That'll be A Court of Mist and Fury by Sarah J. Maas! I had a great time reading those intimate moments between Rhysand and Feyre even when they're apparently enjoying themselves under such harsh circumstances and I'm not sorry! *ovaries exploded* One thing I loved this book more than ToG series or ACoTaR is that the majority of the story revolved around Feysand and I was satisfied. I mean, who could get enough of them?! I shipped them so much and I couldn't lie!!!  Full review here.
Part C: (SMOOTHIE!)
Strawberry+pineapple+orange=
Lux series

by Jennifer L. Armentrout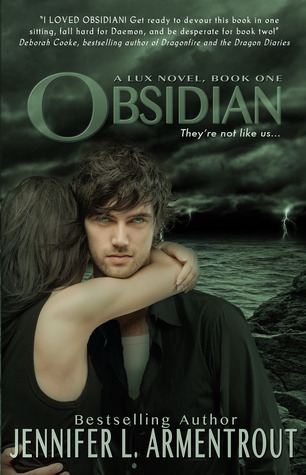 As I mentioned before, I highly recommend Jennifer L. Armentrout's paranormal romance series and Lux is one of them. Like many readers, when I first saw this cover, I didn't want to pick it up at all because Daemon is so NOT handsome in this one! And Kitten has her back to us, seriously!?!? What kind of book is this??? But I'm really glad I put my judgment aside and gave it a shot; it's now one of my all time favorite series! So yeah, a great summer read for you and hopefully y'all enjoy my freshly made strawberry-pineapple-orange smoothie! Full review here.
(photo credit: pinterest)
I tagged…
Kayla at KDREWKTHEBOOKWORM
Karina at afirepages
Payton at Payton's Book Thoughts
Audrey at Audrey Writes Abroad
Samantha at Reed's Reads & Reviews
Thanks for reading and I can't wait to see what kind of smoothies these lovely bloggers will make! If you've done this tag or don't want to do it, feel free to skip. I won't be offended! To those who're interested in this award, I tag you too! So, enjoy! 🙂