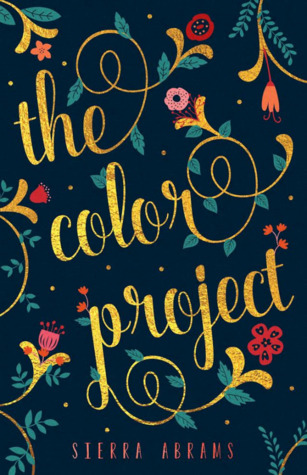 Bernice Aurora Wescott has one thing she doesn't want anyone to know: her name. That is, until Bee meets Levi, the local golden boy who runs a charity organization called The Color Project.
Levi is not at all shy about attempting to guess Bee's real name; his persistence is one of the many reasons why Bee falls for him. But while Levi is everything she never knew she needed, giving up her name would feel like a stamp on forever. And that terrifies her.
When unexpected news of an illness in the family drains Bee's summer of everything bright, she is pushed to the breaking point. Losing herself in The Color Project—a world of weddings, funerals, cancer patients, and hopeful families that the charity funds—is no longer enough. Bee must hold up the weight of her family, but to do that, she needs Levi. She'll have to give up her name and let him in completely or lose the best thing that's ever happened to her. (From: Goodreads)
***Actual Rating: 4/5 Cinnamon Roll Stars***
A book that reminds me of Lizzie McGuire so much and here's the thing: I LOVE Lizzie McGuire.
First of all, I really couldn't sum this book up in a few sentences because it was mainly about a part of our protagonists, Bee and Levi's life. It was like they were sharing some of their sweet and bitter memories with us. Now looking back at it, The Color Project had become a beautiful piece of memory for me instead of just a story.
The Color Project began with a seventeen-year-old girl named Bernice Aurora Wescott, a.k.a. Bee, who lived quite an ordinary life in California. One day, her car broke down with not one, but TWO flat tires, so she went to her brother's friends' car shop and saw the gorgeous, bright-yellow-sweater guy who had her undividable attention immediately. Well, I'd call it love at first sight if it weren't for the amazing development between the two later on.
It wasn't until a few days later when Bee had to pick up her car that she finally MET and TALKED to the guy-who-wore-colorful-shirts and learned that he was THE notoriously good BOY with a cute name, Levi. Basically, everything about this OTP was adorable. That's all you need to know. *wink*
As Bee and Levi's romance slowly building, she got to know about his glorious work (beside car fixing)—The Color Project—and was fascinated by how it worked right away. Therefore, they naturally got more time together and again, the love blossomed perfectly.
A couple of weeks later, Bee's dad revealed some shocking news about his health condition and that he needed to undergo chemo treatments. In the meanwhile, Bee and Levi encountered their very first hardship in their relationship and both of them learned something important during the process. Anyway, it was still a happy ending for me despite the inevitable incident.
Alright, it's finally time to share my opinions with you!
[The Romance]
To begin with, I had to say my FAVORITE part of the story was Bee and Levi's slowly-built, well-developed romance . Seriously, the first 60~70% of the book featured their lovely relationship and the sexual tension between the lovebirds was definitely something to behold in this book. Needless to say, their romance was the kind that's going to make you swoon over and over again, while melting your heart into goo. Levi was such a sweetie who always put not only his girlfriend but literally everyone else first and also had a big heart. He was the most compassionate, considerate and caring person I've ever seen and that undoubtedly made him top my book boyfriend list. Levi and Bee's relationship was too natural and beautiful and fairytale-like to be true but I still shipped them a ton. #RelationshipGoal.
[The Characters]
Another thing I loved about this book was the characters. Aside from our protagonists, Levi and Bee, I adored Bee's girl best friend, Gretchen a lot. Even though she lived far away from Bee, they kept in touch daily and talked about all things girly almost everything. Her role in this book was cherry on top for me since we already had the promising future for Bee and Levi's relationship as well as the lovable interaction in Bee's huge family. What's more, I also enjoyed Bee and her friends' sense of humor; well, if memory serves, there were more hilarious scenes in the first few chapters than the rest of the book.
[The Color Project]
Speaking of The Color Project, it was actually the name for Levi's master "project" (duh), on which he spent most of his time after work at the car shop. To be honest, I had a love-and-hate relationship with TCP because I really thought the idea of it was BRILLIANT. Like, volunteering for something greater than one could possibly achieve in your leisure time. However, since Levi was merely 20 years old and Bee 17, I didn't think they should put that much effort in a volunteering work. Anyway, I was just being practical and more realistic, nothing else. Though I did appreciate that Bee served as a floral designer by day because that was exactly where she belonged and could finally use her talents. Seeing her do something she was passionate about warmed my heart immensely and it was the same feeling as watching Levi organize TCP.
[The Twists!?]
Honestly, I didn't think there was a real, unexpected twist that surprised me in this book. (I'm not sure if this is a spoiler but I'll just cover it just in case!)
***SPOILERS START HERE!!!!!! PLEASE SCROLL DOWN TO WHERE I SAY 'SAFE' if you don't want to be spoiled.***
The only possible "twist" I supposed was Bee's dad's deteriorating health condition. Compared to the tone in the previous part of the book, it was definitely something different and…sad. After the accidental discovery of her dad's brain cancer, Bee broke up with Levi because she didn't think she could handle both aspects in her life at the moment and what confused me most was the fact that Levi had been financially aiding Bee's family since he knew of her dad's cancer.
I didn't know how to explain my confusion because I came up with various theories about Bee's reaction after seeing that dreadful scene of Levi handing her mom a white envelope with a bimonthly check. First up, I didn't get why she snapped at Levi almost immediately after knowing the truth since Levi's behavior didn't make sense to me in the first place. I mean, though Bee had every right to be mad at him because he had been paying her dad's chemo treatment for a long time behind her back even when they were still dating, what bothered me a lot was that Levi helped her family UNDER THE NAME OF TCP. It might be an odd reason but I didn't think it was okay to use his own business/project to help his family/friends.
I also didn't understand why Bee wouldn't tell Levi her real name since the beginning of their relationship. I knew she said her name—Bernice Aurora Wescott—was extremely ridiculous and if she could, she would never ever say it anymore. Especially not to strangers. Thus, I initially thought perhaps there were some sort of unspeakable secrets about her name so that giving it out would mean giving a piece of herself out. Unfortunately, there wasn't any. She didn't tell Levi her name simply because it was fun for him to keep coming up with funny names which started with B. *Ooooooright*
So yeah, apart from Bee's dad's cancer and her pretending to be mysterious, I didn't see major plot twists in this book, which was slightly disappointed for me.
***You're now safe to read the following contents!***
[The Ending]
Thankfully, since I didn't like the previous section of the story, which was at about 80~95% of the book, the last 5% of it wrapped up the story splendidly. In a nutshell, Bee delivered an opening speech in a TCP ceremony and her heartfelt words made up for the unsatisfying parts! I loved that ending so, so, so much that my previous rant was totally negligible. And then once again, Bee and Levi and everyone else in this book led a delightful, happy, merry life full of rainbows, unicorns and sunshine.
BONUS: PLAYLIST
Had I mentioned that there was a meticulously selected and organized playlist which went really well along with the book? Well, there was! The titles of the songs also happened to be those for each chapter so if you didn't want to be spoiled, don't click the link! Otherwise, it was a good choice to listen to them while reading.
To sum up, The Color Project was a light-hearted, quick, fun read for everyone and the cheerful vibe in this book would bring you alive! Highly recommend to anyone who seeks happy endings, playful, memorable characters and a heartwarming romance.
P.S. The paperback is SOOOOO pretty that you'll regret if you don't get one for your bookshelf!!!
**Thanks to the author for kindly sending me an e-copy of the book in exchange for an honest review.**