Hello! How are you? I hope you're good. 🙂
Honestly, I planned to write this post when I got two of my most anticipated books this year, but unfortunately, I was informed that I won't be receiving them until the beginning or middle of June. 😥 (Ugh, this is probably the first and the last time I order from that online bookstore since it takes more than 45 days for international shipping.)
Anyway, here I am, can't wait to share some news with you both bookish and non-bookish!
[Books that are On their Way to ME!]
First of all, the two exciting books I'm dying to read are The Hate U Give by Angie Thomas and A Court of Wings and Ruin by Sarah J. Maas! Totally not surprised, right? Actually, I could simply get a paperback of THUG in our local bookstore but I really have a thing for its hardcover. The design and color are so simple and it's definitely my favorite. 😛 Besides, I believe it's also one of the must-buys for lots of you so I tend to collect hardbacks of these books.
Speaking of ACoWaR, hmm, I'm sort of hesitant right now because recently, more and more of my friends who enjoyed reading ACoMaF (A Court of Mist and Fury) have started complaining about the highly coveted finale for A Court of Thorns and Roses trilogy!!! I mean, I thought they disliked it because (maybe) the ending broke their hearts or simply for some emotional reasons (and never something serious); however, after reading their reviews, I realized they were TOTALLY SERIOUS about their ranting and disappointment! :O
Some disagreed with SJM's POV on the characters' sexuality preferences, highly controversial trolls, or how she always made the "straight, white guys" dominate the situations, and some simply were tired of her similar writing style and lack of originality in her protagonists. I personally had no idea what they meant since I, miraculously, hadn't spoiled myself on Tumblr or accidentally read anything related to those issues frequently discussing by the readers yet, so it's really not my place to make any comments. But I'm very interested in what goes wrong with this one. Has ACoTaR trilogy always been this controversial? Was I blinded and biased by all the hype before? Either way, I'm determined to figure it out and hopefully, I won't end up hating the book that much or at least, have some great ideas to share with you soon.
[What I'm (probably) going to read in May…]
Thanks to your votes on my Twitter poll, I'm currently reading Alex, Approximately by Jenn Bennett and guess what? I loved it more than I thought I would even though I'm only at the very beginning! Besides, a dear friend of mine recommended it to me and her taste in books never disappoints! ❤
(photo credit: The Happy Page on Facebook)
Another book I'm intrigued to read is Alex and Eliza: A Love Story written by Melissa de la Cruz. I don't know why; I'm never the one who loves reading historical stories because I don't like history at all. Seriously, my history score was probably one of the lowest among all 600 students when I was in senior high school. So I was extremely relieved that I no longer needed to see or keep in touch with anything history related when I got into the university. Much to my surprise, ever since I read and LOVED Letters to Eloise by Emily Williams (you could read my review HERE), I officially fell in love with historical fictions from then on! Therefore, when I knew that Alex and Eliza: A Love Story was about a historical romance, I promised myself to read it ASAP.
What about you? Have you read

Alex, Approximately

or Alex and Eliza: A Love Story?
[Upcoming Book Reviews]
Yay! Since the busiest part of this semester has come to a temporary end right now, I can finally grasp some free time reading and reviewing books in the following weeks! All of a sudden, I can't be grateful enough for this short break during this semester because I never know how blissful it is to have sufficient sleep while living a life which isn't crammed up with suffocating presentations or reports. 🙂
So I'll post two book reviews in the following days and the first one is…
The Color Project by Sierra Abrams! (It's an ARC!!!)
It's one of my top anticipated books this year and I'm so honored to have been one of the early readers for this book. The official release date is July 18th, 2017 so go mark your calendar and preorder the Kindle HERE or a gorgeous paperback HERE.
The second book review I'll put up is…
Strange the Dreamer

(Strange the Dreamer #1) by Laini Taylor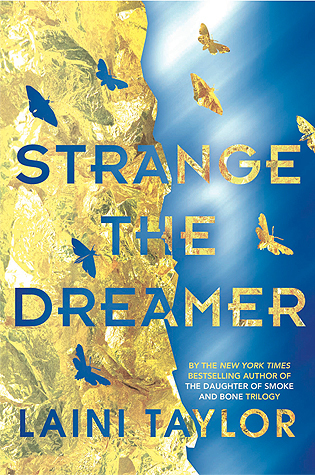 Sadly, it'll be an unpopular opinion review so brace yourself and for those who haven't read it, I truly hope you'll enjoy it more than I did! 😛
[Music Power-Up]
Wow, it's been a long time since I last recommended any songs to you! So here's one music video I've been addicted to since its release few days ago. ❤
The entire video is so well made and flawlessly arranged, from the background setting to the casting. Ah, there's nothing I dislike in this video! Saoirse Ronan rocked it; Galway, Ireland was definitely the most picturesque place I've ever seen and even the clubs looked amazing. Hope you enjoy it!
See you soon! xoxo