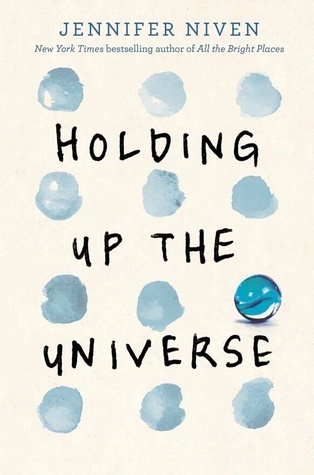 Everyone thinks they know Libby Strout, the girl once dubbed "America's Fattest Teen." But no one's taken the time to look past her weight to get to know who she really is. Following her mom's death, she's been picking up the pieces in the privacy of her home, dealing with her heartbroken father and her own grief. Now, Libby's ready: for high school, for new friends, for love, and for every possibility life has to offer. In that moment, I know the part I want to play here at MVB High. I want to be the girl who can do anything. 
Everyone thinks they know Jack Masselin, too. Yes, he's got swagger, but he's also mastered the impossible art of giving people what they want, of fitting in. What no one knows is that Jack has a newly acquired secret: he can't recognize faces. Even his own brothers are strangers to him. He's the guy who can re-engineer and rebuild anything, but he can't understand what's going on with the inner workings of his brain. So he tells himself to play it cool: Be charming. Be hilarious. Don't get too close to anyone.
Until he meets Libby. When the two get tangled up in a cruel high school game—which lands them in group counseling and community service—Libby and Jack are both pissed, and then surprised. Because the more time they spend together, the less alone they feel. Because sometimes when you meet someone, it changes the world, theirs and yours. (From: Goodreads)
***Actual Rating: 3.5/5 Jabby Stars***


"I want you to know I'm rooting for you."

It's interesting that how little time(1~2 days) I spent devouring 84% of the book but I had a hard time(3 days) swallowing the last 16%. Although it's not entirely a negative sign, it's indeed something worth discussing about for me.
Libby Strout is a girl who never stopped eating for 3 years after her mother died accidentally when she was 10 and she got the reputation of "America's Fattest Teen" before she was cut out from her house because she was too big to move on her own. Jack Masselin is a boy who has this kind of rare disease called "prosopagnosia," meaning he can't recognize faces once they aren't in front of him and the only way he can be sure about that particular person is by their unique identifiers such as hairstyle, height, body figure, way of walking, or special clothing.
Even though Libby has lost two-thirds of her weight, she's still the one occupying the largest space in a high school classroom. Thus, as stereotypical as those students could be, they noticed her in her first day of school after she locked herself up in the bedroom, lying on the bed, doing nothing but reading and eating for years.
"Here's the worst thing of it," I say. "You know how far I've come and I know how far I've come, but everyone else just sees me for how large I am or where I was years ago, not who I am now."
Her classmates, including Jack and his idiot friends, begin to make fun of her, speak ill of her, spread rumors of her and bully her. But that's also how Libby meets Jack. In a stupid prank called "Fat Girl Rodeo," Jack is challenged to grab their so-called "grand prize," aka Libby and hold on to her like a life string. To show he's not a coward, he accepts the challenge reluctantly and is rewarded by a punch in the mouth from her.
The only thing I find heartwarming is the fact that Jack has rooted for her since the day she was cut out from her bedroom and carried by a crane. He didn't humiliate her as others did and he truly saw her as a person, a nice and funny and trust-worthy person. Even after all those years, he still doesn't waver.
But then I see her. Libby Strout. She's lowered from the ceiling by a crane, larger than life, larger than anyone, and she's the only one with a face.
By the way, that's why I chose "I want you to know I'm rooting for you." to be my most favorite slogan for the book!
Therefore, their romance here is probably the purest type I've ever seen and I honestly like it. I can see that whenever they talk, they're living in their private bubble and nobody in the world can interrupt their conversation nor can anyone deprive them of their borrowed freedom.
"But after I danced you to the door, I'd want to kiss you."
"You would?"
"I would."
And now my heart is nowhere on earth to be found. I can see it as it bypasses the moon and the stars and goes blasting into another galaxy.
"Hypothetically."
"Well then, I would let you kiss me."
"Hypothetically?"
"No. Definitely."
By the time we hang up two hours later, it's 1:46 a.m. I lie there for the rest of the night waiting for my heart to return to my chest.
To my disappointment, I actually don't find the main point of the story (and it's also how "You are wanted." becomes the most notable quote)—when Libby wears her purple bikini and hands out sheets of flier in public that says "YOU ARE WANTED" along with her personal story—memorable or meaningful. I mean, she's proving to everyone that she isn't that girl who scarfed all the junk food down her throat nonstop and gave up on herself but instead, she's already stepped out of her comfort zone and decided to blend into the rest of them. However, I can't connect to her at all by the means she uses so the whole scene looks a bit out of place for me.
Aside from Libby, there's also something about Jack that's been bugging me since I first started reading the book. The fact that Jack was the only person who knows what happened to his brain and that he can't tell who is who when too many faces are flashing before his eyes until he told Libby doesn't make much sense to me. Not that I'm always trying to look for evidence or something, it's just that I'll be more appreciative if the authors write a story based on something specific and reliable. What I can't understand is how come Jack's parents or brothers didn't know something's wrong with his behavior? What I'm saying is that it's not easy to go unnoticed when you suffer from some sort of neurological disorder for more than 10 years!
Mercifully, Jennifer ended the story in a really positive and uplifting way. As usual, I feel powerful and energetic after finishing the book because she made Jack and Libby a happy couple and wrapped all those matters up lovely. Besides, there's a part I absolutely love and it's when Libby leaves her favorite book, We Have Always Lived in the Castle, on a bench in the park for someone—anyone—to pick it up. I guess it's actually from one of Jennifer's interviews videos on YouTube, where she "dropped" some of her favorite books randomly on the streets, near the telephone booth, or beside a statue in London. If you're interested, you could watch it here!
Again, it's amazing to finish another inspirational book from Jennifer Niven. Despite the fact that I don't love it (but I LIKE it), I'll still recommend it to everyone. After all, there's definitely something worth learning and hearing from the protagonists. To those who haven't read any of Jennifer's books, I highly suggest you start with All the Bright Places because that one is by far the best book I've read in my life.