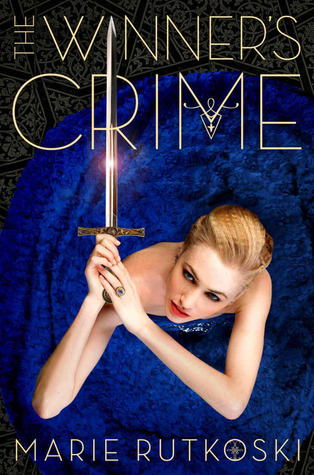 Book two of the dazzling Winner's Trilogy is a fight to the death as Kestrel risks betrayal of country for love.
The engagement of Lady Kestrel to Valoria's crown prince means one celebration after another. But to Kestrel it means living in a cage of her own making. As the wedding approaches, she aches to tell Arin the truth about her engagement… if she could only trust him. Yet can she even trust herself? For—unknown to Arin—Kestrel is becoming a skilled practitioner of deceit: an anonymous spy passing information to Herran, and close to uncovering a shocking secret.
As Arin enlists dangerous allies in the struggle to keep his country's freedom, he can't fight the suspicion that Kestrel knows more than she shows. In the end, it might not be a dagger in the dark that cuts him open, but the truth. And when that happens, Kestrel and Arin learn just how much their crimes will cost them.  (From: Goodreads)
Actual Rating: 4/5 truthful stars
"I wanted to trust you," he whispered. "I tried. But I couldn't lie to myself hard enough."
I was too absorbed in the story to mark anything in this book so I apologize for the lack of quotes in the following review. 😛
The Winner's Crime is another fast-paced story with heart-wrenching twists of plot in the trilogy. All I remember is an abundance of political and military strategies among the soldiers and the main characters. Even though there are tons of unpredictable events in this book, which I absolutely adore, I have to admit that this is my least favorite book among the series.
The reason I don't give it a well deserved 5/5 stars partly because this installment (and the way this story develops) makes the entire plot way too political and partly because I don't really like hearing Kestrel lie anymore. Particularly to Arin and all the people she cares for and vise versa.
Let's start with the "too political" part. As much as I'm impressed by the idea of "The Winner's Curse" in the first book, I'm aware that this will involve a bit political issues and means. In the beginning, the entire structure of the story isn't obvious enough to see how it'll work out later so I don't feel bothered then. However, I can see the direction more clearly in the sequel and all of Kestrel's political suggestions/lies are formed; the more apparent those characters are on the same page, the stronger the pursuit of power is. Frankly speaking, I dislike politics. So as the story contains too many political issues, I get tired and irksome easily.
Another disappointment about this book is the fact that Kestrel tells too many lies. I know she's an excellent liar from book one, but she just takes the substance of liar to a whole new level. She lies in the court, lies to her friends, lies to Prince Verex, lies to Arin, lies about the Moth, lies to her father, the emperor, the maids…basically she just lies to everyone in her life. She manipulates them like they're a piece of tile in her faovrite Bite and Sting game. There's few truth weaved through many, many layers of white lies. So it's annoying for me to see those who care so much about her are pathetically fooled.
"This voice you've been using, that bright one… do you think I don't recognize it? It's the sound of you laying a trap. Of you hiding behind your own words. And I know that the way you've been talking is not you. Say what you want about me, about what happened between us, about the shape of the sun and the color of the grass and any other truths in this world you want to deny. Deny everything until the gods strike you down. But you can't say that I don't know you."
Overall, despite the above shortcomings, I still have a great time reading this sequel and the next one, The Winner's Kiss, is what I've been looking for all the time. Hence, I highly recommend The Winner's Trilogy to everyone of you. 🙂