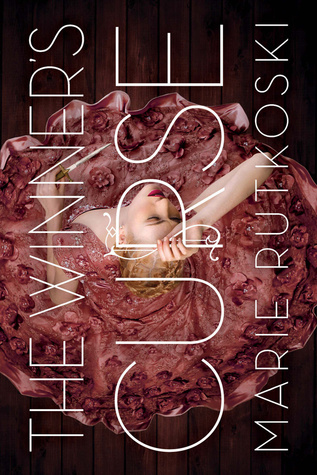 Winning what you want may cost you everything you love…
As a general's daughter in a vast empire that revels in war and enslaves those it conquers, seventeen-year-old Kestrel has two choices: she can join the military or get married. But Kestrel has other intentions.
One day, she is startled to find a kindred spirit in a young slave up for auction. Arin's eyes seem to defy everything and everyone. Following her instinct, Kestrel buys him—with unexpected consequences. It's not long before she has to hide her growing love for Arin.
But he, too, has a secret, and Kestrel quickly learns that the price she paid for a fellow human is much higher than she ever could have imagined. (From: Goodreads)

***Actual rating: 5/5 Brilliant Stars!***
"Kestrel thought about how this might be what hurt the most.
That they had used something she loved against her."
Maybe I shouldn't judge someone or something by my first impression on them, but I can't help myself. So it's official that Marie Rutkoski becomes one of my top favorite authors and The Winner's Curse my top favorite books of all time. I can't stop admiring how wonderful her writing style and how incredibly well-written this story is. She tells the story in a pretty easy yet powerful way–short, concise descriptions, no redundant narrations, and every conversation among the characters is simple and clear–she doesn't beat around the bush and what impresses me most is that she still manages to make us emotional.
Kestrel is an ultra-clever girl with a small frame. She's an impressive strategist and wins her battles with her brain instead of the physical strength. She knows how to use a secret or scandal against her opponents and at the same time, stealthily creeps into others' minds so that they'll believe what she wants them to believe. Then, the people will easily become pieces in the game she's determined to win in the end.
Arin is a slave who defies orders and dares to stare into Kestrel's eyes head on with his own beautiful grey ones. He's contemplating his next move all the time and so is she. He's setting different tiles at Bite and Sting and she, too, is willing to play the game until the end.
I know she's going to purchase him at a much higher price at the auction. What I don't know is that it happens so quickly in the beginning.
Then she reminded herself bitterly that this was what curiosity had bought her: fifty keystones for a singer who refused to sing, a friend who wasn't her friend, someone who was hers and yet would never be hers.
I know she's going to have feelings for him but it'll break her heart eventually. What I don't know is that the disappointment is so strong that when it hits me, my heart aches badly.
Why didn't he come to her?
She could make him. If she sent an order, he would obey.
But she didn't want his obedience. She wanted him to want to see her.
Kestrel flinched at this thought and the pain it brought with it.
She knew that even if everyone believed the wrong thing of her, they were also too close to being right.
I also know that she will never be his friend. What I don't know is that he will change his mind.
"You might not think of me as your friend," Kestrel told Arin, "but I think of you as mine."
…
"But am I your enemy?" Arin crossed the space between them. Softly, he repeated, "Am I?"
…
"You're not mine," Arin said.
The Winner's Curse overwhelms me with its never-ending brilliance and vigor, and all the fascinating plans carefully calculated by those characters. Although the story itself reminds me of many other YA stories, there's nothing entirely similar in particular that I can point out. That's another thumbs-up for this trilogy.
One last thing I really, really love about the book is that neither Kestrel nor Arin is avoiding each other or pushing the other away. I mean, lots of dystopian romances have the pattern of main character A pushes main character B away throughout the book and B finds something special in A later and then A forgives B and they live happily ever after. It's so NOT the case in this book!
The romance is slow-paced because both of them are baiting their own traps and play their own games. I feel like entering their mind game when I read the first chapter and they leave me with a heart-wrenching cliffhanger. The biggest difference is that Kestrel and Arin talk. They communicate and share their thoughts despite the fact that one is the captor and the other prisoner. Regardlessly, a part of them work together as a team, whereas a part of them secretly plot out the rest to make the other pay. All in all, their interaction is the most precious thing in this novel and I cherish those moments wholeheartedly.
"Open your hands, Little Fists," said Arin. "Open your eyes. I haven't stolen his love for you. Look." It was true that in the course of their conversation, Javelin had turned away from Arin, disappointed by the empty pocket. The horse nosed Kestrel's shoulder. "See?" Arin said. "He knows the difference between an easy mark and his mistress."
Lastly, here's a playlist I think it fits the atmosphere in this story so much.
1)Alan Walker-Sing Me To Sleep
"Wait a second let me catch my breath
Remind me of how it feels to hear your voice
Your lips are moving; I can't hear a thing
Living life as if we had a choice
Anywhere, anytime, I will do anything for you"
2)Natasha Thomas-Let Me Show You The Way
"Are you gonna be there when I need someone
And will I be always just the only one
I don't wanna have just another heartbreak
So tell me is your love true or a fake in the game of the heart
You know I know that you are mine"
3)Kodaline-The One
"When we are together you make me feel like my mind is free
And my dreams are reachable
You know I never ever believed in love or believed one day
That you would come along"
To sum up, I love this book very much so I HIGHLY RECOMMEND it to everyone!