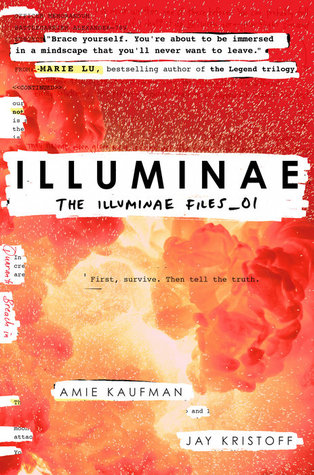 This morning, Kady thought breaking up with Ezra was the hardest thing she'd have to do.
This afternoon, her planet was invaded.
The year is 2575, and two rival megacorporations are at war over a planet that's little more than an ice-covered speck at the edge of the universe. Too bad nobody thought to warn the people living on it. With enemy fire raining down on them, Kady and Ezra—who are barely even talking to each other—are forced to fight their way onto an evacuating fleet, with an enemy warship in hot pursuit.
But their problems are just getting started. A deadly plague has broken out and is mutating, with terrifying results; the fleet's AI, which should be protecting them, may actually be their enemy; and nobody in charge will say what's really going on. As Kady hacks into a tangled web of data to find the truth, it's clear only one person can help her bring it all to light: the ex-boyfriend she swore she'd never speak to again.
Told through a fascinating dossier of hacked documents—including emails, schematics, military files, IMs, medical reports, interviews, and more—Illuminae is the first book in a heart-stopping, high-octane trilogy about lives interrupted, the price of truth, and the courage of everyday heroes. (From: Goodreads)
WHEN THE LIGHT THAT KISSES THE BACK OF HER EYES WAS BIRTHED, HER ANCESTORS WERE NOT YET BORN. HOW MANY HUMAN LIVES HAVE ENDED IN THE TIME IT TOOK THAT LIGHT TO REACH HER?
Wowwowowowowowoowow! The awesomeness of this book is utterly beyond words and there are not enough languages, precise adjectives, or sufficient rhetorics to express what I've experienced while reading this.
Seriously, it's freaking brilliant.
So, I'm going to give you all the reasons why you shouldn't miss Illuminae:
1. The setting and the futuristic probabilities.
The story takes place in 2575, which is more than 500 years later, so it's very likely that human beings will live in the spaceships and the entire universe is literally their home. I personally think this story is basically the foresight of our future and whatever happen in the book is not necessarily impossible. I mean, people nowadays are constantly discovering new methods to fulfill the dream of space-traveling and with the technological improvement, I believe, moving to Mars or wandering in the outer space isn't just a wish. In this story, you will get insight into how those space crafts along with a variety of machines work or how people operate them. Trust me, it's not as boring as you may think!
2. Kades and Ezra.
Frankly, the romance in this book isn't very intense. It's more like the dressing compared to the whole plot and yet, the story won't be a complete gourmet without it. Kady Grant, our lovely and extremely clever heroine, impresses me tremendously. She's the irreplaceable Astro-Princess with blue eyes and pink hair(17 years old, height:157cm, weight:58kg, eyes:brown), and also a talented hacker.
Inside the shuttle, Grant isn't shaking or hyperventilating anymore. She's stock-still, save for her hands, which she drags across the multiple keyboards before her like a concert pianist, swiping at the touchscreens with quick, efficient gestures.
What makes her entirely different from other female characters/heroes in the lot is that she's NOT a sweetie at all. She's extremely pragmatic and so not good at romantic pillow talks. On the contrary, her initially-ex-boyfriend Ezra Mason is everything she's not. For example, he sucks at computer-electronical-related operations and needs her to hack into their school's grading system to help him pass Chem. Buuuut, he's such a charismatic, mouth-watering sugar pie!
Mason, E, LT 2nd: you deserve every star in the galaxy laid out at your feet and a thousand diamonds in your hair. You deserve someone who'll run with you as far and as fast as you want to. Holding your hand, not holding your back.
Mason, E, LT 2nd: You deserve more than I could ever give you, Kady.
Mason, E, LT 2nd: But I'll give you everything I can if you still want me to.
Aww, they're unbelievably adorable, aren't they?
3. The incredibly hilarious sense of humor in the story.
Since Illuminae mainly takes place on spaceships, the crew have conversation by sending messages or emails. I used to think messages are cold, emotionless, and pointless at times; what I'm not expecting is that I literally doubt myself for even believing in that. The humor here is quite subtle(I sometimes miss it if I don't take a minute to ponder on it) but it never fails to put a big smile on my face.


This one takes me 2 minutes to figure out what that's supposed to mean so I think you just need to have a little creativity then it's as simple as a sheep.
4. Meet my first, proud, and respectable AI friend, AIDAN.
Honestly, I hate robots. And artificial intelligence. However…
[Me before AIDAN]


[Me after AIDAN]


Yeah, I guess he changes my thought one way or another. AIDAN is the AI created by humans(duh) and lives in Alexander. At first, I think all robotic creatures are all machines without warmth and hearts. Just as AIDAN himself admits,
"I AM INORGANIC. I DO NOT BLEED OR GROW OR REPRODUCE. I AM A SEQUENCE OF CALCULATIONS GENERATED BY ELECTRICAL CURRENT AND HARDWARE. IF THIS ITERATION OF AIDAN IS DESTROYED, I CAN SIMPLY BE REBUILT. I AM, IN ESSENCE, IMMORTAL."
His job is to protect the remaining personnel uninfected by Phobos Virus; unfortunately, not many people believe him. In fact, a majority of people think he's a killing machine and fight against him. Little do they know that most of them are already afflicted and turning brutal. Therefore, from his POV, I can see beneath the surface and contemplate like him.
AND INSIDE HER? NO RAGE. ONLY HORROR AND SORROW AND THE WEIGHT OF THE GUN IN HER HANDS AND THE AWFUL, INESCAPABLE THOUGHT THAT THIS WAS ONCE A MAN, WITH HOPES AND DREAMS AND LOVE AND LIFE. AND THE CERTAINTY THAT IF SHE DOES NOT TAKE AWAY EVERYTHING HE HAS LEFT, HE WILL TAKE IT FROM HER INSTEAD.
I suppose that's how we human beings are going to extinct some day.
After meeting Kady, speaking of their teaming up, I still can't totally forgive him for pretending to be Ezra for such a looooong time! Those beautiful images, words, heartfelt confessions… they're not real in the end! Ugh, I practically thought he's dead. Like DEAD dead. I really like the slight change in his tone and mindset. He becomes more like a human, acts like one, and even tries his best to offer comforts. That is a big transformation I'd love to see in an AI.
It's almost like…it was giving her privacy or something. In the middle of all this carnage and blood and death, where every single second counts, this psychotic killing machine that's X-ed out thousands of people somehow finds it within itself to give Grant a few moments with nobody watching.
Just one minute alone with her tears.
For those who've been wondering if AI will 100% replace us–well, that's where the hatred and fright come from in the first place–with 95% confidence, I can promise you that they WON'T. Ask AIDAN!
I AM AFRAID TO RUIN THIS. AND SO I PICK THE SIMPLEST TRUTH. THE ONE THAT GIVES ME THE MOST PEACE. I STILL CANNOT FATHOM HER PATTERN. MY BRAIN THE SIZE OF A CITY, AND STILL SHE IS BEYOND ME.
THEY ARE BEYOND ME.
THESE HUMANS.
See? Just because it's a fictional story doesn't mean everything is fictional. Human minds are still as complicated as they can be. We should be proud of ourselves. *poses*
5. The perfect, perfect, perfect ending.
I'm more than satisfied with its ending. It's so beautiful and heart-throbbing and fulfilled that it's practically the best I can hope for. ❤

***To sum up, Illuminae is a MUST-READ for everyone of you! What are you waiting for? Go snatch a copy and enjoy this amazing journey with our futuristic lovers!***
————————————–
Q&A
Since a lot of people have been confused about this book, I'm going to give you some suggestions here.
Q:What kind of format should I read in?
As far as I know, there are hardback, paperback, audio book, and e-book. The copy I own is a hardcover and I strongly recommend this kind. You'll be amazed by how gorgeous the layout of every single page along with the beautiful, bright cover. There's a plastic orange-yellow book jacket wrapped around the stunning cover and inside those pages, you'll see lots of natural handwriting or notes. It's really a special reading experience for me so I hope you'll have a chance to enjoy it the same way I do.


Q:Is it difficult to read?
In short, as long as you get used to its pattern, for example, there are briefing notes "clipped" to the corner of a page, emails, Kady's diary, confidential files, files from AIDAN core, surveillance footages…, you'll find that it's super easy to read and realize how unputdownable it is!
Lastly,
Did I mention that I love this book so much that I even have fun reading the acknowledgments at the end of the book? Well, you should definitely do the same! May you never be run over by a seventeen-year-old in a stolen truck after you shot her ex-boyfriend.