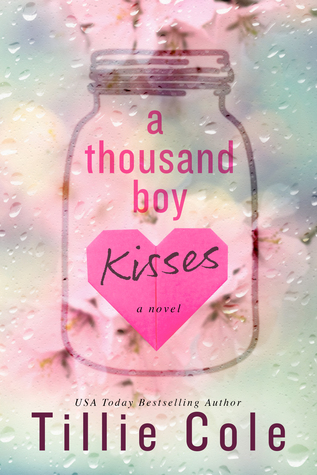 One kiss lasts a moment. But a thousand kisses can last a lifetime. One boy. One girl. A bond that is forged in an instant and cherished for a decade. A bond that neither time nor distance can break. A bond that will last forever. Or so they believe. When seventeen-year-old Rune Kristiansen returns from his native Norway to the sleepy town of Blossom Grove, Georgia, where he befriended Poppy Litchfield as a child, he has just one thing on his mind. Why did the girl who was one half of his soul, who promised to wait faithfully for his return, cut him off without a word of explanation? Rune's heart was broken two years ago when Poppy fell silent. When he discovers the truth, he finds that the greatest heartache is yet to come. (From: Amazon.com)
"We came back together for a reason. Perhaps it's a lesson we may struggle to learn until it's learned."
Actual rating: 3.5/5 Poppymin Stars
A Thousand Boy Kisses is a breathtakingly beautiful book about an American girl, Poppy, and a Norwegian boy, Rune. The story was told in alternative POVs, switching from Rune to Poppy back and forth throughout the book. However, it could be simply summarized into Rune's 4 life-changing phases in his world.


What I really appreciated is the wonderfully written puppy love in this story. The author portrayed these two young, innocent kids perfectly, making me see the world differently from their eyes as if I was brought back to my good, old childhood. Since the first day Rune and Poppy met when they were 5, they've decided to be best friends forever and of course, kids at that time made these kinds of promises easily. As time flowed, they indeed became closer and closer but still had a lot of fun so nothing serious happened then.


All the happiness they thought they would have in the future was gone suddenly because Rune needed to move back to Norway due to his father's job. Therefore, the two of them had to separate for some time. But they were merely 14! Imagine two young teeangers falling deeply in love were forced to move on set apart from each other and couldn't live the way they used to be anymore. What's worse, this wasn't the most heartbreaking moment. After Rune went back to Norway, Poppy and he kept in touch by talking on the phone for a few months in the beginning, but everything changed when she didn't answer the phone one night. And the following nights. And then two years.


Now that they were both 17, Rune finally came back to America and hopefully got back to Poppy. What he didn't know was that his coming back wasn't as delightful and exciting as he thought or as it seemed. What she witnessed at the party and what he discovered were all too painful to bear. Everything wasn't supposed to be in their schedule nor should it happen in their entire life at all.


Instead of mourning over what they both had to endure, with Poppy's encouragement and positivity, Rune for once decided not to put on his typical broody, scowling mask. Even though he had changed a lot after he came back from Norway, deep down, he was still the old Rune Poppy adored and loved and promised to share kisses with.
"Maybe we're like the cherry blossom, Rune. Like shooting stars. Maybe we loved too much too young and burned so bright that we had to fade out." She pointed behind us, to the blossom grove. "Extreme beauty, quick death. We had this love long enough to teach us a lesson. To show us how capable of love we truly are."

This book is full of positive thoughts and gives me the motive to move on or embrace whatever God gives us. Poppy made me understand how precious it was to have the ability to love or be loved by those we care most, and also how blissful we are to have such a wonderful life in this world, regardless of the length of it. She was a girl willing to take on adventures and lived the life to the fullest; even if she found out what was going to happen inevitably, she still cherished every single moment in her life like she always did.
Why are the 1.5 stars missing?
As much as I enjoyed reading this book, I realized that I wasn't moved that much when I re-read it. Most of the time, a perfectly heartwrenching book will give me the same sort of emotion no matter how many times I read it. Unfortunately, this isn't one of those books that reach my soul. I think it's because of the characters and the plot; to be honest, the more times I read it, the more ordinary I find Rune and Poppy are. They're just like the common YA characters we usually see because of their conversation, words, and most important of all, the feelings they give me. Sadly, they only manage to break my heart once and then I feel nothing afterwards. Besides, Poppy is a bit over-optimistic towards life most of the time, in my opinion. I mean, life's tough and I'd like to see her struggling inner feelings more but she seems to accept the truths too…wholeheartedly. Moreover, what confuses me most is the epilogue. Could someone please tell me what really happens to Rune there?? How did he die ten years later? At only 28 or 29 years old? Was it because he committed suicide or simply because of an accident? I really have no idea what to think of now because even if they're happy together in Heaven, I'm glad, too. BUT the how is totally beyond me and maybe it's not the main point here, I still want to know! I kind of disliked those open endings. ><
All in all, I liked the majority of the story and will recommend to those who're looking for a temporarily heartfelt novel. Good thing about this fleeting feeling is that I won't cry my eyes out in public whenever I read it and embarrass myself in class. Although I personally don't think the story will stay with me forever, I'm very glad I read it because I do learn something from Poppy.
Lastly, there's a soundtrack in the end of the book and I love them all, particularly Little Mix-Secret Love Song and One Direction-Infinity. Try letting the lyrics along with the melody accompany you when you read this, guys!
"Every day is different. The colors, the shades, the impact on your soul." She sighed and said, "Every day is a gift, Rune. If I've learned anything from the last couple of years, it's that."