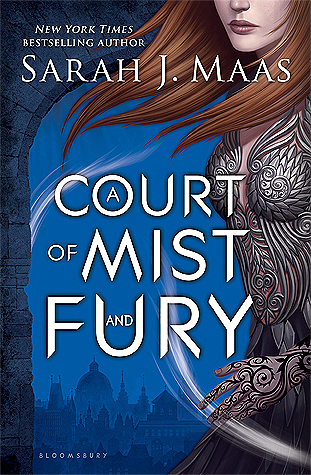 Feyre survived Amarantha's clutches to return to the Spring Court–but at a steep cost. Though she now has the powers of the High Fae, her heart remains human, and it can't forget the terrible deeds she performed to save Tamlin's people.
Nor has Feyre forgotten her bargain with Rhysand, High Lord of the feared Night Court. As Feyre navigates its dark web of politics, passion, and dazzling power, a greater evil looms–and she might be key to stopping it. But only if she can harness her harrowing gifts, heal her fractured soul, and decide how she wishes to shape her future–and the future of a world cleaved in two. (From: Goodreads)
***Actual rating: 5/5 Cursebreaking Stars***
"The issue isn't whether he loved you, it's how much. Too much. Love can be a poison."

Ah, I finally found something enthralling enough to get me out of the unending reading slump that had bothered me in the past few weeks, if not months. Sarah J. Maas is absolutely a talented storyteller and also one of the most admirable writers I've adored. She not only brought those characters to life but managed to let us readers feel a variety of emotions that I didn't even know exist. Therefore, I strongly recommend this book/trilogy to everyone because it's really worth giving a shot!

***The following review may contain mild spoilers!***
The story picked up shortly after where it ended in the previous book, A Court of Thorns and Roses, which is our lovely Feyre said goodbye to Rhysand Under the Mountain after she was Made by the seven High Lords in Prythian and went back to the Spring Court with Tamlin.
We all know that Feylin was going to tie the knot when they got back to the court and then someone paid them an unexpected visit in order to save her. Much to my surprise, the wedding took place really soon, like, in chapter 4! What totally gave me a serious heartache was the fact that Feyre wasn't happy staying in her rosy garden and being kept in the Spring Court after she sacrificed her mortal life for both Tamlin and the freedom from Amarantha's reign. I hated seeing her wasting away, letting all the grief and sadness gnaw her rotten soul bit by bit and eventually fading into nothingness.
The claws slammed into my mind a moment later. And bounced harmlessly off a black, glimmering shield of adamant.
He blinked. "You practiced."
I rose from the table and walked away. "I had nothing better to do."
That night, he left a pile of books by my door with a note. I have business elsewhere. The house is yours. Send word if you need me.
Days passed—and I didn't.
I honestly have no idea what happened between the two of them because they looked like a suitable couple in the first book. However, I think once Tamlin got what he wanted– his power and his woman– he no longer needed to pursue them. All he had to do was fully control her and make sure her abilities from those lords were his own possession so that he could use her whenever he wanted.
It was worse than a crown, actually.
Built into the box were compartments and sleeves and holders, all full of brushes and paints and charcoal and sheets of paper. A traveling painting kit.
Red—the red paint inside the glass vial was so bright, the blue as stunning as the eyes of that faerie woman I'd slaughtered—
…
Looking at that box, at what was inside, felt like examining a crow-picked corpse.
Apparently, he didn't really care about her well-being anymore, and completely ignored her requests such as acquiring training for her Fae skills or roaming freely in the territory of the court or staying by his side when he was out doing god-knows-what business. He didn't bother paying much attention to her at all until he desired some animalistic sexual activities.
As the pressure grew day by day, Feyre couldn't stand the way he treated her and prevented her from fighting against his "frienemy", aka the King of Hybern, so she went to Rhysand, that special person who'd been there all the time, and started to see through every lie she kept telling herself in the past few months.
I had done everything—everything for that love. I had ripped myself to shreds, I had killed innocents and debased myself, and he had sat beside Amarantha on that throne. And he couldn't do anything, hadn't risked it—hadn't risked being caught until there was one night left, and all he'd wanted to do wasn't free me, but fuck me, and—
At first, she didn't realize that with every passing minute she spent with Rhysand, he was slowly mending her broken soul and helped her recover from her worst living nightmares. He tried so hard to get her open up to him, but in vain. Then he decided to genuinely talk to her and perhaps she would do the same for him. I absolutely loved their heart-to-heart talks because among all those fierce and strongly emotional moments, there were some warmhearted ones and they were also what I cherished most in their relationship.
"You say what's on your mind—one thing. And I'll say one, too."
I shook my head and turned back to the city.
But Rhys said, "I'm thinking that I spent fifty years locked Under the Mountain, and I'd sometimes let myself dream of this place, but I never expected to see it again. I'm thinking that I wish I had been the one who slaughtered her. I'm thinking that if war comes, it might be a long while yet before I get to have a night like this."…Maybe it was some shred of courage, or recklessness, or I was so high above everything that no one save Rhys and the wind could hear, but I said, "I'm thinking that I must have been a fool in love to allow myself to be shown so little of the Spring Court. I'm thinking there's a great deal of that territory I was never allowed to see or hear about and maybe I would have lived in ignorance forever like some pet. I'm thinking…" The words became choked. I shook my head as if I could clear the remaining ones away. But I still spoke them. "I'm thinking that I was a lonely, hopeless person, and I might have fallen in love with the first thing that showed me a hint of kindness and safety. And I'm thinking maybe he knew that—maybe not actively, but maybe he wanted to be that person for someone. And maybe that worked for who I was before. Maybe it doesn't work for who—what I am now."
Ever so slightly, the change between their friendship was too subtle to notice. Yet the development was something intense enough to be looked forward to. Rhysand didn't covet her like Tamlin did, nor did he seduce her passionately or show too much affection toward her when she first arrived in the Night Court. No. He wasn't Amarantha's Whore anymore. In fact, he wasn't a whore, prick or whatever bad names you could call him at all. Anyway, he always offered her many choices and kept reminding her that she was the master of her future, of her eternity. He was once again the beacon of hope and light in Feyre's swirling darkness. He was the only thing that kept her from breaking down and tearing apart.
I waited for the fear to hit; waited for my body to shriek to find a way to get out of this dinner, but …nothing. Maybe it'd be a mercy to be ended—
A broad hand gripped my face—gently enough not to hurt, but hard enough to make me look at him. "Don't you ever think that," Rhysand hissed, his eyes livid. "Not for one damned moment."
Have you ever wondered why Rhys was capable of truly understanding Feyre's desperation or what she had been through as if he had been there before as well?
This book gave us many details about our beloved High Lord of the Night Court's unmentionable past, his five-hundred-year of life, and the most torturous fifty years under Amarantha's control.
It's such a huge relief to know that Feyre Archeron stumbled into his life and instead of leading miserable lives together, they both provided each other with a peaceful state of mind like a dreamer's. So at the same time he healed her, she did exactly the same for him, too.
"When Rhys came back, after Amarantha, he was a ghost. He pretended he wasn't, but he was. You made him come alive again."
In Prythian's long history, never did I expect Rhys' extreme hatred for Ianthe had anything to do with their…unbelievably shameful encounter. I didn't particularly dislike her in the first book, and even during the preparation for Feyre's wedding, I still didn't notice anything unfamiliar. Hence, it's shocking news for me to know what happened centuries ago through Rhys' memory. And since then, I couldn't despise her enough. She was the real whore and I was reluctant to say this word, but she was indeed a hateful b**ch the entire time. It's not exaggerating to say that she was the Queen of the B**ch-World.
Ianthe's eyes darkened, and she slithered to her feet, not bothering with her clothes, draped over his favorite chair. Each step toward him had her generous breasts bobbing. She stopped barely a foot away. "You have no idea what I can make you feel, High Lord."
*KEEP YOUR HANDS OFF MY BABY, B**CHANTHE!*
The dirty reputation that stained Rhys' soul and all that stuff he'd gone through were unfathomable. Just because he put on his unreadable mask of the High Lord in front of everyone, doesn't mean he didn't need someone to soothe him, to ease the burden he shouldered all these times. Undoubtedly, Feyre was the one and only darling whom he ever loved and seen her as his equal. She was the salvation he'd been looking for over those centuries and would die for if need be.
"Why don't you want me to see that?"
"Because you've only started to look at me like I'm not a monster, and I can't stomach the idea of anything you see tomorrow, being beneath that mountain, putting you back into that place where I found you."
Remember the part when Rhys had a horrible, haunting nightmare, and Feyre felt it through their bond in the middle of the night? That scene reminded me of a Japanese animation by Hayao Miyazaki, called Howl's Moving Castle. I loved that Rhys was willing to let Feyre see his though naked vulnerability and allowed her to comfort him. Just like that of Howl and Sophie's undying love in the movie.


Another reason I enjoyed reading this sequel is the new characters. During Feyre's stay in the Night Court, she met Rhys' inner circle and they became the dearest family she never had. There were Amren, an equally badass female; Morrigan, Mor, Rhys' cousin as well as someone who'd sacrificed a lot in the War; Azriel and Cassian, both were the powerful Illyrian warriors who would do everything to protect Rhys' homeland. I wish I could have a friend like Mor, to be honest, because she always knew what to say, what to do, and could adapt quickly under different circumstances, tough ones or not.
"One," Mor said, "you have left the Spring Court." I tried not to let the full weight of those words sink in. "If that does not send a message, for good or bad, then your training will not, either. Two," she continued, laying her palm flat on the table, "I once lived in a place where the opinion of others mattered. It suffocated me, nearly broke me. So you'll understand me, Feyre, when I say that I know what you feel, and I know what they tried to do to you, and that with enough courage, you can say to hell with a reputation."
She redefined the word friend and showed me what a true friend was supposed to be. Above all, her words were always, ALWAYS, the most epic ones among them. Haha, I just loved her style.
"Everyone wants to talk-talk-talk," Mor said, giving a warning glare at Cassian, who had indeed opened his mouth. "Can't we eat-eat-eat, and then talk?"
What's more, I've heard someone said that Sarah J. Maas once mentioned that she would give the characters surnames and wow, she really knew how to impress the readers! In order not to explicitly spoil Feyre's, here's a pretty obvious hint:
"I knew there was no coming back for what I'd done," I said, wondering if the blue flame in the carver's eyes might burn my ruined soul to ash. "And once I broke their curse, once I knew I'd saved them, I just wanted enough time to turn that dagger on myself. I only decided I wanted to live when she killed me, and I knew I had not finished whatever…whatever it was I'd been born to do."
Whether you get it or not, I personally think that surname fitted her perfectly, because well, she WAS indeed a ____!
Okay, let's get back to Feysand time, shall we? Before sharing more of their intimate moments, I have to happily admit that approximately 95% of the book is about them! So basically, it's totally made for us Feyre x Rhysand shippers!! *heart eyes*


As I mentioned before, one of the best parts of this book is that there were many beautiful and heartfelt scenes between Feyre and Rhys. I don't know why, but after seeing the beastlike Tamlin use her like a prop and only when he had some physical needs to be satisfied would he make her feel real, I started to find other seemingly ordinary gestures such as holding hands, kissing cheeks, etc comparatively…precious.
He went still as death as I took one of his hands in my own and traced a star shape on the top of his palm, playing with the glimmer and shadows, until it looked like one of the stars that had hit us.
Besides, here's a specific moment when Rhys carried Feyre while flying that reminded me of Raffryn from the Angelfall trilogy!
A breathless scream came out of me as we plummeted. Throwing my arms around his neck was instinct. His low laugh tickled my nape. "You're willing to brave my brand of darkness and put up one of your own, willing to go to a watery grave and take on the Weaver, but a little free fall makes you scream?"
Did you guys feel it? Ah, I couldn't stop giggling when reading this part. They were so adorable together!
THE HOTTEST PART!!!
Last but DEFINITELY not least, there were TONS of steamy scenes in this book and my dreams come true right then. Seriously, I couldn't ask for more and they were pure perfection for me. Once you read it, you'll realize that Tamlin leaped on her like a lustful beast, whereas Rhysand savored her like his personal feast.(It rhymes!)
"When you lick me," he said roughly, "I want to be alone—far away from everyone. Because when you lick me, Feyre," he said, pressing nipping kisses to my jaw, my neck, "I'm going to let myself roar loud enough to bring down a mountain."
I was instantly liquid again, and he laughed under his breath. "And when I lick you," he said, sliding his arms around me and tucking me in tight to him, "I want you splayed out on a table like my own personal feast."
It's coming to the end of this review and my fantastic journey with Feyre, who had a mortal soul in an immortal body, but I still didn't want it to be over! Of course I'll be waiting patiently for the last book and before then, re-read these two books to refresh my memory over and over again until I can remember the entire story. 😀
The Cliffhanger
Yep, there's a cliffhanger in the end of the book where Feyre went back to the Spring Court, pretending the King of Hybern had truly broken the mating bond between Rhys and her, and I have a feeling what's going to happen there will be awesome. I mean, poor Tamlin had no idea he already let a fox in a chicken coop and Lucien couldn't do anything about it, either. What's not to expect?
Conclusion
A Court of Mist and Fury is so far the best book I've read this year and it's not disappointing at all! I cherish the freedom and happiness Feyre earned solely by herself and the mating bond Rhysand found and deserved. This book made you cry because of sheer happiness, broke your heart because of the pure torture from your beloved ones, and had you simmer with rage due to those double-faced villains or the people you once thought were good but turned out to be the worst. All in all, I enjoyed it so much and would highly recommend it to everyone.
Just in case you forget who's our OTP here…
I'll leave you with my top favorite moment of Feysand. ❤
Release tore through my body, and he pounded into me, hard and fast, drawing out my pleasure until I felt and saw and smelled that bond between us, until our scents merged, and I was his and he was mine, and we were beginning and middle and end. We were a song that had been sung from the very first ember of light in the world.