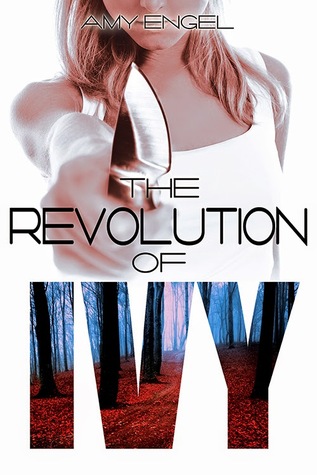 Ivy Westfall is beyond the fence and she is alone. Abandoned by her family and separated from Bishop Lattimer, Ivy must find a way to survive on her own in a land filled with countless dangers, both human and natural. She has traded a more civilized type of cruelty–forced marriages and murder plots–for the bare-knuckled brutality required to survive outside Westfall's borders.
But there is hope beyond the fence, as well. And when Bishop reappears in Ivy's life, she must decide if returning to Westfall to take a final stand for what she believes is right is worth losing everything she's fought for. (From: Goodreads)
Actual rating: 4/5 Living-Your-Life Stars
"For every trial there has been an answering blessing, for every loss, something gained."
Again, apart from the gorgeous cover I can't stop tearing my eyes away from whenever I see it, the story picked up shortly after the ending of The Book of Ivy and brought us into Ivy's long journey of survival beyond the fence.
"Nobody can make it out here alone, Ivy."
At first I was like, Oh! Okay, so no one will be able to survive out there once they're put out for certain crimes or treasonable reasons. So Ivy's dead for sure. But the key word here is "alone"; thus, she'd found a small group of supportive people outside the fence and teamed up with two of them. Meet Caleb and Ash. Caleb was indifferent to Ivy in the beginning when Ash insisted on saving her. Nevertheless, with more secrets Ivy revealed, he started to deem her as a member of his handful family. Ash was an amazing female secondary character in this story; she played an essential part here and gave Ivy a great deal of thoughtful advice when Ivy was stuck inside her own head.
"Bishop must love you a lot," Ash says finally. "Coming out here to find you."
"Yes." It takes me a second to continue. "I think he did."
Ash shakes her head. "Not did, Ivy. Does."
"I don't know why he would," I say, voice quiet. "I've hurt him. Over and over again."
Ash's face softens, her eyes warm. "That's what love is, though, isn't it? You don't stop loving someone just because they disappoint you."
What I really, really loved most in this installment is the fact that Ivy grew A LOT and became so, so, so much more mature. Like most people said, she was no longer that indecisive, capricious girl we knew in the first book. The realization of "Unity is power." along with all the teamwork and the slight touch of family shaped her into a tough, strong, fearless, and honest girl.
Life beyond the fence is transforming me. Not into a new person, but back into the girl I've always been underneath all the layers my father and Callie built on top of me. Slowly, I am finding myself.
I am becoming Ivy again.
After the unexpected reappearance of Bishop Lattimer, he sort of wrecked serious havoc to Ivy. We can see that she'd been trying really hard just to get him out of her mind and only focus on surviving outside the fence. But the moment he showed up right in front of her, she suddenly lost her balance in life and it took awhile in this book until she eventually opened up to him. That's also another reason I appreciated the story quite much.
I don't understand how the pain of losing him can be a pale shadow in comparison to the pain of finding him again.
Wow, simply reminiscing the span her personality had improved still impressed me so much. She turned into an admirable female role and definitely earned a memorable place in my heart.
And I understand in a way I never have before that loving someone is always going to feel like flying–the unthinkable drop, the fear of falling, the heart-in-your-throat thrill.
A review cannot complete without talking about the heart-wrenchingly beautiful romance between our favorite mcs, Bishop & Ivy! Both of them had become someone much more compassionate and that led to a peaceful achievement for the Westfall city. I can't say I'm 100% satisfied with the outcome, but I did believe there's no better solution than what'd been done. So deal with it!
"I love you," he says quietly. I want to take his words, the truth of them I can see on his face, and cup them in my hands like a glowing coal from the fire. Keep them with me warm and bright, a talisman.
Ahh!!!!!There are so much more I want to savor and their love story is honestly bittersweet. Even though most of the events sound pretty cheesy and cliche (like the previous one), I surprisingly didn't feel that way under Ivy & Bishop's condition. They were perfect for each other and you know, no revolution would succeed without sacrifices ; all they gave up, fought for, clung to were for something else much more valuable–love–so I didn't regret their choices at all.


Again, I recommend this duology to everyone in that it's a short but intense, full of action story and NOT A SINGLE page paragraph will make you feel bored. I practically finished this in a sitting and that's a rare case for me. Though I still feel there's something missing from the plot but I can't exactly name it. It's like there's a hole in my heart that needs to be filled up with more twists and turns. Well, the ending is already perfectly wrapped up so I think there's nothing to find fault. As for the imperfection I mentioned, I guess the author wanted to leave something to our imagination. 🙂