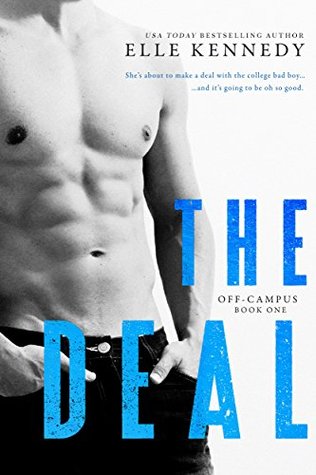 She's about to make a deal with the college bad boy…
Hannah Wells has finally found someone who turns her on. But while she might be confident in every other area of her life, she's carting around a full set of baggage when it comes to sex and seduction. If she wants to get her crush's attention, she'll have to step out of her comfort zone and make him take notice…even if it means tutoring the annoying, childish, cocky captain of the hockey team in exchange for a pretend date.
…and it's going to be oh so good.
All Garrett Graham has ever wanted is to play professional hockey after graduation, but his plummeting GPA is threatening everything he's worked so hard for. If helping a sarcastic brunette make another guy jealous will help him secure his position on the team, he's all for it. But when one unexpected kiss leads to the wildest sex of both their lives, it doesn't take long for Garrett to realize that pretend isn't going to cut it. Now he just has to convince Hannah that the man she wants looks a lot like him. (From: Goodreads)
Actual rating: 4.5/5 Graham Stars
I can't believe I just READ, instead of skimming through, a NA novel. Mostly I can only tolerate a few chapters in those books but this one totally held my interest from the beginning to the end. Okay, I admit I got tired in the middle because of the strong language in the story, seriously, consider yourself warned that there are tons of foul words, both four-letter, seven-letter, and even eight-letter ones including in the entire book. I lost count of how many unclean words, actually, there are throughout this from simply a few pages in the first chapter. So that's why I felt quite uncomfortable when being bombarded with lots of strong vocabularies.
Anyway, let's get back to the story. Basically the plot revolved around Hannah Wells(Wellsy), a seemingly good girl with straight A's but was raped when she was younger, and the hockey rockstar, Garrett Graham's school, party, secret-sharing, sex life. It all started when Hannah had an undeniable crush on a football player, Justin Kohl, but obviously she wasn't his type because she wasn't some kinds of popular girls, so she could only secretly drool over him. In the meanwhile, since Garrett was desperately in need of passing an important test in Ethics, which Hannah got a splendid A while half the class was flunked, in order to persuade her to tutor him, he offered to help her catch Justin's attention. Ergo, the deal was made.


What I liked most about the book is that whenever they bickered, I couldn't stop giggling that I thought I might get an internal injury. lol


Another funny part about this is that the author put so many well-known celebrities/songs/bands/singers in the characters' inner thoughts or conversation or sex innuendoes and most of them are pretty sarcastic and sometimes completely above TMI. And extremely hilarious.
After Hannah told Garrett her traumatic experience and her dysfunction, he agreed to fix help her. That was when he began to reevaluate his stance on girlfriends-issue.


Their chemistry sparked quickly and fiercely the more time they spent together conducting those experiments as well as making Justin jealous, and eventually, that deliciously hot chemistry was hard to ignore for both of them. So they took their consciousness about what that was all about between them seriously and regardless of the intervention from Garrett's super-hockey-star dad, they had a very happy and satisfying ending.


Overall, The Deal is by far the best NA book I've read and endless thanks to one of my dearest friends on Goodreads, Jasmin, for bringing such a great book in my life. Now I have more faith in this genre and I'll definitely read the sequels soon. Highly recommend this series to those who've given up on NA or just aren't that into this genre. Hopefully you'll find some fun here! 🙂