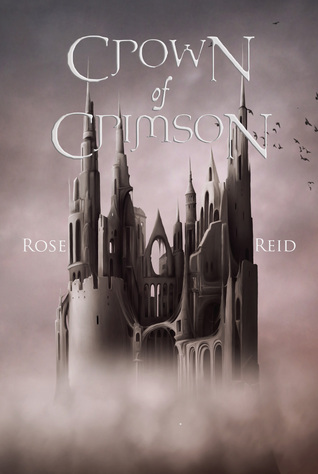 First Rule of the Cannon: Trust no one.
Aerietta Elony is destined for evil.
Born into a royal family, it was quickly discovered that she bore the Jezdah mark — an intricate tattoo meant to identify the Children of the Elements. To make sure his people never knew about the danger that hid in their midst, the king had his daughter sent to the leader of the Cannon, his order of assassins, where she would learn to become one of them.
No one was ever supposed to know what Aerietta was, where she came from, or what she was destined to become. She's never worried what would happen if someone discovered her secrets. But when a neighboring kingdom attacks, and Aerietta is betrayed and captured, keeping her secret will mean the difference between life and death.
When the king of the neighboring land enlists her services to track down one of her traitor companions, she has no choice but to accept. But in order to find her former friend and make it back to the king with her head still attached to her shoulders, she'll have to keep the enigmatic, inhuman Swordmaster in the dark, which proves to be more difficult than she could ever imagine.
Deception abounds, danger is just as prevalent, but even in this world of demons and magic, the only thing Aerietta fears is herself.
The Queen of Crimson accepts. (From: Goodreads)
Actual rating: 5+++/5 Magnificently Crimson stars!!!
If you're a huge fan of Throne of Glass series, then you'll CERTAINLY love this one. Even if you're not, you'll still love this one.
**Huge thanks to my dear friend/author, Rose Reid, for sending me an e-book copy; I'm honored to be one of the first readers of your debut novel!**
In my opinion, this book is an awesome combination of series/books from my all-time-favorite list. While reading it, the characters reminded me of Throne of Glass most; their features/appearances A Court of Thorns and Roses, Six of Crows, and some scenes Angelfall. I believe there'll be more déjà vu in the story if you read it because OMG, it's a brilliant work of dystopian and supernatural mixture! To get a better picture of what I'm saying, imagine putting all the best scenes from those sci-fi or paranormal stories you've read altogether and turning them into a complete one. And then voila! Crown of Crimson is here.
Characters
**Main**
Aerietta Elony: A blonde, gray-eyed, relatively soft-hearted assassin. Queen of Crimson. Princess Cress.
If there is to be said one thing of Aerietta Elony, it is to be that she takes torture well. Even when poison is shoved down my throat and knives are dragged down my arms, I manage to smile and spit upon the shoes of my torturers, who scramble backwards for fear I will contaminate them, as if I am some sort of bacteria.
Annnnnd, she was also a challenge taker. *wink*
"Don't." he warns in a low voice.
I can't help it; I take his growl tone as a challenge. I close the distance between us and my hands twist into his hair. I don't wait a second longer, just push myself up to his level and press my lips to his.
Dominik Giovani: Also an assassin from the Cannon, where he and Aerietta were trained by Azmar Quay, a sophisticated snob. He seemed to be one of those who betrayed Aerietta in the first place but whether it was true remained unknown.
Lyom Livingstone: The Swordmaster of King Dryden. Despised Aerietta from the moment he captured her in Lydovier because of a heartbreaking truth, but he seemed to be fond of her when he realized she was probably the only "human" who understood his sadness/hatred/anger and accepted him for "what" he truly was.
**Secondary**
King Dryden: Aerietta called him the Cruel King. Who wanted nothing but to rule the entire kingdom and those surrounded it. Hyper aware of the Afterlighters who may threaten his power and had the strangest tactics to cope with them.
Prince Atwood: Named Finnegan, or Finn Atwood. King Dryden arranged his daughter, Princess Haraya's marriage to Finn and broke Lyom's heart then. After since Lyom seemed to dislike him more, particularly when he made Aerietta laughed on purpose in front of Lyom.
Princess Haraya: King Dryden's daughter. Who fell for Lyom when he was assigned to protect her years ago but her heart was captured by Prince Finn later. After the arranged marriage, she changed her mind again and decided to show Lyom her affection but now there's Aerietta, so I can't wait to see who'll win.
Carnahan: The physician in the group of swordsmen of Lyom's. He was also the one who discovered the true identity of Aerietta and everything went south.
Jamas: The only swordsman who treated Aerietta like a human and showed sympathy when she was injured or faced something terrible.
Cicero, Sebastian, and Laderic: All the deceitful betrayers of Aerietta. I was thrilled and excited to see how Cicero was killed in the end of the story. I practically cheered for him.
Plot
To begin with, the story started with our main female character, Aerietta, being captured by the Swordmaster of the Cruel King, King Dryden because of her childhood's friend, Dominik's betrayal. After making a deal with King Dryden, Aerietta was temporarily employed by him and was given a supposed-to-be "win-win situation" assignment, which was to kill Dominik. Meanwhile, the Swordmaster, aka Lyom Livingstone, and his trusted swordsmen would escort her to their destinations.
"When one is in love, one always begins by deceiving one's self, and one always ends by deceiving others. That is what the world calls a romance."—Oscar Wilde, The Picture of Dorian Gray
Everything got complicated and more suspenseful the closer she was to locate Dominik because she didn't want to believe that he had betrayed her like that. During their fighting, talking, kissing, and again, fighting, she was gradually hesitant to slice his throat as she promised at first because he wasn't what he seemed to be.
"And if she is made of smoke and ash?"
"Then we go to the Boy that is made of coal and bone."
In the meanwhile, Lyom wasn't just a guard in this assignment; he was also looking for someone else, the Princess Cress, heir of the Lydovier kingdom. Rumor has it that the Darkness from the Afterlight Forest(somewhere magic existed and though people said those aliens, called Afterlighters, were eliminated long time ago, some claimed they were alive on Earth) was lurking in and was possibly to overthrow King Dryden's kingdom. Therefore, he secretly planned to find the "Children of the Elements", with whom there was a tattoo named Jezdah on their shoulders, and use them as weapons against those extraterrestrial creatures.
Moreover, they experienced quite many ambushes while capturing Dominik and there were losses as well as unbelievable truths lying beneath the surface. I have to admit that I shipped Aerietta and Lyom from their first encounter despite the fact that they didn't get along well with each other, much to my astonishment, he did warm up to her in the end!(Check: 84% and 96% of the book!) And he even brought out the girly girl side of hers.
Heat rushes to my cheeks when I realize I've been staring at Lyom's bare chest for the past thirty seconds. Blushing. I'm blushing! I could kill myself now.
He used to wear his typical scowls all the time and whenever he spoke, it was always a growl, gruff, groan, or hiss. He had cold skin with cold demeanor but sometimes Etta would catch a glimpse of emotional turmoil in his blue, blue eyes. Particularly when she was on the verge of dying or hurt badly like a broken doll.
"Aerietta," he breathes but it sounds more like a warning. "Stay with me."
In the end, Lyom and King Dryden revealed Aerietta's biggest, darkest, shameful secret and thus, she was sentenced to an ever-ending torture. In my opinion, this part of the story was like reading the retelling of Throne of Glass, where Celaena went to Endovier when Aerietta went to Kinecardine.
"The king has ordered me to bring you to Kinecardine."
For the briefest of moments, my world stops spinning.
Writing Style/Reasons why you should read it
*Written in the present tense, 1st person POV and Aerietta's narrative was relatable for me.
*No foul words or strong language.
*The quotes or citations in the first page of each chapter served as a foreshadowing for every chapter. The more you put yourself in the story, the easier you'll understand the meaning of them, along with the emotions.
"Sometimes a woman's love of being loved gets the better of her conscience, and though she is agonized at the thought of treating a man cruelly, she encourages him to love her while she doesn't love him at all. Then, when she sees him suffering, her remorse sets in, and she does what she can to repair the wrong."—Thomas Hardy, Jude the Obscure

*What's remarkable of this book is that as the story continued, you'll find the structure of the entire story slowly took form and enabled you to piece the fragments from the previous chapters together. By the time you finally unveil the whole truth, more mysteries await you.
*There were several intense, professional fighting scenes, mainly with swords, knives, archery and also spectacular martial arts. I love the way Rose depicted all the calculated moves, the fighters' strategies, and their inner, immediate thoughts. The way she described Aerietta's wounds was even more…vivid, as if I could not only see how gory, dirty, and bloody they were but smell and feel them. All the nasty scars she was rewarded from all kinds of fighting, brawling, torturing only shaped her into an extremely badass heroine for me, or a "lowly assassin", as she put it.
Highly Recommend!
As you can see, this book is seriously pure awesomeness for me. I'm so glad to recommend this to most of you and hope you'll enjoy Aerietta's journey as much as I did. Thanks for all the comments and enduring my endless excitement toward this! Lastly, it's now free on Kindle. I can't wait to see all of your reactions after you're finished! 😀