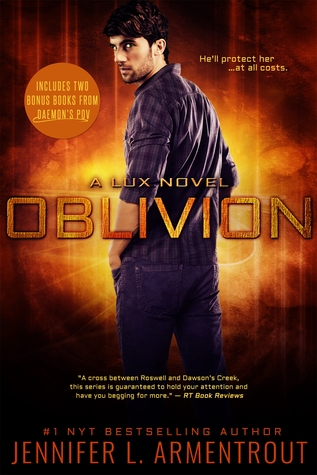 In this special eBook version, experience OBSIDIAN, ONYX, and OPAL as told by Daemon Black…
I knew the moment Katy Swartz moved in next door, there was going to be trouble. Lots of it.
And trouble's the last thing I need, since I'm not exactly from around here. My people arrived on Earth from Lux, a planet thirteen billion light years away. Plus, if there's one thing I know, it's that humans can't be trusted. We scare them. We can do things they only dream about, and honestly, we make them look weak as hell. 'Cuz they are.
But Kat is getting to me in ways no one else has, and I can't stop myself from wanting her—or wanting to use my powers to protect her. She makes me weak, and I'm the strongest of our kind, tasked with protecting us all. So this one simple girl…she can mean the end for us. Because the Luxen have an even bigger enemy—the Arum, and I need to stay on my game.
Falling for Katy—a human—won't just place her in danger. It could get us all killed, and that's one thing I'll never let happen… (From: Goodreads)
Before reviewing this book, sorry for the late post! Due to the hatred my laptop had on me, I couldn't view or edit my blog on it so had no access to it then. But I'M BACK! 🙂 Happy new year, awesome book nerds! Hope your 2016 filled with wonderful books and amazing personal life! Here's my last (more than) 5 stars book in 2015. Enjoy!
**Latest Update 01/01/2016**
Have you checked out the special soundtrack made for this book? The lyrics fit Daemon and Kat's story so well and hope you like it!
Listen to it now! → I'm Awake by Jolie
——————————————–
**Original Review 12/18/2015**
Yay! I just conquered the biggest book I've ever read in my life! As you know, Oblivion is a three-in-one book from Daemon's POV so I'm going to tell you what I think about every single section independently.


Obsidian
This version of Lux is like retelling the story again from a different character's point of view and luckily, it happened to be Daemon's. It's actually enjoyable to live in his head all the time and though he was the biggest jerk in the original Obsidian, the more we know what he's thinking or what he's feeling, the less I think about him that way. Honestly, I've always thought he was a man, umm…, an alien with few words because of how he acted, but after seeing his real mind, I was surprised he had lots of complicated thoughts when it came to Kat. Although I appreciated this story, I still highly suggest you re-read the original version BEFORE starting this one. For me, there were some deleted conversations or scenes between Katy and Daemon, for example, most of their moments in school, at lunchtime, in class, or after school were cut from this book, perhaps that's because they had nothing to do with Daemon's POV, but I felt a little bit hard to relate whenever the plot abruptly jumped to his own situation. Thus, it's a good idea to connect the two books together if you want to get a better understanding about what's really going on in this series.
The reason I kind of enjoy reading this is that I totally miss those awesome characters so much! If memories serve, I read the entire Lux series several months ago and all I clearly remember is how much I love this story but can't fully describe the plot in details. Daemon's great; Katy's remarkable; Dee's funny; The Thompsons' not-bad; and there are more memorable roles as the story goes on and on. And now I can experience the extraterrestrial journey once again…with DAEMON! No matter how many times I read about his interaction with his sister, Dee, I can't help but burst out laughing hard. They were really adorable.
"Where is the ice cream?" Her voice was strained.
I leaned against the counter. "What ice cream?"
"What ice cream?" she repeated slowly, disbelief ringing in her voice. "The half a gallon of rocky road ice cream that was in the freezer yesterday!"
"Huh."
"I can't believe you ate all the ice cream, Daemon!"
"I didn't eat all of it."
"Oh, so it ate itself?" Dee's shriek could burst eardrums. "Did the spoon eat it? Oh wait, I know. The carton ate it."
"Actually, I think the freezer ate it," I responded drily.
Much to my surprise, there's bonus content in the version I read. And it's super-duper amazing! I can't believe the tiniest interaction between them could be that sweet, beautiful, and heart-warming even. I really love this unseen moment a lot!
Then, without really thinking about it, I placed one hand on the arm of the couch, braced myself, and then bent down. I pressed my lips to her cool cheek and then drew back.
Onyx
As for Daemon's view on the second book of the series, I personally think that it's so much shorter than the previous one. It seemed that he spent most of his time patrolling around the state and figuring out what was going on with Kat after she was mutated. Therefore, the biggest difference between this one and Kat's POV was the whole school and her training with Blake parts. That's why there weren't much to say about the story itself. Although this section is comparatively short, I did enjoy reading his honest thoughts on many issues where Kat was concerned, mainly because I could actually feel his happiness, grief, and the hurtful isolation of being betrayed and distrusted by Kat, the only person he loved.
So things changed. We didn't really talk at school. I left her alone in trig class and at lunch. I saw her in the evenings, and this separation between us was chipping away at a hidden part of me, but I had to draw a line somewhere.
While reading this book, it reminded me how much I've missed about their smart banters. Even though the conversation was mostly the same, nothing could prevent me from loving them once again.
I grinned. "I bet that by New Year's Day, you will have admitted that you're madly, deeply, and irrevocably—"
"Wow. Want to throw another adverb out there?" Her cheeks were bright red.
Winking at her, I came up with another one. "How about irresistibly?"
"I'm surprised you know what an adverb is," she muttered.
"Stop distracting me, Kitten. Back to my bet—by New Year's Day, you'll have admitted that you're madly, deeply, irrevocably, and irresistibly in love with me."
Gladly, not everything in the book was all identical. There were something entirely new and knowing those unmentioned plot undoubtedly gave Oblivion bonus points.
And I knew she had gotten a new laptop because I'd received an email alert this morning signaling that she'd posted on her blog. Yeah, I'd signed up for alerts. Whatever.
Ha! See? You're practically stalking her blog, Daemon!
Moreover, we indeed get more insight into the real, thoughtful, and brooding version of Daemon, along with the sweetest side of him. And I totally swooned over those moments, you know, the whole heart-melting, palms-sweating, knees-buckling and all that jazz.
And after I recapped the show, I closed my eyes and told her in my own language the truth.
I don't know how to make you better. I wish I did, but please stay with me. I need you, and I can't lose you. Not now. Not ever.
So yeah, I admired how Kat managed to bring those pieces back in his heart the more they knew each other; just because she didn't fully trust him at first and believed in that horrible B-L-A-K-E guy and caused the irrevocable loss doesn't mean she would change what he felt for her ever since.
"Did you find it?" she asked.
I moved my hand over my chest. "Find what, Kitten?"
"What you were searching for?"
My eyes opened and my gaze held hers. "Yeah, sometimes, I think I did."
Opal
This is the most heart-wrenching part in the entire book, in my opinion. Since Dawson was back and there were moments when he wasn't prepared to face his brother, we get to see what Daemon thought the whole time. It's a perfect complement to know the situation from both Kat and Daemon's viewpoints and it indeed made the story more complete. Moreover, Daemon expressed more emotions here as well, particularly speaking of his family, including Kat. He definitely cared more, so much more, about her and he actually dealt with many hidden breakdowns that we never knew before. At least he turned into a sweet and caring guy eventually!
You burn bright, to me at least, and I know you could handle it, but the last thing I want is your light to be tainted by something so dark.
The best most heartbreaking scene was undoubtedly the last chapter, where Daemon was separated from Kat by that freaking blue laser, with merely a few inches right in front of him, and she was forever trapped with a horde of Arums along with soldiers.
Kat dropped to her knees, and I was a second behind her, hitting mine as Matthew managed to bring me down. Her lower lip trembled as her chest rose sharply. Something cracked in my chest, fissured down my core. Terror I'd never known before exploded.
"No! Please! No!" My voice broke. "Kat!"
They were crowding in around her, but she never took her eyes off me. She held my gaze as I tried to shake off Matthew.
Then she smiled a little, and my chest imploded. It was weak and wobbly and frail, and a part of me died right there.
"It'll be okay," she said, her eyes welling with wetness. "It'll be all right."
The doors were almost closed as I reached out, my fingers spread. Matthew jerked me back, and I braced myself with my other hand. My heart pounded as she was seconds from disappearing behind the door, seconds from being cut off from me.
My chest ripped right open and I said what I should've said days ago, weeks and months ago. "I love you, Katy. Always have. Always will. I will come back for you. I will—"
The doors sealed shut.
She was gone.

Oh god, a huge part of me died a little when I read this… The feeling was extremely intense and raw and it wasn't something easy to get rid of anytime soon.
P.S. I'm surprised to find that Kat's disappearance wasn't the end of this book, yet! There was another sneak peek from Paris(the Luxen) and his childhood BF, Luc. It sort of explained why Luc was willing to risk all of others' lives and even made Kat captured. At first, I thought I'd get really pissed off about his manipulation, but unexpectedly, I started to get the logic behind his intention. Psss, remember Nadine? The girl whom Luc tried to fix and make her recover from her illness? I practically forgot her, to be honest. But hey, I spied sparks between them. *winks*
Overall
I absolutely adore this HUGE book, which is over 1,300 pages, and it's a real blessing for all of us to live in Daemon's head so long. Just a small reminder that only the e-book version contains all three books from Lux, whereas the paperback one included just Obsidian. The proportion of these three books is what I find a little bit unbalanced. The first 50% of the book covers Obsidian and 25% for Onyx and Opal respectively. Although there isn't equal coverage for them, the story is far from rushed. Despite the fact that it seems rather short for the last 2 books, the overall plot is perfectly wrapped up. Therefore, I highly recommend Oblivion to anyone who had read the Lux series and genuinely suggest that you combine both POVs to have a better insight for the story. Let's all get into Daemon invasion in this festive season, guys! Merry Christmas to you all!
Lastly, Daemon has something to say, too…