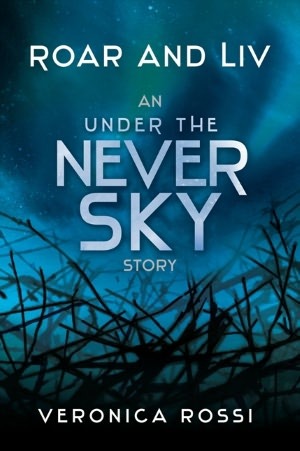 Before Perry and Aria, there was Roar and Liv.
After a childhood spent wandering the borderlands, Roar finally feels like he has a home with the Tides. His best friend Perry is like a brother to him, and Perry's sister, Liv, is the love of his life. But Perry and Liv's unpredictable older brother, Vale, is the Blood Lord of the Tides, and he has never looked kindly on Roar and Liv's union. Normally, Roar couldn't care less about Vale's opinion. But with food running low and conditions worsening every day, Vale's leadership is more vital—and more brutal—than ever. Desperate to protect his tribe, Vale makes a decision that will shatter the life Roar knew and change the fate of the Tides forever. (From: Goodreads)

***Actual rating: 4/5 Outsider stars***
Roar and Liv is the prequel of Veronica Rossi's Under the Never Sky trilogy and I fell in love with the plot immediately. Though it's just a short story and lets us see the life before Perry and Aria(I have no idea who Aria is exactly, simply quoted from the synopsis), I did love Roar and Liv's relationship.
I'm actually surprised that the author managed to create something unexpected in such a quick-read, and the truth that [Vale, Liv's brother, sold her to another Tribe and forced her to marry a total stranger, though knowing her heart belonged to Roar and just because he wanted to find some food supply!] shocked me a little. It's hard for me to accept the fact that Roar and Liv had to separate and end up like that. It's just too cruel to bear.
She's quiet for a long moment, searching my eyes. Stepping right into my soul. "Liv or love?" she asks.
I brush her hair away from her neck and rest my hand there, feeling the beating of her pulse. "Either," I answer. "They're the same to me."
I'm not sure whether I'll read more of them in the following sequels, because from the descriptions, it seems that they are all about Perry and another girl but don't mention Roar and Liv at all. Whatever it is, I'll definitely finish this series! Anyway, I'll recommend this book to anyone who loves dystopian and supernatural stories. 🙂