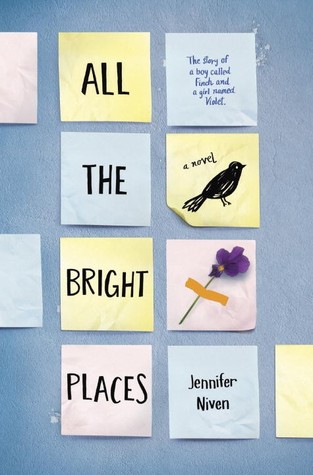 Theodore Finch is fascinated by death, and he constantly thinks of ways he might kill himself. But each time, something good, no matter how small, stops him.
Violet Markey lives for the future, counting the days until graduation, when she can escape her Indiana town and her aching grief in the wake of her sister's recent death.
When Finch and Violet meet on the ledge of the bell tower at school, it's unclear who saves whom. And when they pair up on a project to discover the "natural wonders" of their state, both Finch and Violet make more important discoveries: It's only with Violet that Finch can be himself—a weird, funny, live-out-loud guy who's not such a freak after all. And it's only with Finch that Violet can forget to count away the days and start living them. But as Violet's world grows, Finch's begins to shrink. (From: Goodreads)



This is my secret—that any moment I might fly away.


Somehow I think 5 stars aren't enough for such an ultra-remarkey-able book; if I can, I'll definitely give it as many stars as those shining in the entire universe because All The Bright Places deserves them all, seriously.

For starters, I actually like the way Theodore Finch met Violet Markey—on the ledge six stories above the ground at the Bell Tower in their high school on a rainy day—it's a rather beautiful encounter for me.


Theodore Finch was a teenage boy who was extremely fascinated by death, especially suicidal incidents happened and recorded in the history, and he was also suffering from various levels of misfortune, such as domestic violence, bullied/labeled, and bipolar disorder. All of these made him think of dying every minute he was awake.

Before I die I want to know a perfect day.


On the contrary, Violet Markey was a girl who couldn't get over her dear sister's death a year ago and kept waiting for graduation, planning on escaping everything in the future; thus, she didn't know how to live her life. Therefore, when the two of them paired up in a seemingly simple yet boring school project, sparks ignited. Brightly.

When we're in the act of wandering, we need to be present, not watching it through a lens.


During their "wandering", Finch showed her not only how to live in the present but also how to walk out of her shell. For Finch, I like that he could truly be himself whenever Violet was around and never thought about that endless black hole or deemed himself as a worthless mess. And for Violet, she could finally start to see and feel all the tiniest happiness surrounding her.

My calendar is shoved into a corner. I unfold it now, smoothing it out, and look at all the blank days, too many to count, that I didn't mark off because these were the days I had with Finch.



To be honest, I think everything between the lines was really meaningful—every single word Finch said, every conversation Finch and Violet had, every quote they used/googled—all of them were too heartfelt to forget. Although they didn't and couldn't have that much time as I wanted them to spend together, what they'd experienced were so beautiful that I absolutely adored.

"Where would you go if you could go anywhere?" It comes out bitchier than I mean for it to. He leans forward over the handlebars, eyes on me. "I'd go to Hoosier Hill with a beautiful girl."


I love the honesty in Finch's words and how he treated Violet. He was far from that labeled Freak when in his true self. He indeed showed her the world. My favorite one was the Jovian-Plutonian Gravitational Effect scene.

"But I bring it up to let you know that this is the way I feel right now. Like Pluto and Jupiter are aligned with the earth and I'm floating."
In a minute, she says, "You're so weird, Finch. But that's the nicest thing anyone's ever said to me."



He could be so much funny, positive, considerate and thoughtful when he wanted to be. Just a small thought of Violet could stop him from ending his life, because he realized that Violet is life at times.

What if we could just cut out the bad and keep the good? This is what I want to do with Violet—give her only the good, keep away the bad, so that good is all we ever have around us.


Sadly, he insisted on searching the bottom of the Blue Hole, or at least I'd like to think that way. And ironically, broke the world record at the same time.

There was nothing to make him last a long time.


Even when he was somewhere out there, he could still end it in an amazingly beautiful way.

I remember running down a road on my way to a nursery of flowers.
I remember her smile and her laugh when I was my best self and she looked at me like I could do no wrong and was whole.
I remember her hand in mine and how that felt, as if something and someone belonged to me.


Mercifully, he wasn't forgotten as if he never existed in this world. For both him and Violet and his friends.

By the way? For what it's worth, you showed me something, Ultraviolet—there is such a thing as a perfect day.


As for her,

I particularly love the remaining wandering of their project, or should I say, their seeking for that Great Manifesto? Finch definitely left every best thing for Violet and those he left behind, and during her completing the entire journey, she was forever changed, because what it mattered all the time…

Even though it seems like a happy ending for me, and for Ultraviolet Remarkey-able, too, I still feel an inerasable ache deep inside my heart, as if Theodore Finch actually took a part of me when he found the Other World.

What makes this book special is that nothing huge or surprising happened, only the smallest, the most ordinary stuff in daily life. However, Jennifer managed to make them no longer as blend as they seemed. She truly made me believe that every single moment in my life is worth living for.

All the Bright Places is a story about a cardinal and a flower; a book filled with beautiful memories and bittersweet moments, making me ponder on something I've never thought about before.
I think somehow Finch had already lived his life to the fullest and the brightest, and he also found that Other World through his wandering. And after all this, I am forever changed as well. So…I want to give you that rock: Your turn.



Lastly, I picked some songs for this book and hope you enjoy them while reading this!
Sam Smith-Writing's on the Wall: For the whole story. The atmosphere sounds just about right.

Gabrielle Aplin-Please Don't Say You Love Me: For the unpredictable, broken Finch, who couldn't promise Violet a happy future together.

Coldplay-Adventure of A Lifetime: For their U.S. Geography project wandering, and in search for the Great Manifesto.

Keane-Somewhere Only We Know: For Theodore & Ultraviolet. Their friendship. Their relationship. Short, but priceless.

X Ambassador-Renegades: The lyrics are meant for the purest Finch.

Lily Allen-Littlest Things: This song and lyrics sum up the entire book. Almost.