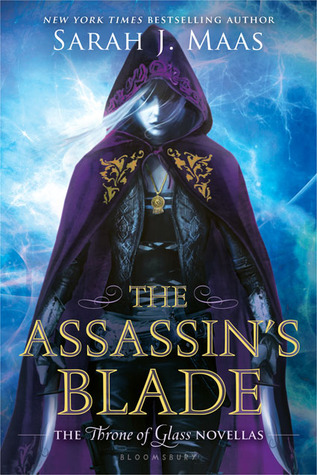 Celaena Sardothien is Adarlan's most feared assassin. As part of the Assassin's Guild, her allegiance is to her master, Arobynn Hamel, yet Celaena listens to no one and trusts only her fellow killer-for-hire, Sam. In these action-packed novellas – together in one edition for the first time – Celaena embarks on five daring missions. They take her from remote islands to hostile deserts, where she fights to liberate slaves and seeks to avenge the tyrannous. But she is acting against Arobynn's orders and could suffer an unimaginable punishment for such treachery. Will Celaena ever be truly free? Explore the dark underworld of this kick-ass heroine to find out. (From: Goodreads)
So this is a book including 5 novellas from Throne of Glass series and I'll put all my thoughts respectively here.
Overall
I read this one after Heir of Fire and there are pros and cons by doing so. Well, the first time I started reading this book was before I read Throne of Glass and frankly, I simply couldn't stand Celaena Sardothien's arrogance and her terrible attitude so I didn't like it. Thus, it took me quite a long time to give the series a second chance. For the second time re-reading this book, I had some basic information for the story so I could better relate to the novellas. Therefore, I think if you can't tolerate her bossy characteristic like I do at first, then I highly recommend you to start the first book of the series right away and come back to the novellas afterward. Otherwise you'll end up dislike this series because of them. Trust me, the sequels themselves were so much better than the prequels.
Among all the novellas, my favorite would be the 3rd one, The Assassin and the Desert. You'll see my opinions below!
***The Assassin and the Pirate Lord***
Actual rating: 3.5/5 stars
I personally think the novella wasn't as good as the first three books from the series. Celaena Sardothien was 16 years old in this book and at that time, Sam Cortland was still alive, but I couldn't tolerate her gargantuan arrogance at all! Although I did better understand the story plot after reading the sequels first this time, her impossibly terrible attitude was the most dislike part for me.
"One day," Rolfe said, too quietly, "someone's really going make you pay for that arrogance." Lightning made his green eyes flicker. "I just hope I'm there to see it."
Honestly, I have to agree with Rolfe here. For the very first time I'd love to see you suffer for your bossiness, Celaena.
The only reason I gave it one more star was because I could relate to the characters more during the re-read and everything made sense.
My Original Review
***The Assassin and the Healer***
It was actually an interesting combination, considering that the assassin and the healer are two opposite sides of a coin and they helped each other. Much to my relief, there was a small part of Celaena Sardothien that wanted to make the world a better place, despite the fact that she was the most notorious and also the best protégée of Arobynn, the King of Assassins's, apprentices.
In short, it's a novella without too many bloody fight scenes(of course, beating bad guys didn't count!) and Celaena proved that deep inside her heart lied a slice of mercy, friendliness, and most important of all, love.
"For wherever you need to go—and then some. The world needs more healers.
***The Assassin and the Desert***
Actual rating: 4.5/5 silent stars
This is by far my most favorite one among all the 5 novellas! I love Celaena's journey to Red Desert, even if she was there for punishment. Those Silent Assassins were totally unprecedented newbies to me and their vow of silence was impressive. As for her training with The Master of the Silent Assassins, it was another incredible and surprisingly new technique. Lastly, I really love the ending of this story. She once again proved her qualification and her skills along with extreme courage after the "unexpected incident" in the assassins' fortress. All in all, I enjoy reading this book and much to my astonishment, she didn't show her usual temper, either. I think she at least learned her lesson during her last mission to the Skull's Bay.
My Short Review
***The Assassin and the Underworld***
I'm debating over whether I should give this book 4/5 stars or 3.5 instead for the following reasons.
Overall, I think the whole Underworld story was a con game. It was completely a trap for both Sam/Celaena and me! I HATE AROBYNN HAMEL SO MUCH THAT I THINK I'M GOING TO LOATHE HIS PRESENCE IF I SEE HIM IN THE SEQUELS. Ahh…I've never thought he disgusted me so badly like this. He was the most deceitful, dishonest, and snobbish person I've ever seen. What's worse, he had been torturing Sam by beating the hell out of Celaena in front of him, knowing exactly how he felt for her. And he had played with Celaena's loyalty along the way by various low and degrading means. Damn you, Arobynn! How am I supposed to forgive him after what he'd done?
The greatest advantage of this book was the romance between Sam Cortland and Celaena Sardothien. Though I already knew he was her first love but he was dead by the time I learned about him in Throne of Glass, seeing his appearance in these novellas actually meant a lot for me. At least it's truly a relief to meet a trustworthy, nice, friendly, and handsome good-looking assassin. Best part of it was that their development was beautifully written and it was the kind that'd make you want more. I hope we can see more of this cute assassin couple.
"You're a damned idiot," she breathed, grabbing the front of his tunic. "You're a moron and an ass and a damned idiot." He looked like she had hit him. But she went on, and grasped both sides of his face, "Because I'd pick you."
Right now, I ship Samlaena so much that I almost forgot about my beloved Rowan. :")
What about you guys? Sam or Chaol or Rowan or Dorian?


Review Link!
***The Assassin and the Empire***

This was certainly a heart-shattering story and Sam's death was unfathomably painful to me. The beginning of it was too dreamy to be true, the way Sam and Celaena believed in the possibility of leaving Rifthold and starting their new life without the control of either Arobynn Hamel or the Assassins' Guild; however, the ending was something entirely unexpected. Such a dramatic twist was hard to endure, honestly.
Although the killing scenes were bloody as usual, I think the Crime Lord of Rifthold was truly sadistic. Imagine a human being enjoying torturing his victims and playing with their corpses until they didn't have any blood to splatter. Farren disgusted me most, for his unmeasurable cruelty and extreme brutality, and his sick personality. And again, Celaena fell right into their(Arobynn and Farren's) little trap just like her last time. I felt pity for her but also secretly hoped that she'd listened to Wesley's warning or at least didn't allow Sam to dispatch the notorious Crime Lord. So many things/accidents would be avoided if she thought twice before she leaped. The story left me with a lot of what-ifs but I guess some are just…inevitable and her fate was doomed because of the ones who betrayed her could benefit most once she was gone.
Therefore, the last of the novellas was just the beginning of Celaena's suffering and it was surly not a happy ending. You know, everything has its price to pay and she's got to be responsible for all the lives she took during her notoriously proud "Adarlan's Assassin" moments. The reality will swallow her wholly and it's time for her to seek revenge face the music. But I know she's going to survive the so-called death camp, Endovier, because there'll always be a beloved person carved into her deepest mind and he'll still serve as a reminder for her to stay alive. I also believe that there's a possibility after all this mess is eliminated. As an old saying goes, Every cloud has a silver lining.
She would tuck Sam into her heart, a bright light for her to take out whenever things were darkest. And then she would remember how it had felt to be loved, when the world had held nothing but possibility. No matter what they did to her, they could never take that away.
I'll miss you forever, Sam Cortland.


Here's my review.
In conclusion, even though sometimes it's hard to get used to Celaena's attitude, the story itself was still worth reading so I highly recommend to everyone who loves adventurous plots and surprising twists and turns in the storyline. Hope all of you enjoy this series as much as I do.