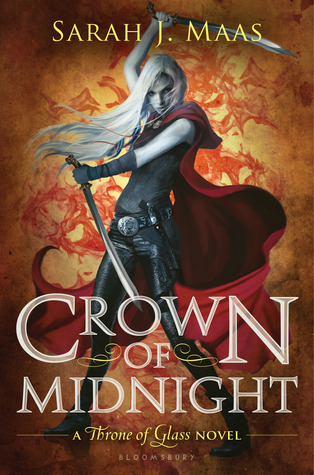 "A line that should never be crossed is about to be breached.
It puts this entire castle in jeopardy—and the life of your friend."
From the throne of glass rules a king with a fist of iron and a soul as black as pitch. Assassin Celaena Sardothien won a brutal contest to become his Champion. Yet Celaena is far from loyal to the crown. She hides her secret vigilantly; she knows that the man she serves is bent on evil.
Keeping up the deadly charade becomes increasingly difficult when Celaena realizes she is not the only one seeking justice. As she tries to untangle the mysteries buried deep within the glass castle, her closest relationships suffer. It seems no one is above questioning her allegiances—not the Crown Prince Dorian; not Chaol, the Captain of the Guard; not even her best friend, Nehemia, a foreign princess with a rebel heart.
Then one terrible night, the secrets they have all been keeping lead to an unspeakable tragedy. As Celaena's world shatters, she will be forced to give up the very thing most precious to her and decide once and for all where her true loyalties lie… and whom she is ultimately willing to fight for. (From: Goodreads)
You are nothing but a coward.
Actually rating: 4.5/5 Nehemia stars.
Dumbfounded, I'm totally shocked about all the secrets Celaena revealed in the end.
Love the first quarter of the book when Celaena and Chaol shared tons of intimately swoon-worthy moments.
He pulled back, but didn't let her go. "Why are you crying?"

"Because," she whispered, her voice shaking, "you remind me of how the world ought to be. What the world can be."
Hate Chaol for what he did to Celaena. Hard to forgive him. Regret to team him from the start.
He'd realized it the moment Celaena had turned to him in Nehemia's bedroom.

He had lost her.

And she would never, in a thousand lifetimes, let him in again.
Cried like a baby when Nehemia was dead. Her body was torn and looked terrible.
Love the cruelty the King's Champion did to those who deserved it. Go ahead to chop off their heads because they pissed me off completely. Particularly ARCHER. That was her revenge. Good job!
Love the tremendous change for both Dorian and Celaena. Emotionally and physically.
Hate that she was shipped to Wendlyn. Who knows who was manipulating and betrayed her there?
Still, excited to see her journey in the last Fae stronghold.
All in all, this is a book that'll make your various feelings burst out at the same time. It's interesting, brilliant, funny, cruel, swoon, but awfully heart-shattering. Above all, there are surprises after surprises, and believe me, you'll be speechless when find out those unbelievable secrets.
Just remember this: everyone in this book has secrets, and they haven't fully been honest with us yet.