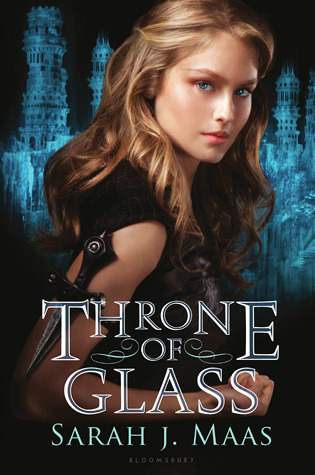 After serving out a year of hard labor in the salt mines of Endovier for her crimes, 18-year-old assassin Celaena Sardothien is dragged before the Crown Prince. Prince Dorian offers her her freedom on one condition: she must act as his champion in a competition to find a new royal assassin.
Her opponents are men-thieves and assassins and warriors from across the empire, each sponsored by a member of the king's council. If she beats her opponents in a series of eliminations, she'll serve the kingdom for three years and then be granted her freedom. Celaena finds her training sessions with the captain of the guard, Westfall, challenging and exhilirating. But she's bored stiff by court life. Things get a little more interesting when the prince starts to show interest in her… but it's the gruff Captain Westfall who seems to understand her best.
Then one of the other contestants turns up dead… quickly followed by another. Can Celaena figure out who the killer is before she becomes a victim? As the young assassin investigates, her search leads her to discover a greater destiny than she could possibly have imagined.   (From: Goodreads)
Actual rating: 4.5/5 Sardothien stars
Short Review:
All I can say about this book is that the story plot was unbelievably brilliant. The connection between characters was tight and relating; the background setting was well-deliberated; the banters were sometimes humorous, witty, and cute; the strategies used by either the King of Adarlan or Celaena were incredibly smart, cunning even; the portrait of each character was vividly depicted, and above all, every twist in the story surprised me from the beginning to the end. Really beautifully written.
Familiarity:
When reading some specific parts of the story, I was a wee bit familiar with the plot. For example, by the time Celaena took the archery contest, the way she aimed right straight to the bull's-eye reminded me of Katniss Everdeen so much. Both of them made my palms sweat and took my breath, there was still a slight difference in the details, so that they weren't completely the same. Take the mysterious Wyrdmarks for another example, how they secretly on the spot of those dead Champions or somewhere around Celaena made me think of Clary Fray.
In my opinion, Throne of Glass was a combination of The Hunger Games(Katniss), City of Bones(Clary),The Burning Sky(the identity switched) and The Lion, the Witch, and the Wardrobe(magic wardrobe V.S. secret, hidden door).
Characters:
When it comes to various characters in this story, I just want to mention some of my most unforgettable ones. Uh, well, it'll probably include most of the protagonists. LOL.
Celaena Sardothien
In short, she's a very interesting character for me because she's a "more beautiful than beautiful, smarter and slier than others" and surprisingly notorious/arrogant assassin but she's also a booklover, dog lover, and a normal girl with horrible cramps. It's hard to imagine a well-known dangerous girl like her to have such vulnerable tender facets. But she did take the whole badassery into an epic level! And sometimes she's so cold-hearted and cruel, perhaps that's the way an assassin should be.

She had come out of Endovier and could still laugh.
Dorian Havilliard
Honestly, I don't really like him at all first. His royalty and "harlot" disgusts me a lot, even if he proved to Celaena that he can be a real man with her, I wasn't moved by his behavior. So I just hope he'll be someone different in the sequels.
Chaol Westfall
He's the Captain of the Guard and was responsible for Celaena's safety throughout the story, which means he spent a lot of time around her and I believe she gradually grew on him. To my teeny tiny disappointment, he didn't demonstrate any affection on her, not even show his care for her. 😦 I knew that deep down in his heart he cared for her a lot, maybe more than necessary. No matter what, I'm temporarily satisfied with the ending, so no more complaints! What can I say? I'm totally TeamChaol in this book!
Nehemia Ytger
She's an amazing friend of Celaena's and wow, she surprised me most. She's not what she seems AT ALL! Her ability was so unbelievable and that just made the story more intriguing. Therefore, I like her. 🙂
Cain
I LIKE him, actually. Just because he's a formidable demon, monster Champion doesn't mean he can't be a good character in this book. I'm impressed with his skills, lies, disguise, and of course, his unknown ability. He's definitely a cherry on top for the story.
Kaltain Rompier
I disliked her at first, and then the dislike turned into extreme hatred later. Especially when she drugged Celaena in the last duel. Hence, I love what she deserves in the end. *evil smirk*
What I wish:
1)This story was written in third person POV so it indeed made everything clearer. However, I wished the story could be told in first-person angle because I can better relate to the characters in that way.
2)One of my favorite scenes was the last duel by the remaining Champions. I had goose bumps all over my arms and my heart almost stopped when Celaena was…(you know what I mean, right?) Although the scene was perfectly created, in my viewpoint, it was too dramatic that caught me off-guard a little bit. I guess there's something going to happen regarding the "incident" in the next book.

All in all:
Highly recommend this book to everyone who loves badass girls and adventurous plots. I'm glad I picked up the book this time! No regrets here. 😀