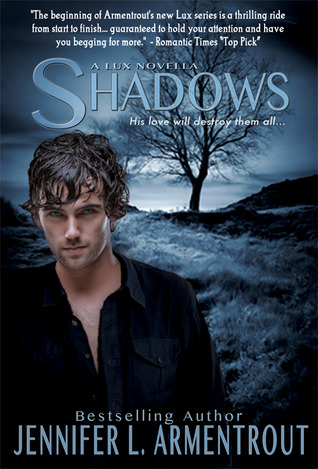 The last thing Dawson Black expected was Bethany Williams. As a Luxen, an alien life form on Earth, human girls are…well, fun. But since the Luxen have to keep their true identities a secret, falling for one would be insane.
Dangerous. Tempting. Undeniable.
Bethany can't deny the immediate connection between her and Dawson. And even though boys aren't a complication she wants, she can't stay away from him. Still, whenever they lock eyes, she's drawn in.
Captivated. Lured. Loved.
Dawson is keeping a secret that will change her existence…and put her life in jeopardy. But even he can't stop risking everything for one human girl. Or from a fate that is as unavoidable as love itself.   (From: Goodreads)
For the following posts, I want to recommend the Lux series written by one of my favorite authors—Jennifer L. Armentrout. Hope you like it!
Shadows is the prequel of the Lux series. It appears to be a kind of spoiler for the first book, Obsidian, but I think it provided us with some basic information about the main characters, aka aliens. To begin with, it was a brief story relating to Daemon's brother, Dawson's forbidden relationship with a human girl, Bethany. I literally like the entire part of how they overcome this surprising combination and how they love each other wholeheartedly, but unfortunately, I didn't expect that kind of ending AT ALL. It seems everything fell apart too quickly and there weren't enough explanation or description for it. In other words, it was like J.L. Armentrout simply tell you what happened after Dawson and Bethany ran into some Arums and then they died in the end. Period. IMO, there was something missing in the last part of the book obviously. So, it was a not-bad, just-fine book for me. Perhaps I'll get to know the details in the following books, though. Hmm… let's wait and see.