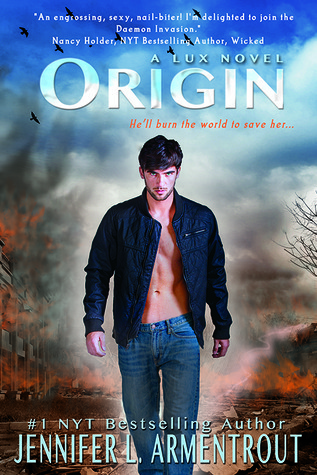 Daemon will do anything to get Katy back.
After the successful but disastrous raid on Mount Weather, he's facing the impossible. Katy is gone. Taken. Everything becomes about finding her. Taking out anyone who stands in his way? Done. Burning down the whole world to save her? Gladly. Exposing his alien race to the world? With pleasure.
All Katy can do is survive.
Surrounded by enemies, the only way she can come out of this is to adapt. After all, there are sides of Daedalus that don't seem entirely crazy, but the group's goals are frightening and the truths they speak even more disturbing. Who are the real bad guys? Daedalus? Mankind? Or the Luxen?
Together, they can face anything.
But the most dangerous foe has been there all along, and when the truths are exposed and the lies come crumbling down, which side will Daemon and Katy be standing on?
And will they even be together? (From: Goodreads)
** 5++ Origin Stars for this! **
Wow, the never-ending feelings toward what happened to the main characters were pretty overwhelming on various levels. Firstly, from the moment Katy was captured by the Daedalus and we'd see how firm Daemon's determination was because he swore to get her back by all means.(Well, getting rid of whatever stopped him from rescuing her didn't sound that bad, I think.) That's why he was gradually growing on me books after books. :")
I'd take out an army, burn down an entire city, and throw the world into chaos if I had to in order to keep Kat out of that place.
And if you know him well, he never failed or made promises he couldn't hold.
Secondly, Jennifer L. Armentrout put some new, fabulous (also different kind of species known as Origins) characters in this book and I really like them. Take Archer as an example, I knew from the start he was something, umm…, "someone" special for Katy and Daemon's escape from the Daedalus under tough circumstances and to my relief, he really was.(Glad to know there were still faith and trust in humanity, though.) Moreover, working with other powerful "small kids" was so far my favorite scene in the book. They seemed very sincere and naïve but could cause fatal damage at the same time.
Third, just like the previous books, Daemon and Katy had to cope with the whole trusting issue again in this one and frankly, I was shocked when someone so close to them and was considered to be part of their family would turned out the one who'd betrayed them from the very beginning. Such a twist of the story.
Lastly, I was impressed that they came up with making a scene in Vegas and drawing some attention more than that in the end. I mean, their deeds were bold and kind of challenging, too. Sadly, someone had to sacrifice for saving another beloved ones and that was heartbroken to me. Not that I like the deceased ones most, it was just hard to accept the fact that they were no longer a part of the following story.
Overall, this book is as good as the previous ones and it makes me love the Lux series even more. Highly recommend to those who've planned to read this but haven't started or who've already joined Daemon & Katy's extraterrestrial journey for another re-read.