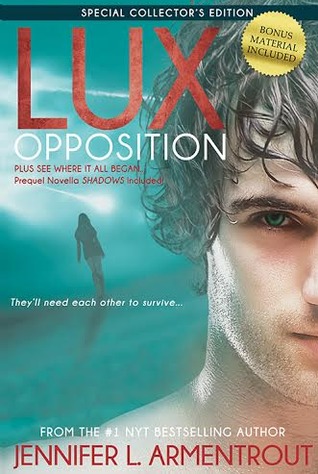 Katy knows the world changed the night the Luxen came.
She can't believe Daemon welcomed his race or stood by as his kind threatened to obliterate every last human and hybrid on Earth. But the lines between good and bad have blurred, and love has become an emotion that could destroy her—could destroy them all.
Daemon will do anything to save those he loves, even if it means betrayal.
They must team with an unlikely enemy if there is any chance of surviving the invasion. But when it quickly becomes impossible to tell friend from foe, and the world is crumbling around them, they may lose everything— even what they cherish most—to ensure the survival of their friends…and mankind.
War has come to Earth. And no matter the outcome, the future will never be the same for those left standing. (From: Goodreads)
This is by far the best book I love in the Lux series.
First off, I can't believe I devoured the whole book in less than a day. Fast-pacing and page-flipping, mixed with lots of unexpected, emotional, unprecedented turning points, this is one of the most satisfying ending I've read. Gods, I don't even know where to start for a review. *_*
Well, I'll simply pick some impressive parts from the finale and do my best expressing my feelings. From the previous book, Origin, the other Luxen arrived on Earth and Daemon, Dee, & Dawson were forced to connect strongly with them and thus they left…temporarily. Both of Daemon and Katy had been through a lot and Daemon knew no better than her when it came to choosing family or girlfriend.
"You are making that choice. By trying to protect me, you're letting her go."
I like how Katy woke Dee up, making her break the bond rooted deeply inside her heart during that fierce fight in Lore's house.(Though the way Dee had awaken was so much similar to that of Alex from the Covenant series.)Speaking of Lore(you'll need to read it yourself to find out who this "guy" is and so on), little did I expect such unlikely alliance and almost-100-percent-failure strategy will work out. This really blew my mind.
It was a mess of brutality, and yet, it was disturbingly awe-inspiring—the flashes of light and thick shadows. Such contrast.
Another part I love is almost the end of the story, where Katy tried to get away from all those messed-up, chaotic circumstances and climbed up to the peak of Seneca Rocks, reminiscing everything from the very beginning, including Daemon, her friends, her losses, her experiences with the Daedalus, to what she had left at that time. Wow, those tiny details were like pieces of an incredibly mysterious puzzle, and all I was doing was placing them into where they were supposed to be. After that, I was able to get a full, clear picture of the whole Lux world.
Everything had started with Dawson and Beth. And everything ended with Daemon and me.
The ending was definitely the BEST part of the series. Well, it was a happy ending. In short, all my favorite characters were alive and as usual, good people(species) survived. Much to my happiness, it was a wee bit of touching and familiar to hear Daemon say this again: "The most beautiful people, ones whose beauty is only rivaled by what is inside of them, are the ones who are quietly unaware of it." like he did when he first met Katy.

The only difference was, considering tons of things happened and everyone had to mourn for someone they loved but lost, the feelings I had were totally taken up a notch. Nothing was the same ever after.
Time to finish my Lux marathon, which took me almost a week to run. I really, really, love the series and somehow I'm glad Jennifer L. Armentrout had brought Daemon & Katy's journey to a perfect, flawless ending. Reading the entire series was like watching an exciting action movie the whole time and it was great to end beautifully. Eventually, I think there's a song quite suitable for Daemon and Katy's relationship—Flashlight by Jessie J.
I got all I need when I got you and I
I look around me, and see sweet life
I'm stuck in the dark but you're my flashlight
You're gettin' me, gettin' me through the night
Can't stop my heart when you shinin' in my eyes
I can't lie, it's a sweet life
I'm stuck in the dark but you're my flashlight
You're gettin' me, gettin' me through the night
Cause you're my flashlight
You're my flashlight