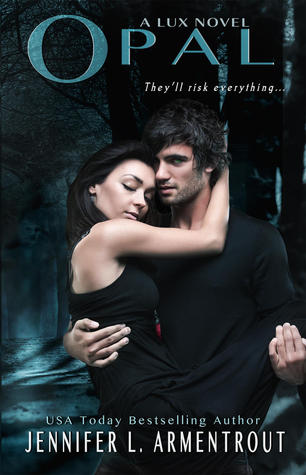 After everything, I'm no longer the same Katy. I'm different… And I'm not sure what that will mean in the end. When each step we take in discovering the truth puts us in the path of the secret organization responsible for torturing and testing hybrids, the more I realize there is no end to what I'm capable of. The death of someone close still lingers, help comes from the most unlikely source, and friends will become the deadliest of enemies, but we won't turn back. Even if the outcome will shatter our worlds forever.
Together we're stronger… and they know it. (From: Goodreads)
Actual rating: 4.5/5 Opal Stars
The story picked up shortly after where the previous one, Onyx, ended. Like the first 2 books of the series, the entire plot was related to the book title, Opal. It's amazing to know these different stones have some certain effect to various kinds of… creatures. Opal mainly focused on a rescue plan for Beth(Dawson's girlfriend) and Chris(Blake's alien friend who saved and healed him before), and of course, nothing worked as planned. There were crucial decisions to make, unbelievable alliances formed, sophisticated plus well-thought-out strategies used, and most important of all, they had to choose whom to trust, whom was lying all the time and whom kept the biggest, darkest secrets among them. Everything revolved around trust throughout the story obviously, since they all wanted/needed something meaning a lot to them.
"You really shouldn't trust a soul in this game. Not when everyone has something to gain or lose."
So far I really, really do not like Blake(or whatever Daemon liked to call him). He was such a terrible person from H to T completely.
The thin, white string unraveled, slipping through his fingers. The piece of opal dangled there, in his grasp. "Sorry," he said, and he truly sounded sorry. It was unbelievable. "It had to be this way."
Even though I think the middle part of the story seemed unnecessary, because I'm pretty sure the Carissa incident, the Will incident, or the Simon one were absolutely not coincidences and we already know many of them were victims of the Daedalus thing. Moreover, I personally think that the setting was quite creepy. How come so many teenagers disappeared or killed in a small place like West Virginia? In other words, just imagine your classmates were gone one by one every day you go to school and no one actually knows why or how and the FBI couldn't find any viable clues during their investigation. Seriously, this is insane but that's probably the most attractive part of the series, though. :")
Anyway, the ending is a cliffhanger and I'm dying to see what happened next. My intuition told me it'll be great and there's something more exciting in Origin. Before that, let me share my favorite quote from Opal:
"I love you, Katy. Always have. Always will,"
I just LOVE Daemon & Katy! It was a bittersweet moment but I'm glad he finally said it.