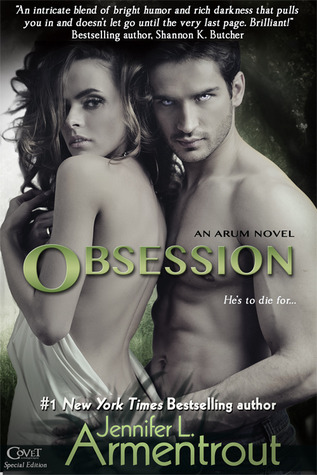 He's arrogant, domineering, and… To. Die. For.
Hunter is a ruthless killer. And the Department of Defense has him firmly in their grasp, which usually doesn't chafe too badly because he gets to kill bad guys. Most of the time he enjoys his job. That is, until he's saddled with something he's never had to do before: protect a human from his mortal enemy.
Serena Cross didn't believe her best friend when she claimed to have seen the son of a powerful senator turn into something… unnatural. Who would? But then she witnesses her friend's murder at the hands of what can only be an alien, thrusting her into a world that will kill to protect their secret.
Hunter stirs Serena's temper and her lust despite their differences. Soon he's doing the unthinkable—breaking the rules he's lived by, going against the government to keep Serena safe. But are the aliens and the government the biggest threats to Serena's life… or is it Hunter? (From: Goodreads)
This is a standalone spin-off to the Lux series and mainly focused on the Luxen's enemy, Arum. Most of them were brutal and wild, including animalistic sex scenes. That's why it's actually a "NEW-ADULT" book. Keep this in mind before you start reading it.
Actual rating: 3.5/5 Obsession stars
She was light against my darkness.

This book is a standalone but also a spin-off for the Lux series, so it's okay if you haven't read the series first; though I still suggest to read this after finishing the series.(It's more complete to me.)
Characters:
Since this is an Arum novel, the main character is Hunter(an Arum, for sure) and how he ended up with a human female, Serena Cross, who witnessed her best friend murdered by a Luxen. Most of the characters were those from the Lux series, so I'm pretty familiar with them. The good thing is that we get to know more about the Arum family and their kind.
About the story:
I think this one is really slow-paced compared to the Lux series and it was not until 70% of the book did something big happen. I felt bored several times when reading the first half of it and all the exciting fighting scenes occurred in the last part, which made the end a wee bit of rushed to me. Besides, even though I know this is a "new adult" novel, meaning there would be many 18+ moments between the main characters, but I certainly didn't expect the super detailed descriptions of their wild, rough, almost animalistic sex scenes!! Well, some of them were just…too much for me. And those parts took a large portion of the book! Hmm, or maybe I should try to get used to it. :")

What I like about the book:
I really like how the author arranged the timeline for this book. If my memory serves me right, the main characters first appeared in the 4th(Origin) and 5th(Opposition) books from Lux and what happened in this book matched perfectly with it. I love how the two different stories went parallel in the same place, at the same time.
Just a little bit disappointed about…
It took almost an entire book for Hunter to acknowledge and fully realize what he felt for Serena(I mean, the outcome was quite predictable in the beginning!), and thus he made their relationship more dramatic as if he needed some overwhelming turning points to make sense or something.

Conclusion:
Overall, the book is not bad considered how it changed my thoughts about Arum. I didn't really like them at first simply because they were the enemy of Luxen and probably deemed as bad guys in Lux series but after knowing someone like Hunter, well, I guess maybe not all of the Arum were killers. The reason I gave this one 3.5 stars is that it's not very interesting and exciting as I expected. Nevertheless, it's still a nice story to enjoy.