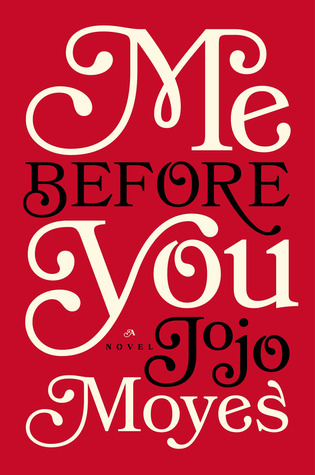 Lou Clark knows lots of things. She knows how many footsteps there are between the bus stop and home. She knows she likes working in The Buttered Bun tea shop and she knows she might not love her boyfriend Patrick.
What Lou doesn't know is she's about to lose her job or that knowing what's coming is what keeps her sane.
Will Traynor knows his motorcycle accident took away his desire to live. He knows everything feels very small and rather joyless now and he knows exactly how he's going to put a stop to that.
What Will doesn't know is that Lou is about to burst into his world in a riot of colour. And neither of them knows they're going to change the other for all time. (From: Goodreads)
"Sometimes, Clark, you are pretty much the only thing that makes me want to get up in the morning."

I have to admit that I didn't hold high expectation for this book because of the way it began the story—it was boldly, heartbrokenly hurt—just not my favorite type of beginnings. So that was why it took me such a long time to finish this book and even re-read it 'cause I couldn't stop experiencing what I felt all over again. Never judge a book by its prologue! Gosh, the rest of it just became more and more interesting and I was practically addicted to it.
To start with, this was a story about Louisa Clark, the carer of a quadriplegic, William Traynor, a guy who suffered a spinal injury after a horrible car accident 2 years ago, and her change in life. Initially, I thought the story was slow-paced and simply talking about Lou's miserable unemployment as well as her financially unstable status; however, everything turned out completely unexpected when Lou stepped into Will's life. Of course, the first step is always the hardest, and Will was really harsh on her the moment she went into his house. It took quite a long time for him to finally let down his hard exterior he built and gradually opened his mind to her. What impressed me most was how Lou noticed the tiniest happiness in life, and the fact that she wore her heart on her sleeve all the time.
He smiled then, as if I had amused him. It might sound a bit sad, but Will's smiles were so rare that prompting one made me feel a bit light-headed with pride.
Once they got along well with each other, he started to see the unfathomable potential in her, it was like the more time they spent together, the more likely he got to see through her deepest thought. (If it weren't for her financial obstacles, those were the goals she would want to accomplish before the mature age of 27.) As a result, he secretly tried to get her out of her comfort zone and helped her do something she dared not do before. He even comforted her sympathetically(unlike his usually sarcastic manner) after she encountered claustrophobia in the maze near the church. I love that scene sooooo much!
Some mistakes … just have greater consequences than others. But you don't have to let that night be the thing that defines you.
Even though this seemingly short and temporary six-month contract was actually Lou's "job", both Will and her did a lot of outdoor activities that they once thought they wouldn't have the chance to fulfill them and the sparks between them slowly ignited. Furthermore, Lou literally thought she could change his mind and persuaded him to live, showing him there was still hope regardless of his disability.
I needed to tell him, silently, that things might change, grow or fail, but that life did go on. That we were all part of some great cycle, some pattern that it was only God's purpose to understand.
Cue the beautiful dance in Will's ex-girlfriend, Alicia, and his best friend, Rupert's wedding.
Cue the fact nobody could ever made him feel more alive than those moments except Louisa.
Cue the simple seconds he could actually pretend to be the man he used to be—Best before:19 March 2007—when he was with Lou.
I just … want to be a man who has been to a concert with a girl in a red dress. Just for a few minutes more.
He obviously made her change the way she thought about everything tremendously and I guess that was his…last wishes. Frankly, I was kind of shocked when I knew that he wanted the people close to him to accept his decision and even with all the efforts Lou had done for him, he never changed his mind for a bit. It always left me with uncountable what-ifs and I just couldn't stop wondering how different things would be if they both put themselves in each other's shoes and saw the big picture under the other's perspective.
Oddly, I didn't feel sad or tragic or disappointed about their choice like I expected, instead, I was extremely happy for Louisa because she was no longer that girl who didn't have the nerve to think out of the box or cross the line of her safe comfort zone after she met Will. Therefore, I was quite satisfied about her supporting him…under the circumstances.
My nerve endings seemed to have come alive; they almost jangled with anticipation. I was going to see Will. Whatever else, I had that. I could almost feel the miles between us shrinking, as if we were at two ends of some invisible elastic thread.
Among all those most-favorite moments, the last precious confession and normal conversation topped the list:
"It has been," I told him, "the best six months of my entire life."
There was a long silence.
"Funnily enough, Clark, mine too."
As the story came to an end, so does my review. Much to my relief, Lou started to follow his instructions and led an excellent life ever after. She eventually got the meaning of her life and thanks to Will, she plucked up her courage to take her own adventure, drew her own life-map, wrote her own story, and not that girl incubated in a greenhouse anymore.
…and stepping out from behind the table, I straightened my bag on my shoulder and set off down the street towards the parfumerie and the whole of Paris beyond.
Here are some songs I wanna dedicate to all of you:
1)Sweetbox-Everything's Gonna Be Alright: When you're devastated or depressed, don't let the negative thoughts gnaw on you. Just thinking about how blissful you are to have family/friends/people watch your back, and keep in mind that everything will definitely be okay.
2)MIKA-Last Party: This song is for Lou and Will's wedding dance. The melody and lyrics fit the atmosphere perfectly, as if both of them could savor that momentary escape from the mess they got in and enjoy the brief minutes of pure happiness and blessing in their lifetime.
3)Little Mix-Wings: In my opinion, the most crucial idea Jojo Moyes wanted to tell us is to spread our wings bravely and explore the world. Just like what Will was trying to do with Louisa, he wanted her to live her life fully and well. Hence, I want to share this song with you and hope everyone can ponder over what kind of life you really want to lead.


4)Kacey Musgraves-Follow Your Arrow: Same reason as the 3rd one. Life is short and why not follow your heart and just be yourself?


5)The Band Perry-If I Die Young: For William Traynor. For telling Lou his precious experiences in his life-before and it's the same thing as sharing them with us.
In summary, this book is not only a contemporary fiction but also contains indispensable lessons of life. Somehow I feel like I've certainly broadened my horizons by reading their unforgettable story. It's amazing that I can have non-fictional feelings for those fictional characters and that's what make us learn something from them. Highly recommend to everyone, people from all walks of life, those who had suffered any loss, and those who haven't found something to define them. Me Before You is no doubt a must-read at least once in our lives, so please don't hesitate to start it right away!


—————————————————————————-
Am I the only one who don't know that Me Before You is hitting the screen!!!!!?????
The movie is expected to release on June 3rd, 2016 , starring Emilia Clarke(Louisa) and SAM CLAFLIN(Will)!


And here's my favorite dancing scene:


Anyway, I'm super excited about the movie and go read this book, guys!