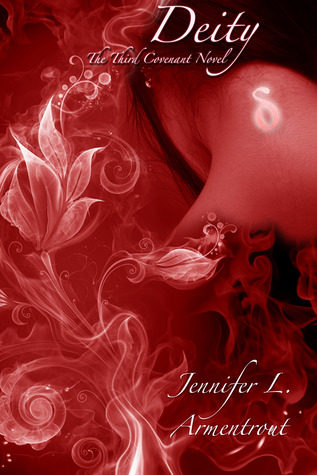 "History is on repeat, and things didn't go so well the last time. "
Alexandria isn't sure she's going to make it to her eighteenth birthday–to her Awakening. A long-forgotten, fanatical order is out to kill her, and if the Council ever discovers what she did in the Catskills, she's a goner… and so is Aiden.
If that's not freaky enough, whenever Alex and Seth spend time "training"–which really is just Seth's code word for some up-close and personal one-on-one time–she ends up with another mark of the Apollyon, which brings her one step closer to Awakening ahead of schedule. Awesome.
But as her birthday draws near, her entire world shatters with a startling revelation and she's caught between love and Fate. One will do anything to protect her. One has been lying to her since the beginning. Once the gods have revealed themselves, unleashing their wrath, lives will be irrevocably changed… and destroyed.
Those left standing will discover if love is truly greater than Fate…   (From: Goodreads)
I have to admit that I don't like the beginning chapters because there are too many Seth & Alex scenes and somehow I hope Alex doesn't really settle for him just because they have that kind of undeniable bond. At first, I decided to put down the book since I was so upset that Seth was obviously taking advantage of her and maybe even tried to manipulate her by sensing her feelings. However, everything was getting better and better when it came to the last 1/3 of the book. To be honest, it seems like a twist of the plot and I love the sudden change in the story. Especially when Aiden finally confessed his love for Alex despite the fact that he was a pure and she was a half. I like Aiden. He's such a gentleman and always pays attention to Alex and shows his respect to her. Their love is exactly what I'm waiting for, and I'm glad Jennifer L Armentrout didn't let me down.
"Then in a mindless moment of pure beauty, we weren't a half-blood and a pure-blood, we were simply just two people madly, deeply in love.
We were one."
Moreover, there are some bittersweet moments for Alex before she Awakened. I'm happy to see that she could at least have some fun and lead a normal life even though the world around her was a total mess.
What I really love about the book is that the author added spice to the whole story by putting those Biblical characters and Greek mythology Gods as well as Goddesses in them, creating a fascinating background that completely ignited my curiosity. Thus, this book made me learn more about those fabulous myths and their history.(Although I'm not sure whether those stories are true or simply fiction.)
"I should never have allowed her soul to be released," Hades spat. "Apollo promised me that it would never come to this."
"There is still hope," Artemis said."

Well, the only questionable part in this book is about the oracles. Alex always said that the oracle's prophesy was right and that she should've known it earlier. But in the end, some people said that the prophesy could be changed, or at least they're changing. That's kind of confusing for me. I mean, it made no sense whether those prophesies were right or not because what'll happen is fated to happen.
Anyway, I'll recommend this book to anyone who've read the Covenant series and those who haven't. Trust me, the entire story was getting more and more satisfying when it came to the end of the book and it left me want to start devouring the next one.