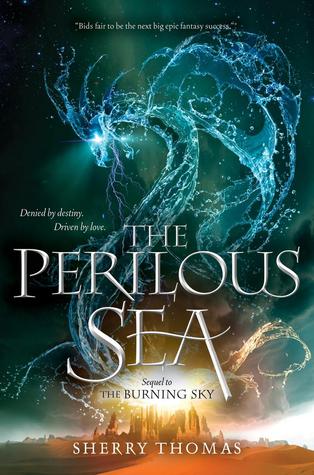 After spending the summer away from each other, Titus and Iolanthe (still disguised as Archer Fairfax) are eager to return to Eton College to resume their training to fight the Bane. Although no longer bound to Titus by a blood oath, Iolanthe is more committed than ever to fulfilling her destiny—especially with the agents of Atlantis quickly closing in.
Soon after arriving at school, though, Titus makes a shocking discovery, one that makes him question everything he previously believed about their mission. Faced with this devastating realization, Iolanthe is forced to come to terms with her new role, while Titus must choose between following his mother's prophecies—and forging a divergent path to an unknowable future. (From: Goodreads)
Fortune favors the brave, and the brave make their own fortune!
The Perilous Sea is the second book of the Elemental trilogy and the story picked up shortly after the ending of the first one, The Burning Sky. There were double threads of story set in different timeline; at first, I wasn't sure about what was going on between Titus the Prince and Iolanthe Seabourne(Archer Fairfax), the girl who brought down the lightning. But I soon found a certain pattern of the author's writing style and the truth of everything started to surface. As a result, the story made sense eventually. Better yet, several events connected not only in this book but the previous one as well. That totally eliminated my doubts and confusion about The Burning Sky, much to my surprise.
So far my favorite character is still Iolanthe, because I thought the same when it came to Titus's destiny. I mean, I really want to jump into the story through the Crucible portal(Oops!) and stop him from following his mom's diary and pursuing what she had foreseen. Iolanthe had said exactly everything in my mind so I like her a lot. She's one of my favorite heroines from now on.
Moreover, the relationship between Titus and Iolanthe is still good, though not my all-time-favorite OTPs. There wasn't much romance in the story since the protagonists were in war against the Bane, and that resulted in a real war against the Atlantis.
For me, you are—and always will be—everything worth living for.

—————————————————————————-
After reading these books from Sherry Thomas, I found her writing style quite unique for me. She likes to create some kinds of complicated but not entirely clueless settings and we can get the full picture in the end of the story. So I just did some research about her and the following quotes from her explained her type of story:
"I write complex situations with no pat solutions because they are what interest me as a reader: hard choices and what people do in the face of such hard choices. I am a seat-of-the-pants writer, so I'm always uncertain how I'll bring it together. In the end, the characters themselves must have the strength and maturity to choose the right path."- Sherry Thomas