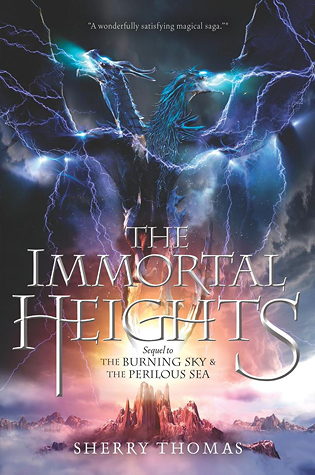 In a pursuit that has spanned continents, Iolanthe, Titus, and their friends have always managed to remain one step ahead of the forces of Atlantis. But now the Bane, the monstrous tyrant who bestrides the entire mage world, has issued his ultimatum: Titus must hand over Iolanthe, or watch as his entire realm is destroyed in a deadly rampage. Running out of time and options, Iolanthe and Titus must act decisively to deliver a final blow to the Bane, ending his reign of terror for good.
However, getting to the Bane means accomplishing the impossible—finding a way to infiltrate his crypt in the deepest recesses of the most ferociously guarded fortress in Atlantis. And everything is only made more difficult when new prophecies come to light, foretelling a doomed effort….
Iolanthe and Titus will put their love and their lives on the line. But will it be enough? (From: Goodreads)
The Immortal Heights is the finale of this series and it's by far my favorite one in the trilogy. As we know, there was a real war against the Atlantis in the end of book 2, The Perilous Sea, this book started right where it left. That is, Iolanthe and Titus teamed up with their classmate, aka Kashkari, an Indian boy whom I thought was a nonmage, but obviously he was not. There were lots of fighting scenes and they were truly amazing, I must admit. Particularly when they confronted the Bane, the most powerful old man who used the elemental mages to stay young. Even though I didn't have a good impression on the first book, this one was incredibly fast-paced and page-turning for me. Seeing them fought against either the wyverns or the Bane, using all kinds of magical spells on a flying carpets, was like watching an action-packed movie, making me heart-pounding, blood-boiling, and breath-holding.
Most important of all, the relationship between Iolanthe and Titus was taken up a notch in the story. That probably met my expectation pretty well. I mean, they finally didn't have to conceal their love in public and they earned some sweet moments with each other, which were totally romantic.
His kiss felt exactly like that, full of danger and exhilaration, making her heart rattle and thump, ready to leap out of her rib cage.

To sum up, I do enjoy the trilogy and I'm relieved it wasn't a waste of time. At least it didn't disappoint me!