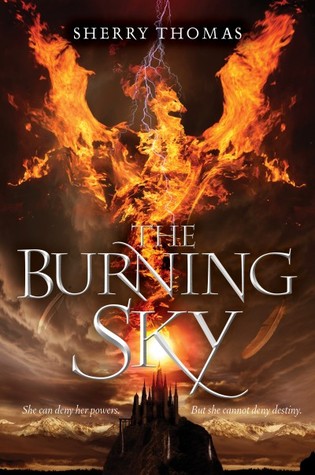 It all began with a ruined elixir and a bolt of lightning.
Iolanthe Seabourne is the greatest elemental mage of her generation—or so she's been told. The one prophesied for years to be the savior of The Realm. It is her duty and destiny to face and defeat the Bane, the most powerful tyrant and mage the world has ever known. This would be a suicide task for anyone, let alone a reluctant sixteen-year-old girl with no training.
Guided by his mother's visions and committed to avenging his family, Prince Titus has sworn to protect Iolanthe even as he prepares her for their battle with the Bane. But he makes the terrifying mistake of falling in love with the girl who should have been only a means to an end. Now, with the servants of the tyrant closing in, Titus must choose between his mission—and her life. (From: Goodreads)

Well, this is perhaps my first buddy-read book and I think it's a pretty interesting trilogy. The Elemental trilogy is something about magic, mages, and lots of creative spells and the story is getting better and better, which means I love the third and final one more than the first 2 books. Anyway, just because I gave it only 2.5/5 stars for this one, doesn't mean it's not a worth-reading material. It'll be so much awesome compared to this one. Just go see it for yourself.
Actual rating: 2.5/5 burning stars
"Love was the ultimate chain, the ultimate whip, and the ultimate slave driver."
This book started with a strongly powerful beginning of the story, but the farther it went, I lost my interest and even felt bored in the middle. I do love the moments when the characters made fun of each other, and really, their banters were hilarious and amusing.
"No, not now, unless you want to appear naked in front of me. Wait, that's your plan, is it not?"
Just as I thought they were almost in a less serious mood(I mean, since the Prince was hiding Iolanthe Seabourne in a boy school, for fear that the Atlantis or the Bane would come get her, their lives were always in mortal danger.), the whole atmosphere changed all in a sudden, and that was when Prince Titus stuck to his mother's vision again. I don't get it why he had to live up to those prophesies about his life. It seems like he just couldn't stop thinking about his death and being aware of the subtle change in his encountering. That part was too historical for me and I forgot to mention that I dislike History among all the subjects.
Other than the above, I think some parts of the story were very similar to Harry Potter series. Perhaps it's because of the magical material the characters possessed. There were mysterious spells put and wands used. Everything was unrealistic but paradoxically, I might like their magic tricks for a minute but dislike them after what happened next. Let's say magic and history aren't my kind of thing, let alone combine them in a book. It's quite complicated to explain my feeling about this book. Therefore, I gave it 2.5 stars for a just-fine story to me.
Fortunately, I didn't DNF this book because even though the plot wasn't as intriguing as I expected, I still love Iolanthe(btw, I like her name so much! It's probably my favorite female name so far.)and Prince Titus's relationship and their loyalty to each other never wavered.
"So… you want me to fall in love with you, while you play kissing games with another girl?
Okay, I'm glad Iolanthe had a girlish heart under her tough exterior.
Anyway, I'll keep reading the second book and see whether I can figure the magical, historical, yet romantic story out then. Seriously, I can't wait to witness their sprouting love sparkles in the future.
I live for you, and you alone.