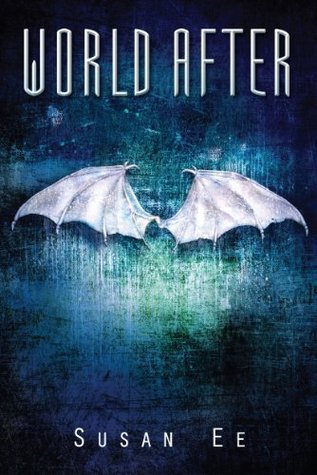 In this sequel to the bestselling fantasy thriller, Angelfall, the survivors of the angel apocalypse begin to scrape back together what's left of the modern world.
When a group of people capture Penryn's sister Paige, thinking she's a monster, the situation ends in a massacre. Paige disappears. Humans are terrified. Mom is heartbroken.
Penryn drives through the streets of San Francisco looking for Paige. Why are the streets so empty? Where is everybody? Her search leads her into the heart of the angels' secret plans where she catches a glimpse of their motivations, and learns the horrifying extent to which the angels are willing to go.
Meanwhile, Raffe hunts for his wings. Without them, he can't rejoin the angels, can't take his rightful place as one of their leaders. When faced with recapturing his wings or helping Penryn survive, which will he choose? (From: Goodreads)
**Spoiler alert!**
The first thing I want to say is that I'm really impressed with Susan Ee's writing skills. She has a kind of power that makes me give her books from 4 stars to 5 stars, and I realized that the more times I read the Penryn & the End of Days series, the whole story seemed more interesting somehow.(Of course, I mean the first two books of it. Haha, I'm one of those dying-for-End-of-Days fans!) I forgot how many times I've reread this book and I got different feelings every time. To begin with, I was a little bit disappointed at first because there weren't many Raffe & Penryn scenes until almost the end of the book. Later, as I recalled all those beautiful scenes between them, such as when Raffe paid attention to her in the party-turned-massacre aerie, their first flying scene, swimming in the ocean full of blood-crazed angels, how Raffe said the word "Heartbroken." as if it was his first time saying it, all their humorous banters in the cabin on the beach, and most important of all, my favorite part is when Raffe held her tightly in his arms, letting her stay in the little pocket of warmth under such harsh circumstances, OMG, that moment was truly unbelievable and heartwarming.


I started to tell myself that maybe I was wrong, since these incredible moments already meant so much for their reunion and took their relationship up a notch. And that definitely deserved a 5 stars from me. 🙂
I appreciate Susan Ee's imagination and creativity for sharing such amazing books with us and I can feel all sorts of emotions from this book, which is really unforgettable.
Right now, all I want to do is wait for End of Days coming 3 weeks later. But first, let me re-read Angelfall as well as World After all over again. 😀