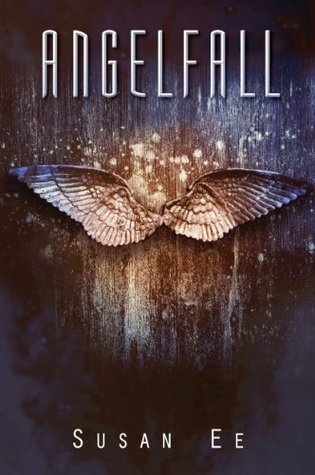 It's been six weeks since angels of the apocalypse descended to demolish the modern world. Street gangs rule the day while fear and superstition rule the night. When warrior angels fly away with a helpless little girl, her seventeen-year-old sister Penryn will do anything to get her back.
Anything, including making a deal with an enemy angel.
Raffe is a warrior who lies broken and wingless on the street. After eons of fighting his own battles, he finds himself being rescued from a desperate situation by a half-starved teenage girl.
Traveling through a dark and twisted Northern California, they have only each other to rely on for survival. Together, they journey toward the angels' stronghold in San Francisco where she'll risk everything to rescue her sister and he'll put himself at the mercy of his greatest enemies for the chance to be made whole again. (From: Goodreads)
For the next few posts, I'm going to recommend another great series for you called "Penryn & the End of Days". I like the first book most because of the main characters' slow-development in their relationship and how badass Penryn was. She was amazingly independent and could deal with tough situations as well as fought her enemy like a true warrior since she deemed that as her personal business.
I found this book in our local bookstore two years ago accidentally and fell in love with the plot and those amazing characters after I read the first pages. I originally gave it 4 stars but I realized that the more times I re-read, I think it deserved 5 stars instead.
First of all, I've always wanted to read a book relating to Angels and some biblical stuff, along with some romance(but definitely not the pure, sweet, steamy kind), and this book is exactly what I was looking for! I love the strong and independent teenage girl, Penryn, in this book because I think she really is a role model for all of us when encountering difficulties in life. Moreover, I was very impressed that she was desperate to save her little, disabled sister and thus made a deal with her enemy, an Archangel, Raffe. Their journey to the aerie in San Francisco was twisting and lots of unexpected experiences happened throughout the whole process.
What's more, I love the humor in the characters' conversation and Susan Ee indeed managed to create different characteristics for various people in the book. There were many fighting scenes in the story and I love the ones including Penryn because she wasn't as vulnerable as the ordinary girls. I really appreciate her iron will and determination and tough personality that made her an unforgettable and surly badass heroine without doubts.
Last but not least, I highly recommend this book/series to anyone who wants to be strong and not afraid of whatever happens to you. For me, Angelfall is pretty inspiring and makes me want to be someone as brave as Penryn.