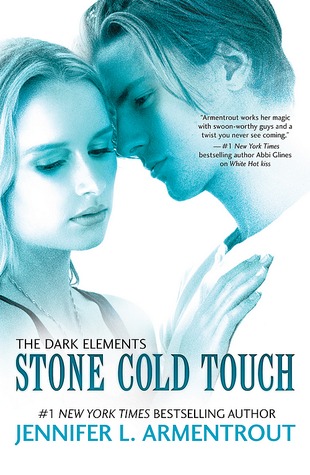 Every touch has its price
Layla Shaw is trying to pick up the pieces of her shattered life—no easy task for a seventeen-year-old who's pretty sure things can't get worse. Her impossibly gorgeous best friend, Zayne, is forever off-limits thanks to the mysterious powers of her soul-stealing kiss. The Warden clan that has always protected her is suddenly keeping dangerous secrets. And she can barely think about Roth, the wickedly hot demon prince who understood her in ways no one else could.
But sometimes rock bottom is only the beginning. Because suddenly Layla's powers begin to evolve, and she's offered a tantalizing taste of what has always been forbidden. Then, when she least expects it, Roth returns, bringing news that could change her world forever. She's finally getting what she always wanted, but with hell literally breaking loose and the body count adding up, the price may be higher than Layla is willing to pay…   (From: Goodreads)
This is my most favorite book in the trilogy. Well, I have to say that I think the first 2 books of the series were really fascinating, but I'm a wee bit disappointed about the finale.
"No matter what. I love you."—Roth
The story kept going and this time, both Wardens and Demons topside were looking for the Lilin because the chains for Layla's mother, the Lilith, were broken somehow. What's worse, the Lilin could suck souls simply by touching them. Likewise, Layla had the ability to take souls by breathing them in, and due to all kinds of seemingly impossible(also hard to believe) coincidences happened to people around her, she started to convince herself that there was no Lilin at all, but only her. Well, I was utterly shocked when knowing the truth in the end. Little did I expect (view spoiler)[Sam, who acted like a nerd, the cute kind of nerd, all the time would turn out to be the deadly and evil Lilin (hide spoiler)], I was floored in the meanwhile. What the crone said was politically correct that What you're seeking is right in front of you. , it was just a matter of time for everyone to figure that out.
Like the first book, Layla had been stuck between two guys from totally opposite worlds. In brief, there was Zayne, her overprotective Warden, and there was Roth, my favorite Crown Prince of Hell. In my opinion, I think the reason Zayne began to take action on claiming Layla was the moment when he realized he got a competition. He didn't really do something obvious to show his love for her before, not until he saw the way Roth treated her. After that, he seemed like trying to mark his territory around her by confessing his undying love and even went straight to do some intimate romance with her. Ugh, that's not what I want…at all. During the whole steamy Zayne-Layla time, I've been screaming Where's Roth?? in my head and hoped he could use his invisibility to interrupt them. Sorry, but it's apparent that I'm 100%… 😀


Even if he said something hurt and acted like a total jerk at first, pushing Layla away because he was threatened, that didn't change my mind.

My heart ached for Layla the entire time because of the mess she got herself into, and mostly because of her extremely low self-esteem.

Above all, I'm very curious about who Layla will choose in the end. Is it Zayne? Or hopefully Roth?(Please, let it be Roth!)


So again, read this series, guys! It's even better and absolutely more exciting, fascinating, and mind-exploding than Jennifer L. Armentrout's other books. Okay, no more useless words here, go read it!